Mumbai Travel Guide
Mumbai Basic Facts

Location: western coast of India

Population: 23.05 million

Language: English, Marathi, Hindi

Currency: Indian Rupee

Time Zone: UTC + 5:30h

Area Code: 22
How to visit Mumbai? We select some useful Mumbai travel tips for first-time travelers to help you prepare well and make good plans.
1. Best Time to Visit Mumbai: November to March
During this period, tourists can expect the best weather of the year, which is also the tourist peak season with cool and relatively dry climate. The high average daytime temperature is between 25-28℃(77-82.4℉), you can wear thin and breathable clothes like shirts and long dress. While in the night, it can get cold, dropping to 10℃(50℉). So a Mumbai travel tip is that take some warm clothing like woolen sweaters and jackets.

7-Day Mumbai Weather Forecast


See more about Mumbai Weather & Best Time to Visit India
2. Things to Do & Places to Visit
People can both appreciate historical highlights and natural beauty in Mumbai.
See more about
10 Best Places to Visit in Mumbai
10 Best Adventure Places in Mumbai
Places to Visit near Mumbai for 1 Day
Mumbai Darshan Tour: Places, Packages, Tickets, Timing & Buses
3. How to Get to Mumbai: Flight
Mumbai Urban Transport
Mumbai's international airport is Chatrapati Sivaji International Airport, connecting numerous domestic and international destinations.
Mumbai Travel Guide about Urban Transport
Mumbai has developed railway system and is reachable to most places in the city. It has two main railway stations:
Chattrapati Shivaji Terminus
(CST), previously known Victoria Terminus and Bombay Central Station.
Mumbai is also connected by numerous road network. Travelers can go to many towns and tourists sites via complete road lines.
See more about Mumbai Local Trains, Transportation in India
4. Vada Pav is the must-try food in Mumbai
It is a type of vegetarian sandwhich with deep fried potato between bread buns, eaten along with different sauce. It is the most popular street food.
You can also try Bhutta, which is the grilles corn. It is a popular beach snack in winter.
Lassi, a type of yogurt-based drink, is common in everywhere.
See more about Top 10 Mumbai Street Food, Top 10 Foods in India
5. Best Restaurants in Mumbai

BTF-Big Talk Food: 9, Ground Floor, Plot 11, Majithia Chambers, Oak Lane, Fort, Mumbai, Maharashtra 400001. It is famous for fast food, café Italian and Mexican cuisine.

Food Plaza: 8/32, Grants Building, HNA Azmi Marg, Near Strand Cinema, Colaba, Mumbai, Maharashtra 400005. You can taste Indian and Chinese food.

Ikays Food Plaza: Railway Stn Building, Rly Stn, Churchgate, Mumbai, Maharashtra 400020I. It is known for kinds of vegetarian food.
See more about 10 Best Restaurants in Mumbai
6. Where to Stay in Mumbai – 8% choose Goraba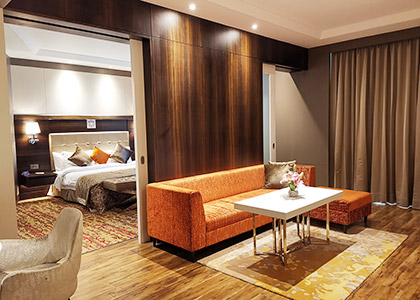 Hotel in Mumbai
Because it is close to the city center and bus station. It is also close to foreign embassies, where you can find some fancy restaurants in the area. You can choose The Taj Mahal Tower Mumbai with address of Apollo Bunder.
Also, there are 6% people choose hotels near Juhu Beach because of charming sea view such as JW Marriott Mumbai Juhu, with address of Juhu Tara Road.
See more about 10 Best Accommodations in Mumbai

7. Top Shopping Markets
For shopaholic, this is an important Mumbai travel guide:

Colaba Causeway/Shahid Bhagat Singh Marg: Colaba Causeway, Colaba, South Mumbai, Mumbai.
It is considered to be the most attractive market for tourists, located in the Goraba area of South Mumbai, where transportation is convenient. Visitors can buy a variety of exotic jewelry and clothing in here.

High Street Phoenix: 462, Senapati Bapat Marg, Lower Parel West Mumbai, Maharashtra.
It is a luxury mall where many international luxury goods can be bought. The shopping environment here is upscale and comfortable.
See more about What to Buy in India Mumbai, Crawford Market
8. Mumbai is more open than other places in India
Compared with
Delhi
and other places in India, Mumbai's ethos is more open because people can wear modern western-style clothing in upscale places without having to be covered particularly, but please note this Mumbai travel tip that short skirts and shorts are still inappropriate to visit religious places.
You May Like:
Badami Cave Temples - Visit the Astonishing Rock-cut in 4 Caves
Bangalore Palace - A Central Attraction of Bangalore
Krishna Raja Sagara Dam, Mysore
Gommateshwara Statue, Hassan - The Tallest Monolithic Sculpture in the World
7 Brilliant Attractions in the Kovalam Beach
Aurangabad Caves, Ellora Caves in Aurangabad
Srirangam - Mesmerizing Temple Town in Trichy
Best Places to Visit in Halebidu