Dhobi Ghat, Mumbai
Dhobi Ghat, located on Dr. E. Moses Rd. near Mahalakshmi Station, is the largest open laundry in the world and regarded as a unique scene of the city. Since Dhobi Ghat can accommodate thousands of people doing laundry at the same time, it is also called "Laundry factory of thousand people" by generations. Dhobi Ghat is working area for the poor in Mumbai, where clothes are handed in by citizens of all walks of life for manual cleaning. Countless laundry pools, crisscrossed clotheslines, colorful clothes and bed sheets constitute another scenery in Mumbai, and also makes Dhobi Ghat a must-see attraction in Mumbai.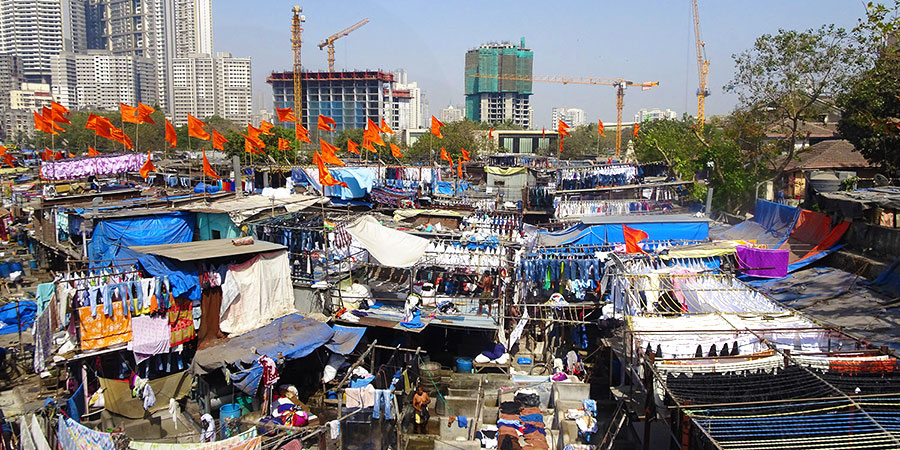 The Largest Open Laundry in the World - Dhobi Ghat
How did Dhobi Ghat come into being?
Dhobi Ghat in Mumbai was constructed by municipal government over 150 years ago. At that time, there was no tap water in Mumbai. Each year, when it came to dry season, rivers and streams dry up, and laundry problems plagued every Mumbai families and businessman. Therefore, open laundry appeared and water for laundry is specially supplied by the municipal government. With more than 800 pools which can accommodate 1,000 people to do laundry at the same time, Dhobi Ghat solved the problem of people's livelihood in Mumbai. With a large population and cheap labor cost, no matter rich or poor, they don't do their own laundry. Almost all of them send their clothes to Dhobi Ghat for washing. People even thought that using machines are higher-cost than manual labor. Therefore, this traditional way of washing clothes has been preserved in modern society.
Routine Life of Laundrymen
Laundrymen, a hereditary profession, have toiled with water for more than 150 years, working up to 16 hours a day. Majority of the laundrymen are men, day in and day out, year in and year out, they carry on the job for generations. On either side of the pools are the houses of laundrymen and they start working from 4 o'clock in the early morning, when the governments supply water.
How are clothes washed in Dhobi Ghat?
As for the procedures of washing clothes, it is completely manual. First, laundrymen soak the dirty clothes in pools; when clothes are well soaked, they wash them by beating, at that time, there would be a lot of noise everywhere. Then, clothes are rinsed in clean water. Later, they are dried in the sunshine. After getting dry, clothes would be ironed to be flat and neat. At last, these clothes would be delivered to their owners.
| | |
| --- | --- |
| Clothes Dried in the Sunshine. | Completely Manual Washing |
How to get to Dhobi Ghat
Passengers can take west line of Mumbai Suburban trains and get off at Mahalaxmi Station, then walk on the overpass on Mahalakshmi Station, which is regarded as the best viewing spot of Dhobi Ghat. To get inside, passengers can walk down the overpass; some local guides can be seen and they would guide you inside, offering tourists a detailed interpretation.
The laundry is located next to the Mahalakshmi Railway Station. You can find the railway station first and then walk to the laundry site.
| | |
| --- | --- |
| Entry Fee | 200 Rupees |
| Timing | 7:00 - 20:00 |
| Suggest Duration of a Visit | 1 - 3 hours |
Other Famous Attractions in Mumbai: