Gateway of India, Mumbai
Situated opposite Mumbai Bay in Mumbai and not far from the world famous five-star hotel- Taj Mahal Hotel, Gateway of India is a landmark building in India. With similar architectural design of Arc de Triomphe in France, Gateway of India is one of the most famous and visited tourism attractions in Mumbai. Located in the port of the largest city in India, it is also the starting point of all water travels in the country.
Gateway of India Facts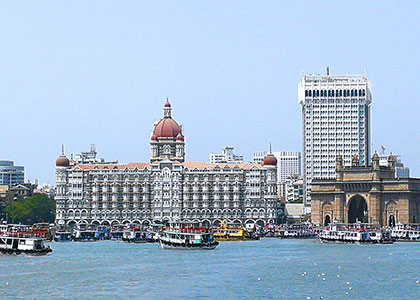 Gateway of India
When was Gateway of India Built: 1911 A.D.
Location: Apollo Bandar, Colaba, Mumbai, India
Scale: 4 Towers, 26 meters high (85 ft)
About 100 Years' History of Gateway of India
Gateway of India was built in 1911 in memory of the visit of King George V and Queen Marry. Her majesty passing through the gate showed that Mumbai was the gateway of India. But it didn't finish constructing until 1924. Soon afterwards, the memorial gate became a symbol of the end of India' colonial period when the last army of British troops marched through it and left India. At present, the Gateway has become the symbol of Mumbai, and also works as an important venue for the municipal government to welcome guests from all over the world.
A Landmark and Must-see of Mumbai
Nowadays, crowded with tourists and vendors, Gateway of India has become a landmark and symbol of Mumbai, and also one of the most popular attractions in Mumbai. With 4 towers on the arch and a height of 26 meters, it belongs to Gujarati style building. Made of basalt, the pillars are inspired by Hindu temples, while the windows are full of Islamic feature, which represents the diversity and integration of Indian religions.
| | |
| --- | --- |
| Similar Design of Arc De Triomphe in France | Tourists Taking Photos near Gateway of India |
Every march, during the Elephant Festival, there are dancers and musicians performing around the Gateway of India, and local people gathering here to celebrate the festival as well. All kinds of vendors are busy in selling goods to tourists, such as nuts, tea, fruits, postcards, balloons and Polaroid photos. The pier behind the gate is lined with boats offering tours on the Mumbai harbor. Walking downwards, there are cruises traveling to Elephant Island which is located nearby; passengers can appreciate exquisite temples caved on the rocks. Gateway of India is also a great place to start your trek to the nearby bustling city of Colaba, which is dotted with shops, restaurants and old cafes, including the Leopold cafe, which was opened in 1871.
How to get to Gateway of India
1. Passengers can take bus 1, 2LTD, 3, 6LTD, 9, 11LTD. 22LTD, 44, 51, 54, 68, 70, 83, 101, 103 to get to Dr Shyam P Mukherji Chowk station, Gateway of Indian is nearby.
2. Passengers can also turn right at Colaba Street, then walk for 500 meters (550 yards), later turn left and walk 300 meters (330 yards) to get there. It takes about 5 minutes to walk there.
| | |
| --- | --- |
| Entry Fee | Free |
| Timing | All Day |
| Suggest Duration of a Visit | 1 hour |
Nearby Attractions: