Varanasi Travel Guide
Varanasi Basic Facts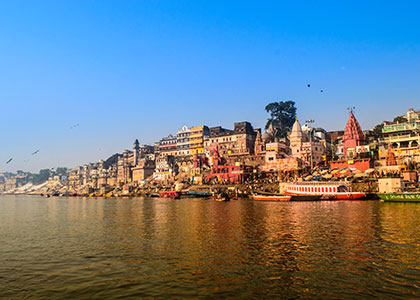 Ganges River, Varanasi

Location: north of India

Population: 1.09 million

Language: English, Hindi, Urdu

Currency: Indian Rupee

Time Zone: UTC+5:30h

Area Code: 0542
How to visit Varanasi? We select 8 Varanasi travel tips for people who want to visit this city to inform you basic information, so you can better enjoy your holiday in here.
1. Best Time to Visit Varanasi: October to March
As a northern city of India, Varanasi is divided into three seasons of cool, hot and rainy. Because October to March belong to cool season, people can expect pleasant weather with less rainfall, sunlight and mild temperature. While in the night, it can be a little chilly with the lowest temperature of 5?(41?). If you travel to Varanasi during this period, you can wear thin and breathable cloths like dress and cotton fabrics in the daytime and prepare some warm cloths like woolen sweaters and padded pants.

7-Day Varanasi Weather Forecast


See more about Varanasi Weather & Best Time to Visit India
2. Things to Do & Places to Visit
Varanasi is a famous historical city and a holy place in Hinduism, but also the "capital" in the Hindu spiritual world. It has more than 1500 temples and many places of interest.
See more about 10 Best Places to Visit in Varanasi
3. How to Get to Varanasi: Air, Train or Road
Varanasi is accessible to many Indian cities through many airlines and well-developed railway and road network. Foreign Tourists can flight to Delhi Airport firstly and then transfer to Varanasi.

See more about Transportation in India
| | |
| --- | --- |
| Varanasi Railway Station | Local Food |
4. Must-try Food in Varanasi
Your Varanasi trip is incomplete if you do not try street food in Varanasi. There are many unique food you can try. For example, Kachori Sabzi, a popular breakfast in Varanasi. It can be stuffed with masala or spicy potatoes. Jalebi, a type of crispy sugar, people like eating it wandering around Ganges River.

See more about Top 10 Foods in India
5. Best Restaurants in Varanasi

Blue Lassi Shop: CK 12/1, Kachowari Gali Chowk, Near Rajbandhu, Bangali Tola, Varanasi, Uttar Pradesh. It is famous for special lasssi in India.

Ethnic Aroma: Opposite Kuber Complex, Above Reliance Jewellers, Rathyatra, Near Godaulia, Varanasi. You can taste traditional India food package.

Everest Food Court: Infront of Sale Tax Office, Chetganj, Varanasi, Uttar Pradesh. Most people love its burger.
6. Where to Stay in Varanasi – 66% People Choose the Old Town of Varanasi
Because old town of Varanasi is near
Ganges River
and many tourist spots are concentrated in this area. You can choose Hotel Ganges View with address of N30 241, Nagwa Lanka, Near
Assi Ghat
, Varanasi, Uttar Pradesh 221005.
There are 14% people choose new town of Varanasi for a quiet environment. You can choose Rivatas By Ideal with address of the Mall Cant.
7. Top Shopping Markets
For shopaholic, this is an important Varanasi travel guide:

Bala Ji Handicraft: Bhadhani Assi, Varanasi, India
You can buy many traditional handcrafts and souvenirs for your family and friends.

U.P. Cottage Emporium: D. 5/68 Tripura Bhairawi | Dashaswamedh, Varanasi 221001, India
The environment is very great and you can find many interesting shop.
| | |
| --- | --- |
| Local Market | Fakir in Varanasi |
Other Things You Should Notice:
1. Avoid filming cremation scenes in Varanasi, otherwise locals will believe you are disrespectful to the deceased.
2. Do not photograph the Buddha stature in shops and religious shrines.
3. When talking to Indians, you should look into their eyes. If you dodge the eyes of others, you will be treated as disrespectful and impolite.
You May Like:
Mangalnath Mandir, Ujjain - Visiting Mars' Birthplace
Jantar Mantar in Ujjain - One of the Oldest Observatories of the World
Tiger Hill in Darjeeling – The City's Viewpoint
Birla Museum, Bhopal – A Reflection of Bhopal's Heritage
Laxmi Narayan Temple, Bhopal (Birla Temple)
Rajarani Temple in Bhubaneshwar
7 Interesting Facts about Jagannath Temple in Puri
Taj-ul-Masajid, Bhopal – The Largest Mosque in India
Paradise Beach in Pondicherry, Sun Temple, Konark
Writer's Building – Kolkata's First Three-Storied Building
Namgyal Institute of Tibetology, Gangtok
Pemayangtse Monastery - Famous Buddhist Monastery near Pelling