A Backpacker's Guide to Finding Budget Hotels in Mumbai
Mumbai is one of the most attractive and alluring destinations for travelers. This dreamy city welcomes everyone with open arms and mesmerizes everyone with its beautiful and vibrant colorful culture and heritages. Tourists from all over the world come to visit this heavenly abode and immerse themselves in the charm and enchantment of it all.
Mumbai is quite a big city and choosing the best accommodations is essential for travelers. You have to search for rooms based on your travel needs and budget. Choosing the best neighborhood is also important and that can be done if you know some tips that can help you find good accommodation in Mumbai.
Know the Average Price of a Hotel Room in Mumbai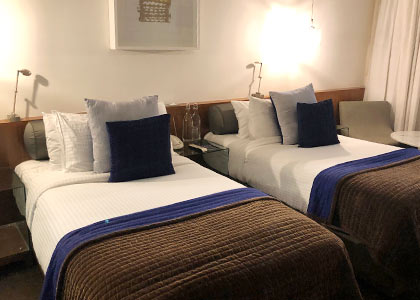 Budget Hotels in Mumbai
Depending on your budget, there are a variety of hotels that can make your stay comfortable and serene. From royal hotels to regular hotels, hostels, and bunks, Mumbai has a lot to offer to tourists. After enjoying your day among the constant hustle and bustle of streets, returning back to a beautiful and comfy room feels so good.
For those of you who are planning a budget trip to Mumbai, this place offers a lot of cheap and budget-friendly hotels to crash in! The budget hotels in Mumbai are quite affordable as compared to the rather expensive places. If you're planning to get a good room at a lower rate, you can choose hotels such as Hotel Accord, Hotel Beach Garden, Dream Residency, and Hotel Astropods Airport Mumbai that offer comfortable accommodation costing around Rs. 900 to Rs. 5,000.
The hotel room tariff usually depends on the season you're travelling in because, for tourists, the price of hotels are affected during the festive and holiday seasons. It is usually said that Mumbai is the most expensive city in India and so are the hotels. The high demand for hotel rooms coupled with affordability rates for domestic or international travelers makes this place a good choice for them.
Check Reviews Online
For backpackers looking for budget rooms, you can check online reviews of hotels that can give you an idea of the value of money you will pay to stay in that hotel. While searching for budget rooms, look at star ratings of hotels and feedback of people who have stayed in that place before you.
Pay Attention to the Location and Safety
The other thing to keep in mind is the location. Actually while finding budget hotels in Mumbai, it is the most important factor to consider before booking a room. The hotels near Mumbai airport are quite expensive but the location is convenient for those who want to take a flight. The hotels in Juhu and southern Mumbai are more expensive as compared to the hotels in northern and eastern Mumbai.
While looking for budget accommodations, travelers tend to ignore basic things such as CCTV cameras for cheap stays. But for your own added safety, choose a place with CCTV cameras. Talk to the locals around you and get a precise view of how good the neighborhood is. Also, beware of pickpockets while going out in the city, as the crime rate in Mumbai is no less.
Read More: 7 Safety Tips for Female near Mumbai
Recommended Budget Hotels in Mumbai
Finding good-quality and budget hotels in Mumbai is a slightly tough task. Here are some of budget hotels in Mumbai that you can find are:
1. Hotel Accord

Hotel Accord
This hotel is located 2km (1.2mi) away from Santacruz Railway Station and about 3km (1.9mi) from Juhu Beach. This hotel provides its guests with free Wi-Fi and in-room breakfast. The room has basic amenities like wardrobe, LCD TVs, work desks and 24-hour facilities. The hotel also offers car rental services.
The charge per night for a good room starts from Rs. 1,000 and can go up to Rs. 2,900.
2. Comfort Inn heritage
For backpackers, this hotel is an excellent choice depending on affordable rates and the location of this hotel. Tourists can check out Mahalakshmi Temple, about 4km (2.5mi), and Nariman Point, which is 6km (3.7mi) from this hotel. The hotel provides a comfortable stay and convenience with free breakfast. And if you're going by your vehicle, the parking at this place is free.
For tasting food of Mumbai, you can visit Piazza by the Bay, Viking pizza, and Quattro Ristorante, which are located at a short distance from Comfort Inn heritage. You can get a decent room in this hotel for Rs. 3,000-4,000.
3. Hotel City Palace
This hotel is situated in the heart of the city opposite C.S.T. Station's main gate. It is a budget hotel for backpackers where access to all parts of Mumbai is fast and easy. The price ranges from Rs. 700 to Rs. 800. The hotel has various amenities such as free breakfast, bicycle rental, baggage storage, concierge, dry cleaning, and valet parking.
Notices to Remember
Mumbai is usually a safe city for travelers but anything can happen in a foreign land. Being a popular destination for tourists and people who come here for achieving their Bollywood dreams, there are many scams and frauds that happen in the city, especially with travelers from other countries.
Some people may try to manipulate you, specifically the female travelers and just for the namesake of taking you to a nice and cheap hotel, they can take you to an unknown place and can jeopardize your safety.
So it is always advisable to know the route, where you want to go and keep the emergency numbers to ask for help as and when needed. In India, the all-in-one emergency number is 112 and it is advisable to pre-book the hotel if possible to avoid any happenings. And just be careful while travelling alone and try to maintain lesser contact with unknown guides, waiters, and drivers.
You May Like:
10 Best Accommodations in Mumbai