How to Go From Mumbai to Lonavala: Bus VS Train VS Taxi
Lonavala is a miny hill station town located in the Pune district of Maharashtra state in India. It is a part of small ranges of the Sahyadri Mountains, also known as the Western Ghats. The most favourite picnic spot for people living in Mumbai and Pune, Lonavala is a handy candy for the tourists.
Here are some of the ways to go from Mumbai to Lonavala that can be easily reached by bus, train and taxi.
Travel from Mumbai to Lonavala by Bus
Lonavala is just 90km (56mi) away from Mumbai and it has a well-connected transportation network. The rise in the number of tourists for exploring and experiencing the attractions of this hill station, such as Karla Caves, Bushi Dam, Ryewood Lake, Bhaja caves, etc. makes it a must-visit place for everyone. The road to Lonavala from Mumbai is connected with an even-levelled expressway named the Mumbai-Pune Expressway. The journey by bus is very smooth and less stressful. There are many buses available for travelling from Mumbai to Lonavala. Government buses, private buses, cabs, and taxis are available for the tourists from Mumbai to Lonavala. The buses are available in different variants that include Non-AC, sleeper, seater, etc.
Travelling by bus is a good option for travelers who want to know about the culture and language, and want to blend in with the locals. Buses are available round the clock and due to which catching a bus from Mumbai to Lonavala is easy. The average fare of government buses to Lonavala is around INR100 to INR 300, whereas the average fare of private buses to Lonavala is around INR 400 to INR 800 for budget buses.
The government buses are available at Dadar and other stations. Private buses need to be boarded from the place allotted by the private bus companies. The time taken to reach Lonavala from Mumbai is around 2 hours, depending on the number of stops on the way.
Travel from Mumbai to Lonavala by Train
Lonavala is connected directly with railway facilities connecting Lonavala to Mumbai. The distance between Mumbai and Lonavala by rail route is around 75km (47mi). Travelling to Lonavala by train is best suited for travelers who are in a huge group as the fares are economical and also can accommodate big groups.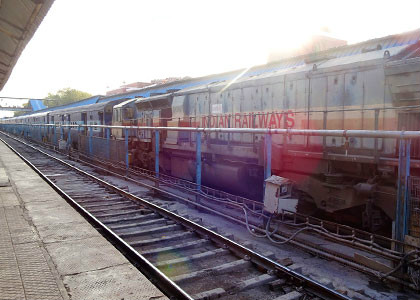 Train from Mumbai to Lonavala
Travelling by train is the most economical option. The tickets for trains need to be reserved in advance as tickets are not always available for spot booking. There is also a Tatkal booking facility offered by the Indian railways. Under this facility, the travelers can reserve their seats 24 hours before the departure of the train only if the seats are available.
The train to Lonavala is available from the
Chhatrapati Shivaji Maharaj Station
in Mumbai. The average train fare for reaching Lonavala is almost INR 150 to INR 400, depending upon the class of the compartment booked. The time taken to reach Lonavala by train is around 2-3 hours.
A romantic getaway from the chaotic noise of cities, Lonavala has a healthy climate, magnificent grace of historical forts, ancient caves and enchanting lakes that makes this place one of the most sought after destinations in India. It is a perfect picnic destination for nature lovers and adventure lovers and if the train is not a suitable option, you can take a Lonavala to Mumbai bus.
Read More: Mumbai Local Trains
Travel from Mumbai to Lonavala by Taxi
Travelling to Lonavala by taxi is a fun ride, especially in the monsoons when sweet breeze flows and the fragrance of the lush green grass can be breathed in. Travelling by taxi to Lonavala is preferred by tourists who prefer to have privacy while travelling. There are many taxi services available in Mumbai that go to Lonavala on a one-way trip. Since Mumbai-Lonavala is well connected with highways, the journey is comfortable and amusing.
The average fare for reaching Lonavala from Mumbai would start from around INR 1900 to INR 2500 for one-way trips. The average time taken to reach Lonavala from Mumbai by taxi is around 1 hour 30 minutes, depending on the stops made by the travelers for clicking pictures and cherishing the view.
The alluring and enchanting experience of nature can be experienced in the most gifted region of Maharashtra. This magical land is surrounded by dense forests, waterfalls, dams, and flawless lakes. If you are a fan of nature and want to have a soulful weekend or a good itinerary, Lonavala is the place to be. However, there are certain things that you should not forget when visiting the place.
• Do not buy tickets for buses or trains from anyone who claims to be selling them at a discount as they might be selling tickets in black for double the price. The tickets can also be fake, hence buy tickets from the platform counter only. You can also book the tickets online.
• While booking train tickets through Tatkal facility, remember that the Tatkal ticket booking opens 24 hours before departure at the online platform, whereas the ticket is issued at 10 AM at the railway platform.
• There are taxis available in Mumbai that go to Lonavala, and each of them charges different rates. Travelers must enquire about the fare at different agencies, as some provide services at a low price, while some at high prices. It is best to compare prices before booking.
• Private buses have a lot of competition, hence there are chances of them providing discounts to travelers, which is an advantage. There are companies that claim to deliver luxury services for free but issue overly priced tickets. Travelers need to be aware of such online and offline services.
You May Like:
The Ultimate Travel Guide for Mumbai to Ahmedabad Trip
Best Ways to Travel from Mumbai to Pune: By Road, Air, and Bus
Mumbai to Varanasi Travel Guide: How to Get to and Around Banaras