Mumbai Trip Plan: How to Make the Most of Your Trip
Mumbai, formerly known as Bombay, is the richest Indian city, rightly called as the City of Dreams. Along with this, Mumbai is also one of the best tourist places in the world. The city offers various historical and cultural places to explore. Mumbai has a beachside and also a forest area, which is a perfect combination of two different natural beauties. Mumbai also includes various iconic places that must be visited by tourists, at least once in a lifetime. Here is a list of the best things to do in Mumbai, in order to make the most of your Mumbai trip plan.
1. Cycling in Midnight
Cycling at the iconic marine drive stretch at midnight or in the early morning is one of the most favorite activities for tourists visiting Mumbai and a must in your Mumbai trip plan. The advantage of cycling around Mumbai at this time is that there won't be much traffic. Tourists can explore many things in the beautiful city, by just cycling around the city. There are cycles available in Mumbai for rent on an hourly basis, which adds as a plus point for the tourists.
Read More: Stay Away From Mumbai Red Light Areas 6 Tips for Enjoying Mumbai Nightlife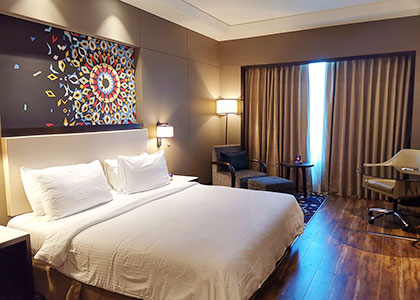 Four-star Hotel Room in Mumbai
2. Visiting the Taj Hotel
The Taj Mahal Palace Hotel, popularly known as Taj Hotel is one of the most iconic and famous hotels in India due to its unique architecture, which makes it a must-go in your Mumbai trip plan. It is also situated opposite the Gateway of India. Built-in the year 1903, the Taj Hotel is one of the oldest hotels in India. The hotel offers rooms as well as restaurant services. The tourists with a flexible budget can choose to rent a room and stay at the Taj hotel. The food served in the restaurant does make your wallet feel light, but having a cup of tea in the Taj Hotel would definitely be worthy, as it is a matter of pride for many to even have a cup of tea at the iconic hotel.
Read More: 10 Best Accommodations in Mumbai Mumbai Budget Hotels for Backpackers
3. Street Food
Food is indispensable part in Mumbai trip plan for foodies. Streets are one of the best places to have delicious food in Mumbai. There is a street named Khau Gali (Food Street) in Mumbai, where various kinds of fast foods, chats, etc. are available. The whole street consists only of food vendors. The street is also known as a haven for foodies. There are many delicious varieties of foods available in Khau Galli, the most famous ones are Vada Pav, Missal Pav, and Bhel Puri. These dishes are the most loved foods among the Mumbaikars, the tourists must definitely try these foods.
Read More: Top 10 Mumbai Street Food
4. Sanjay Gandhi National Park
Sanjay Gandhi National Park must be a top priority in the Mumbai trip plan. The park is the largest forest area in a metro city in India. The park is rich in a wide variety of flora and fauna, and is home to several tigers, leopards, crocodiles, etc. There are quite a few places like Kanheri Caves which fall in the jungle area and can be visited by tourists. There is also a facility of cycling in the permissible areas of the forest. The tourists can also go on a trek in the jungle, which begins in the base point and ends at the Jambhulmal peak point. There is jungle safari available, which is a great way to spot wildlife in Mumbai.
Essel World amusement park in Mumbai is stretched over 64 acres of land including their peers, the Water Kingdom, which is one of the oldest amusement parks in India. Essel World offers various electronic games with a good mix of fun and adventure activities. Their counterpart, the Water Kingdom offers a wide variety of water games to play. Altogether these two places are perfect to spend a picnic with family.
Mumbai is one of those rare cities in India that comes with the facility of local trains. Local trains are the lifeline of Mumbai. On most of the mornings, these trains are jam-packed, as the locals prefer to travel to workplaces, schools, and other places by local trains. Local train facilities are not available in every city of India, hence it is definitely worth it to travel by them when you're in Mumbai.
| | |
| --- | --- |
| Local Train of Mumbai | Mumbai Beach |
7. Juhu Beach
Juhu Beach, located on the shores of the Arabian Sea, is one of the best places to enjoy in Mumbai. Tourists visiting Juhu Beach are allowed to play in the water, which is an added advantage. Juhu is one of the most popular areas in Mumbai. Many celebrities have their homes facing the Juhu beach. There are many food vendors across the beach and the street food is worth a try. It won't be an overstatement if you call this beach the heart of Mumbai. Many kids and adults can be spotted playing cricket, football, and other sports during morning and evening hours.
Read More: Best Beaches in Mumbai 10 Spectacular Spots to Catch Sunset in Mumbai
Marine Drive in Netaji Subhas Chandra Bose Road is a 3.6 km road stretch that sides with the Arabian Sea. The road is also known as Queen's Necklace, as the view of the road with street lights on in the night time makes it look like a necklace when viewed from the top. There are vehicle rentals available in Mumbai, the tourists can definitely enjoy the ride by renting a vehicle from a rental service provider in Mumbai.
9. Bandra Bandstand
Bandra Bandstand is a popular spot to hang out with friends and family. It is one of the most popular jogging tracks in Mumbai. Sometimes there are major events held at the bandstand. Witnessing the sunset at the Bandstand is the most beautiful thing to do in Mumbai.
Read More: Mumbai's Bandra Worli Sea Link