How to Take Delhi Metro – Routes, Maps, Timings, Fare
When you travel around Delhi, Metro is one of main transports and most convenient way. The Government of India and the Government of Delhi have been planning the New Delhi Metro since 1984 and jointly established the Delhi Metro Company (DMRC) in 1995. Its helpline number is 155370. New Delhi's metro, which opened in 2002, has now had nine metro lines throughout the city and surrounding satellite cities after 17 years of construction. They are No.1-8 colored lines and the airport line. No.9 metro line will operate in 2019.9. In addition, there are two metro lines to Delhi's satellite cities – Rapid Metro Gurgaon and Noida Greater Noida Metro. The length of operational network is 373km with 271 stations. Modern subway facilities add a lot to New Delhi's cityscape. In contrast to the ancient and dilapidated Indian railway system, the Indian metro has adopted new technologies to meet world-class standards.
See detailed Delhi Metro Timings & Metro Stations List
How to Pay Delhi Metro Ticket Fare – Buy Single Journey Tokens or Metro Cards
Single Journey Token: The fare for a one-way ticket is based on your distance and is approximately Rs10-80.
Delhi Metro Card: You can get some discounts on your ride if you buy a Delhi metro card. There are two types of cards: the travel card for local commuters and the tourist card for tourists.
Tourist Card: It is available on all DMRC lines except for airport metro express line. There are two types of cards people can buy based on their needs: One-day tourist card costs Rs200 (Rs150 + Rs50 refundable deposit); Three-day tourist card costs Rs500 (Rs450 + Rs50 refundable deposit).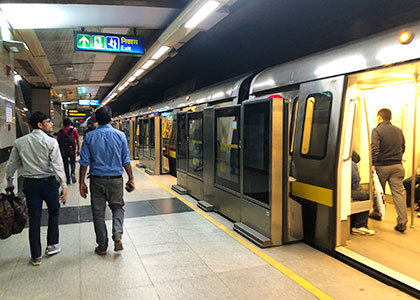 Delhi Metro
Read more about
Delhi Metro Fare
&
Delhi Metro Card
.
Tips on Taking Delhi Metro
Hours: The Delhi Metro operates approximately from 5:00 a.m. to 23:30 p.m., with slightly different
times for each line and each station. You can check the detailed Delhi Metro Timings here, and avoid
missing the last train.

Frequency: The New Delhi metro departs approximately 2-5 minutes during peak hours and up to about 10 minutes during off-peak hours. The departure interval for the airport line is 10 minutes.
Note: The first carriage of each Delhi metro is specially reserved for women.
How to Take Delhi Metro to Visit Major Attractions
Delhi metro is a great transport way to travel around this city, not just for budget travelers. With the improvement of Delhi metro lines, there are many tourist attractions that can be accessed by subway.
Qutab Minar: You can take yellow subway line to get off at Qutub Minar Station, then walk or take a Tutu to the scenic area.
Red Fort: You can take yellow line to get off at Chandni Chowk Station, then take an electric tricycle or walk for about 20 minutes to it.
Humayun Tomb: You can take pink line to Hazrat Nizamuddin Station, then walk to it.
India Gate: Take the subway and get off at Central Secretariat station (Exit 3), then walk east of 1.7km along Rajpath to it.
Lotus Temple: Take subway and get off at Kalkaji Mandir Station, then walk north of 850m to get to it.
Rashtrapati Bhavan: Take the subway to Central Secretariat Station and get out from Exit 4 and walk east along Rajpath Street for about 1km to it.
Gandhi Smriti: Take subway and drop off at Chandni Chowk Metro Station.
Parliament House: Take the metro to get off at Central Sectt Station.
National Museum: You can take yellow line and get off at Udyog Bhawan station, then walk west or take Tutu to get there.
Jama Masjid: You can take yellow line to Chawri Bazar Station and walk about 20 minutes from gate 3, or take a rickshaw to get there.
You May Like: