Red Fort, Delhi
Red Fort Facts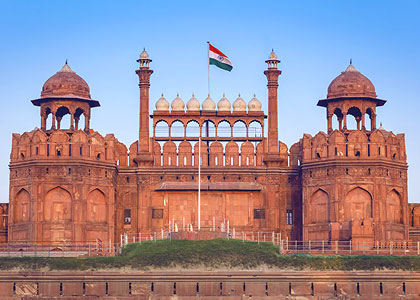 Red Fort, Delhi

Names: Red Fort, Lal Qil'ah, Lal Qila

When was Red Fort built: In the middle of the 17th century

Height: 915 meters (3,002 ft)

Width: 518 meters (1,699 ft)

Where is Red Fort: The Red Fort location is in the old city of eastern Delhi, next to Yamuna River
Red Fort is a typical Mughal-style Islamic building. It is named Red Fort because the whole building is reddish brown. The Red Castle is surrounded by a moat.
Red Fort History
Located in Delhi, India, Red Fort was a royal palace during the Mughal Empire. The Red Fort was built by Ghiyas-din Shah Jahan, the fifth-generation Mughal monarch, in the middle of the 17th century. Since the time of Emperor Ghiyas-din Shah Jahan, the Mughal capital has moved from Agra to Delhi. But due to several wars, the Red Fort today has lost its former splendor.
The Glorious Imperial Palace of Mughal Empire
The entire building of the Red Fort is octagonal in shape. The pavilions, terraces and open halls are made of red sandstone and marble, without using a piece of wood or nails. It is divided into two parts: the inner palace and the outer palace. The outer palace was where the emperor summoned civil and military officials and foreign envoys.
In those days, Lal Qil'ah was resplendent and magnificent, with hand-woven carpets on the ground, all kinds of precious stones inlaid on the walls, silver cast ceilings, and various gold carvings embedded.
Lal Qila has two main gates and three small gates. The most magnificent is Lahore Gate to the west, which has arches and guard buildings, while there are pavilions and pylons on the gate tower. On August 15, 1947, it is where India's first Prime Minister Nehru declared national independence, and the first Indian flag was raised. Today, major national festivals are held in Lahore Front Square.
| | |
| --- | --- |
| Lahore Gate with Arches and Guard Buildings | Ancient Building inside the Red Fort |
Sound and Light Performances
Although today's Red Fort has lost its former splendor, the grand momentum of Lahore gate and the majestic red city walls are still there. Some palaces with intact basic structures seem to be able to spy out the glory of the past. Since 1965, sound and light performances have been held every week in Lal Qila. This performance uses modern optical principles and sound effects to reproduce Indian history from 1639 to 1947.
How to Get to Red Fort
1. It takes about half an hour to take 729 bus from Shivaji Park to
Jama Masjid
and then walk to the Red Fort.
2. Take the subway Yellow line to get off at Chandni Chowk station, then take an electric tricycle or walk for about 20 minutes. The Lahore Gate of The Red Fort is at the end of the main road of Chandni Chowk.
| | |
| --- | --- |
| Red Fort entry fee | 600 rupees |
| Red Fort Timings | Sunrise to sunset (closed on Monday) |
| Duration | 2-3 hours |
Nearby Attraction
Opposite the Lahore gate of Red Fort is Chandni Chowk, which was named so because it was the place where the nobilities enjoyed the moon there. The gold and silver jewelry and handicrafts sold here are well known throughout India.
You May Like:
Swaminarayan Akshardham Temple in Delhi
10 Best Places to Visit in Delhi