E-rickshaw in Delhi
One of the most inexpensive ways to get around the capital of India is to take an auto rickshaw. There are a number of places in Delhi which are placed at such a distance that it would be uncomfortable to take a walk but is not even wise to get a car or taxi. For this, you will need an auto rickshaw. E-rickshaw in Delhi is getting popular and this can be an essential guide on everything that you wanted to know about this mode of transport.
Read More: Delhi Transportation

What Is Electric rickshaw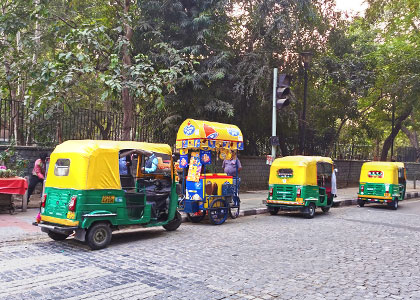 E-rickshaw in Delhi
It is a three wheeled battery driven rickshaw that moves around in almost every parts of India and Delhi is no different. There was more than 1 lac electric rickshaw plying on the roads of the capital by 2016. India has been the largest market for three wheelers as this is a much needed solution for motorized mobility that is affordable by everyone. In 2010, the electric rickshaw was launched with the objective to get rid of the physically taxing cycle rickshaw alongside being a clean mode of transport. After launching, it received a mixed response from its passengers but there is a clear lack of regulation that affected the rest of the traffic. In fact, the growth was so sporadic that there was no clear regulatory framework about even the registration of these vehicles. But to fight the complications, in 2015, authorities of Delhi regularized the vehicles.
The Real Time Scenario
The primary trouble for the electric rickshaw drivers is they do not have proper charging facilities of the batteries. There is also not much advanced parking facility and often face regulatory uncertainty. Rash driving is an issue with these electric rickshaw drivers and you will often find commuters complaining about it. Most of these E-rickshaws in Delhi are run by the drivers who have taken it on rent. Also, the majority of the drivers are men but you might see a couple of female drivers as well. It might be that the rickshaw you are traveling on is unregistered and some of the drivers do not even have license!
Fare
Each association of these rickshaws have its own fare. In general, each passenger is charged 10 INR for distance from 2 to 5 km (1.3 to 3 miles).
Speed
The E-rickshaw in Delhi should be driven at a speed of 25 kilometer (15.5 miles) per hour but most of the vehicles run at 20 to 35 kilometer (12 – 22 mi) per hour.
The maximum seating capacity in them is four, however, you might find sometimes drivers ferrying more people than that. Once caught, they can be fined by the authority.
Travelling on the Rickshaws

Travelling on the Rickshaws
You can take these e rickshaws in Delhi to almost every part of the city. There is no need to reserve one, but if you want to you can. In popular tourist spots, such as the railway station or the various shopping markets like Connaught Place or Sarojini Nagar market, you will find plenty of them standing and waiting for passengers. Most of them understand Hindi and some might even understand the Basic English terms because Delhi sees the footfall of millions of tourists every year. It is easy if you have the Google Maps to find out if they are taking the right route and not robbing you off with higher price.
How to Report a Problem
If you face any issues with the E rickshaw in Delhi you can certainly lodge a complaint. They generally do not refuse passengers or do not go too far from the stipulated price even if they understand you are a tourist. Most of the time you might be sharing the vehicle with some other passengers, so, it is otherwise a safe mode of transport. You might not get to see a traffic police immediately but keep the Delhi government helpline number (0 11 4240 0 400) if you want to register any case. Make sure to mention the time, date and location of the incident for proper investigation.
Passengers can SMS the Delhi Traffic Police on 56767 to complaint. The codes REF (Refusal), MIS (Misbehavior), OVC (Overcharging), or HAR (Harassment), can be used. And the vehicle registration number, time and location should be given.
From immediate assistance to a serious accident, the Delhi Traffic Police Helpline on 1095 or (011) 2584-4444 will be available 24 hours every day.
You May Like:
Tuk-Tuk in India - Fare & Tips
How to Take Delhi Metro - Routes, Maps, Timings, Fare