Chandni Chowk, Delhi (Moonlight Square)
The Chandni Chowk, also known as Moonlight Square, located in the heart of Old Delhi, is the oldest and most bustling market area of India. How old is Chandni Chowk? It was built in the 17th century with more than 300 years history.
Why is it named Chandni Chowk, Moonlight Square?
Chandni Chowk market is said to be named Chandni Chowk, literally moonlight square for the moonlight reflected in the canal, and is the necessary place for people going to the Red Fort and the Jama Mosque in Delhi.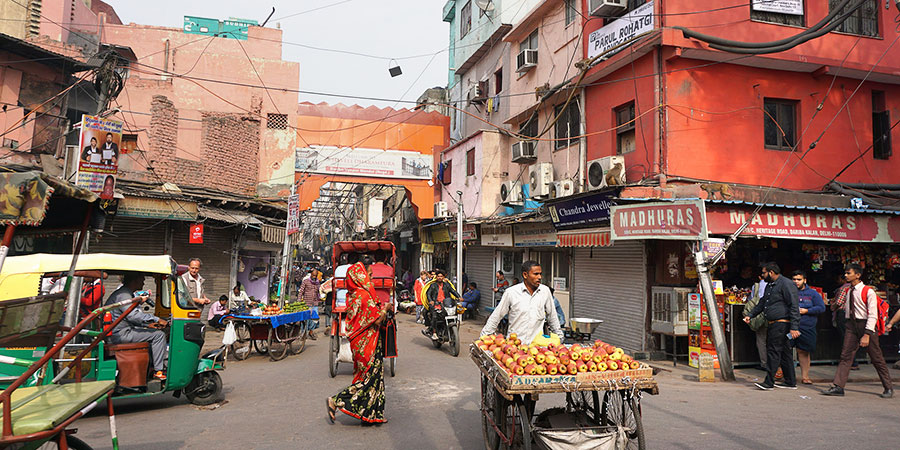 Chandni Chowk
But the bustling bazaar is not as quiet and romantic as its name. Today's Chandni Chowk is full of noisy shops, street snacks, yelling vendors, motorcycles, and even stray dogs. The transportation and shopping environment is very chaotic. Visitors are advised to take care of their belongings and pay attention to their personal safety. Women should not come alone in the evening.
What to Buy at Chandni Chowk
Chandni Chowk is rich in various goods, food, clothing, electronic products, and so on with cheap price. What is Chandni Chowk Famous for? It is famous for silver goods and wedding products. Here, you can find various elegant and fashionable sarees and bridal lehenga at affordable price and many designer stores. At Dariba kalan, you can buy many stunning silver jewellery. In Kinari Bazaar, you can find many beautiful jewellery with cheap price.
Other Things to Do at Chandni Chowk
If you are hungry during the visit, there are many local cuisine waiting for you to taste. For example, you can go to Lala Babu Chaat Bhandaar to enjoy gobi muttar samosas and original chat package; Karim's is a paradise for meat-lovers; people who love sweet food can go to Old Famous Jalebi Wala to try Jalebis.
| | |
| --- | --- |
| Apples Sold in Chandni Chowk | Take a Rickshaw in Chandni Chowk |
The greatest pleasure of visiting Chandni Chowk is to observe different locals and their interesting life style. Besides, there are also a number of religious shrines on both sides of the Chandni Chowk, such as the striking red Jainism temple and the Sikh temple, Sisganj Gurdwara, are all worth a look.
Tips on Visiting Chandni Chowk
1. Although Chandni Chowk bazaar is known for its cheap products, the truth is many products are imported from China, especially the electronic products. To buy real Indian souvenirs, some cheap Indian ornaments and knitwear are good choices, but the quality is not the best.
2. It is worth mentioning that many
Bollywood
films use this place as the background of the story, showing its status and popularity in the hearts of Indian people. If time permits, you can take some nice photos where the film was once shot.
3. The surrounding environment is very chaotic, coupled with the crowded market. So it is recommended that tourists pay attention to the personal property and safety issue.
| | |
| --- | --- |
| Transportation | Take the subway of yellow line and get off at Chandni Chowk Station |
| Timing | 9:30-20:00, except Sunday |
You May Like:
6 Secrets about Markets in Delhi