Nightlife in Delhi: 4 Best Ways to Enjoy Your Night in the Capital
Delhi is a dynamic city, where everything is colorful, loud, and beautiful. Same can be said about its vibrant night life. You can go for clubbing in trendy nightclubs, or drink at trendy stand-alone bars with your friends. The nightlife in Delhi can be addictive, and make you want more.
Here most of the nightclubs are sequestered at luxury hotel chains. But fret not, the stand-alone bars opened up in the last couple of years have become an affordable alternative. Remember, the legal age of drinking in the city is 25 years. Also, bars close post the night curfew at 1 am.
If drinking and loud noises are not your thing, then you can always go for long drives, eat good food, and enjoy yourself here. Here are some of the ways you can enjoy the Delhi nightlife:
1. Go for bar hopping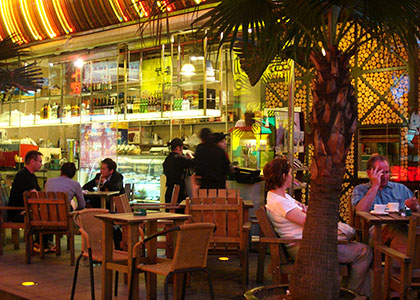 Open-air Bar in Delhi
Some of the most exclusive and electrifying bars of Delhi are located at
Connaught Place
– making it the place for great time. Apart from that, the Hauz Khas Village and the Aerocity hospitality precinct are gradually picking up the interest of the bar hopping audience. Dress code is usually casual.
Here are some of the most popular bars of Delhi:
a. Hauz Khas Social
The artistic co-working space doubles up as a bar in the night. Serving some of the most refreshing cocktails in the city, the place is suitable for a night out just like the locals.

Address: 9A & 12, Hauz Khas Fort Rd, Deer Park, New Delhi, Delhi 110016

Phone: 078386 52814

Special drinks: Cocktails, Long Island Iced Tea, Nachos, Signature drinks

Avg. cost: INR 400
b. The Piano Man Jazz Club
Old school and traditional – these are the words that defines the Piano Man Jazz Club. If you are a jazz enthusiast, then this place is a must visit. Travelers trying to explore the nightlife in Delhi should visit the place for a different experience.

Address: Commercial Complex B 6/7-22 Opp Deer Park, Safdarjung Enclave, New Delhi, Delhi 110029

Phone: 011 4131 5181

Special drinks: Cocktails, Wine, beer

Avg. cost: INR 2,800 for two people (with alcohol)
2. Clubbing at Delhi
Nightclubs at Delhi are frequently visited by well-dressed crowd who can pay the high cover charges. Usually, the cover charges can range between INR 3,000 to 6,000 during the weekends and include charges for limited amount drinks and food. These venues, attached to luxury hotels, are exempt of night curfew limits. Dress code is strictly followed here. Men should wear formal shoes, while women are expected to wear evening dresses and heels.
Here are few of the popular clubs of Delhi:
a. Kitty Su
One of the popular hangouts of the elite Delhiites, this place has a giant dance floor. Open to the LGBTQ+ community, the bar has been vocal about keeping an open mind on the topic. Kitty Su is open from Tuesday to Sunday.

Address: Lobby Level The Lalit Hotel, Barakhamba Rd, Connaught Place, New Delhi, Delhi 110001

Phone: 1800 11 6777

Avg. cost: INR 5,000 for two people with alcohol
b. SoHo
The new kid in the block, the club offers a state-of-the-art sound system, gourmet meals and some exotic cocktails. Soho makes the nightlife in Delhi more colorful and beautiful. Open till 5 in the morning, it is the perfect place for the night owls to hangout and party.

Address: Hotel Ashok, Chanakyapuri, New Delhi, Delhi 110021

Phone: 095407 08585

Avg. cost: INR 5,000 for two people with alcohol (taxes extra)
Read More: 7 Party Places in Delhi to Spend a Wonderful Night
3. Stand up comedy clubs
Who does not like to laugh, and we are sure you do too? If clubbing and partying are too much for you, then you can visit the comedy clubs at Vasant Kunj. These are often frequented by popular and upcoming standup comic trying their hand in the field.
Here are some of the popular comedy clubs of the city:
a. Punchliners
The stunning venue hosts regular stand up shows by promising artists. A very popular venue among locals, you can spot some of the top names of the industry performing here.

Budget Food for Nightlife

Address: 110 DLF Prime Tower, Okhla Phase I, New Delhi, Delhi 110020

Phone: 011 4902 7645
4. Exploring the countless food joints of the city
Delhi is the home to countless food joints serving aromatic and budget friendly eating options. However, dhabhas are a quintessential North Indian thing – and need to be experienced by the travelers. These small food joints are popular highway eateries serving some sinfully delightful dishes. Drive to your nearby dhaba for your exclusive nightlife in Delhi.
Remember some of the things while going out
• Most clubs and bars restrict single entry to men.
• In Delhi, bars close post 1 am in the night, while last drinks are served at 12.30 am. Clubs can stay open till 4 am in the morning.
• Most of the bars double up as diners during the lunch hour (12.00 pm to 4 pm), DJ events are usually hosted post dinner time
• Some bars offer discounted or free drinks on special nights for ladies.
• The app-based cabs are available in the city, and can be booked for transit.
You May Like:
Is India Safe? - Read the 14 Travel Tips
Top 8 Things to Do in India at Night
Ayurveda in Delhi - The Ancient Indian Medical Practice
The Most Well-Known Events in Delhi
See Also Popular Destinaitons in Delhi:
Top 6 Art Galleries in Delhi 6 Cinemas in Delhi