Old Delhi Railway Station – The Junction to History of India
Highlights of Old Delhi Railway Station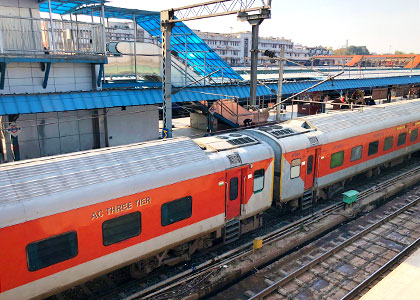 Old Delhi Railway Station

Address: Mori Gate, New Delhi, Delhi 110006

Phone: 011 23417910

Station code: DLI

Also known as: Delhi Junction

Distance from city centre: 7 km (4.3 mi) from Chandni Chowk

Number of platforms: 16

Number of Halting Trains: 59

Number of Terminating Trains: 84

Number of Originating Trains: 85

Facilities available: waiting rooms, retiring rooms, cloak room, cafeterias and railway canteens, free WIFI internet, paid parking available, taxi bay, and escalator

Nearby airport: Indira Gandhi International Airport (18 km)

Nearby Delhi metro stations: Lal Qila (0.5 mi), Kashmere Gate (0.8 mi), Chandni Chowk (1 mi)

Popular trains that halt, leave, or arrive:
*The station currently handles only broad-gauge trains
The Old Delhi Railway Station (DLI) or the Delhi Junction, is an important transit point of India. Possibly the one of the oldest railway stations of India, Delhi Junction is a busy railway station. According to a survey, around 80,000 passengers get on or get off at the station during peak holiday seasons – which is a feat in itself.
Overall, a busy railway station – most of the popular and important trains running through lengths and breadth of India either crosses or halts here. Snugly located between Chandni Chowk and Kashmiri Gate, this station has total 16 platforms. Overall, the Old Delhi Railway Station is a massive transit hub – and frequently visited by passengers coming or leaving the city.
History of the Station
Located near the heart of the old city quarters, the Delhi Junction Railway Station was established 1864. However, in 1900, the present-day building was founded by the British Raj. The station was built in accordance to the Victorian-Gothic architecture with few Indian features thrown in here and there – a common feature found in the buildings of the era. The striking red colour of the building was one of the identifiers of the railway station back then.
Currently the station is powered by rooftop solar plant – an initiative for clean and green power.
Train Station Layout
The Old Delhi Railway Station (DLI) is located close to Zorawar Singh Marg and SP Mukherjee Marg. The station is walking distance away from the major hubs of Old Delhi like Chandni Chowk, Raj Ghat, and Delhi Public Library.
There are total 16 platforms, starting from Chandni Chowk and ending at Kashmere Gate ISBT. These platforms are connected to each other via overbridges, inclined ramps and escalators. While on the lower level is dedicated platforms and train transits, the upper level is dedicated to office and administrative sections.
The ticket counters are located on the ground floor. These counters open for operation from 8.00 am to 8.00 pm on weekdays (including Saturdays). On Sundays, booking counters open up 8:00 am to 2:00 pm.
Passenger waiting trains can retire in the lounge area/waiting rooms. For travellers, stopping at Delhi for an overnight journey can book a retiring room. There are AC/non-AC rooms available on vacancy. Apart from these, the cafeteria, parking slot, taxi bay, toilets, and enquiry booths are available for the passenger convenience.
Train Number and Timing
| | | | | |
| --- | --- | --- | --- | --- |
| Train Number | Train Name | Destination | Timing | Days of Operation |
| 14042 | Mussoorie Exp | Dehradun | 07:25 | Everyday |
| 15035 | Kathgodam Uttrakhand Sampark Kranti Exp | Kathgodam | 16:00 | Everyday |
| 13414 | Malda Town Farakka Exp | Malda Town | 21:40 | Everyday |
| 14723 | Kalindi Express | Bhiwani | 05:50 | Everyday |
| 12462 | Jodhpur - Old Delhi Mandore Sf Express | Jodhpur | 06:40 | Everyday |
Apart from this, there are numerous other trains leaving or coming to Old Delhi Railway Station (DLI).
How to Reach Delhi Junction Railway Station?
The Delhi junction is well connected to the prime hubs of the city. Tourists can hire autos, metered taxis, or app-based cabs to travel between the station and the nearby locations.
Read more about Auto-rickshaw in Delhi Taxi Services in Delhi
1. Nearest bus stop: Old Delhi Bus Stop (1 km, 5 minutes walkable distance)
Busses that stop here are 101B, 101EXT, 103, 107, 112, 113, 0131, 131, 175, 202, 0205, 205, 227A, 233, 449A, 807A, 921, 921CL, 921E, 937A.
Base fare of buses in Delhi is INR 5/4km
2. Nearest metro station: Chandni Chowk (Yellow Line)
The yellow line metros run through the station. The Samaypur Badli and HUDA City Center are the previous and successive stations respectively.
Base fare of the metros is 10 INR.
The cabs can be halted from the nearest taxi bay. They usually charge 35 INR as base fare, post that for every subsequent kilometer 8 INR is added.
You May Like: