Rashtrapati Bhavan, Delhi
The Rashtrapati Bhavan in Delhi is where President of India lives. It is located in the far west of Rajpath, opposite the "
Indian Gate
", with both sides of the government office buildings.
What to See in Rashtrapati Bhavan

The building is mainly made of masonry and combines traditional Indian and Victorian styles. Is Rashtrapati Bhavan bigger than White House? Yes, it is! How many rooms are there in Rashtrapati Bhavan of India? Rashtrapati Bhavan covers an area of about 20,000 square meters, with 340 palaces, 227 columns, 35 gazebos, 37 fountains and a long corridor of more than 3,000 meters. There is also a 400-meter-long, 180-meter-wide Mughal-style courtyard. The courtyard is open to the public every January. In addition, there is a very famous garden in the Rashtrapati Bhavan, which is modeled after the garden style of the Mughal dynasty and is known as the "Mughal garden". But it is only shortly open to the public from mid-February to mid-March every year, when you can expect flocks of tourists. Besides, there are audience hall, ballroom, library, as well as countless fountain pools in Rashtrapati Bhavan.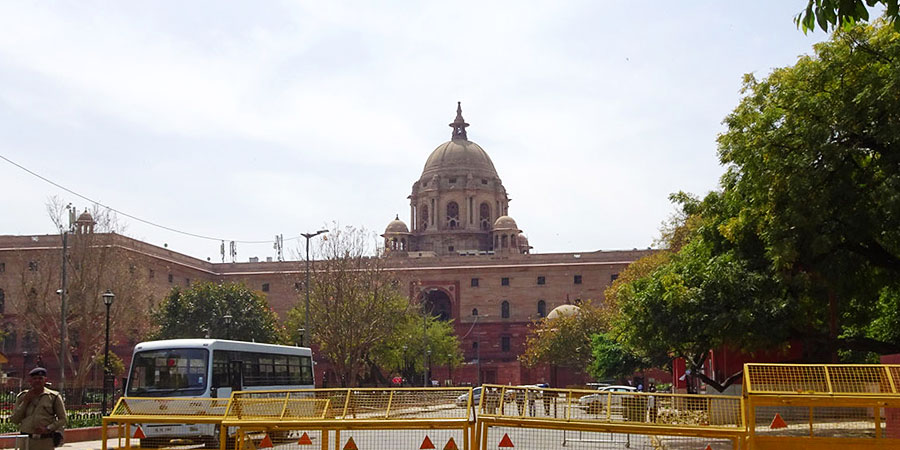 Rashtrapati Bhavan
As Rashtrapati Bhavan is the residence of the President of India, it is not easily open to the public and there are strict security measures in it. Between the Rashtrapati Bhavan and the Indian gate is a wide and straight Rajpath Street, which is surrounded by green, beautiful plants. During the National Day parade in January, this place is even more lively and festive.
History of Rashtrapati Bhavan
Rashtrapati Bhavan was started to be built in 1912, and was completed in 1929, formerly known as Rashtrapati Bhavan. This building began as the British colonial-era governor's mansion, and was officially renamed the Rashtrapati Bhavan by Indian authorities after India's independence in 1947. The architect of Rashtrapati Bhavan is Edwin Lutyens, who was also the principal architect of the 1921 New Delhi urban planning. In nearly 90-year history, this magnificent building has witnessed many important historical moments and has become one of India's national symbols.
Tips:
1. Can we go inside the president house of India? Well, foreign tourists are required to make an advance online booking to get a permission so that you can visit the Rashtrapati Bhavan, and show the original passport on the day of the visit.
2. Visitors are allowed to visit Rashtrapati Bhavan on Fridays, Saturdays and Sundays. And the timing of visit starts from 9:00 to 16:00.
3. The routes to enter Rashtrapati Bhavan are through Gate 2 on foot and Gate No 37 via Dalhousie Road.
| | |
| --- | --- |
| How to Get to Rashtrapati Bhavan | Take the yellow or purple metro line to Central Secretariat station and get out from exit 4 and walk east along Rajpath Street for about 1km. |
| Opening Time | 10:00-16:00, except Mondays |
| Entry Fee | Free |
| Recommended Time for a Visit | 1-3 hours |
Nearby attractions: