Top 13 Must-Try Delhi Foods You Cannot Miss
Delhi is a foodies den and you have to prepare yourself, for, if in Delhi and you don't taste these Delhi foods then you have really deprived yourself from a treat that your soul just won't forget or forgive!
1. Jalebi Wala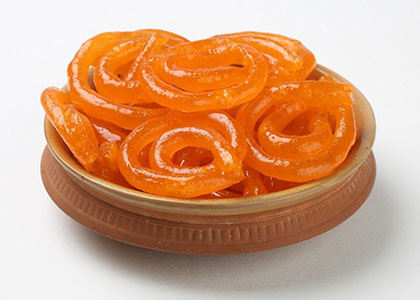 Jalebi
For the early morning breakfast drop down to
Chandni Chowk
. Even if you are not a great fan of sweets, we recommend this steaming hot Jalebi Wala Jalebi to you. This is the oldest eatery of Delhi and the mouthwatering crunchy taste is something you should not miss. The shop is famous for selling giant juicy Jalebi's for the last 100 years.

Shop timing: 8:00 AM – 10:00 PM

Price: INR 500 per kg

Location: 795, Dariba Kalan Road, Dariba Corner, Opposite Central Baptist Church, Chandni Chowk
I know that you will thank me for this recommendation!
2. Dahi Bhalla
If in Delhi, Dahi Bhalla from this shop is a must. The spongy delights made from gram, dipped in yoghurt and topped with tamarind chutney and a mix of spicy powders make this utterly divine treat unmissable! Netaji Café has an age-old reputation and eating from here is a part of the Delhi food pilgrimage. It is not hard to find as it is opposite the Paranthe Wali Gali in Chandi Chowk.

Time 11:30 AM to 9:00 PM

Price: INR 50 per plate

Location: 1396, Main Road Near Central Bank, Kucha Mahajani, Chandni Chowk
3. Choley Bhature
Delhi folks swear by Sitaram Diwan Chand. Famous for its Choley Bhature, you have to eat it to know why it holds such a proud reputation. The dish, on the face of it, is just a type of a fried puri with chickpeas in a thick concentration of gravy, but that is not what Sitaram's gourmet packed edible is all about. It is in one word, heavenly! End the meal with a glass full of lassi the delectable yoghurt- mix that sinks into your system as water in sand. You are left carving for more.

Time: 8:00 AM to 6:00 PM

Price: INR 70 per plate

Location: 2243, Rajguru Marg, Chuna Mandi, Paharganj
4. Kakori Kebab

Kakori Kebab
Delhi carries a rich Mughal heritage and that has naturally seeped into the Delhi food culture. Alkauser, in RK Puram is famous for its Kakori Kebab. Yes, the only pain is that you will have to wait in long queues hoping that your turn comes fast. But I can promise that the wait is worth every bit of your time. You need to hurry as the kebabs are sold out in a rush and unless you are really quick you will miss out on this glorious nonvegetarian delicacy.

Time 12:00 PM to 4:00 PM, 7:00 PM to 11:00 PM

Price: INR 160

Location: 30, Vasant Place Market, Near Malai Temple, R K Puram, New Delhi
5. Chicken Jahangiri
There are many food joints in
Jama Masjid
and people who have a veritable appetite are often found here looking for mouthwatering binges and they return home feeling totally satisfied. At Al Jawahar's, Chicken Jahangiri is considered quite out of the world. The taste is not one to forget and those who have done something good in their life get to taste it over and over again. But even if you have tasted it once you can feel happy with the feeling that you will not die without tasting this delicious melt in the mouth delicacy.

Time 7:00 AM - 1:00 AM

Price: Rs 230 for Half Plate

Location No.8, Jama Masjid Matia Mahal Road, Matia Mahal
6. Gol Gappa
Known for its Gol Gappas, Vaishnav Chat Bhandar is enjoyed by all Delhi food lovers. Most people challenge each other on how many they can eat at one go and it is quite amusing to watch youngsters as they stuff the glorious round juicy delights in their mouth trying to beat the other. This is only possible because it has the perfect taste that induces people to accomplish great feats in numbers.

Time 12:30 AM to 10:30 PM

Price: INR 50

Location: 66-67/E, Near Chota Gali Chakkar, Kamla Nagar
7. Mutton Korma
Karim's is a name that has earned a reputation transcending borders and states. If in India, you will be familiar with the Mutton Korma of Karim. A small insipid place but the food that they make is well known far and wide. Don't leave out this joint from your itinerary.

Time: 9:00 AM – 12:00 AM

Price: Rs 320

Location: Jama Masjid, Gali Kababian, Old Delhi
8. Hot Chocolate Fudge
Nirulas is a name that is as old as Delhi itself (not really but yes, it is one of the oldest chains in Delhi). Much loved by the locals for their confectionaries, their Hot Chocolate Fudge needs a special mention. Do try this out.

Time: 8:00 AM – 2:00 PM & 2:00 PM – 8:00 PM

Price: Starts from INR 180

Location: any of the 20 counters of Nirulas across the city
9. Coffee

Delhi Coffee
The old heritage of the coffee at United Coffee House is still steeping. Just to revisit the old charm of Delhi you can walk into this place to taste the old aromatic coffee and sandwich that had always been a favorite with many who continue to visit this place as a force of habit.

Time: 9:30 AM - 12:00 AM

Price: Starts from INR 120

Location: E-15, Connaught Place, New Delhi
10. Fish Fry
An old large frying wok that has been seasoned with frying for years holding hot simmering oil that crackles when the man with the large iron turner drops virgin fish fillets deliciously coated with batter, in it. Ganesh Pakodewala bravely whisks away those hot pakoras with his bare hands and dumps it in the basket to drain the extra grease. How about trying this soft spicy treat that fills your mouth with a fusion of good taste and makes you happy at not missing out on this joint.

Time: 4:00 PM – 11:00 PM

Price: INR 325 (250gms)

Location: 2298, Gurudwara Road Chowk, Karol Bagh, New Delhi
11. Aloo Kachori
The Aloo Kachori at Hanuman Mandir in Connaught Place is another favorite place of the Delhi food aficionados. The love for potato is deep seeded in this city and so is this joint that serves to this benevolent craving. So, to feel one with the city try out this delight and you will not be satisfied with just one. You will add a couple more to your order. However, this spicy delight will leave you wanting to calm your taste buds with something cold so head for the Kulfi shop straight away.

Time: 8:00 AM – 11:30 PM

Price: INR 30

Location: Hanuman Mandir, Street
12. Kulfi
Delhi is also famous for its Kulfi, but this joint in particular is a cut above the rest. Kulfi At Kuremal Kulfiwala, is stuffed with natural flavors of mango, pomegranate, apple and orange. The taste is of true fresh fruit punched in frozen delights. This is indeed one of its kind.

Time 10:30 AM - 10:30 PM

Price: INR 200 a piece

Location: Kuremal Mohan Lal Kulfi Wale, 526, Kucha Pati Ram, Bazar Sita Ram, Near Chawri Bazar Metro Station, Chawri Bazar
13. Biryani

Delhi Biryani
And finally, you are not leaving Delhi without tasting this. Matka Peer Dargha's Biryani is a taste unrivalled. Even if you are from the Biryani capital of the country, the flavors that this place captures deserves a special mention. This is a not to miss rendezvous that you have to promise yourself to keep.

Time: 2: 00 PM – 8:00 PM

Price: INR 500 per kg

Location: Darga Matka Peer, Opp NSI Club,Mathura Road, Pragati Maidan
It would be unfair to sum up Delhi's food delights in just this list. It is humanly impossible to list down the endless joints in the city that foodies worship. But from a tourist's point of view, in your short stay you could try these out or discover a few more and add to my list. All these places are centrally located and can be easily accessed by bus, auto and taxis from the city center or the place that you are staying.
While you are tasting the delights, you could give your stomach some rest by doing your shopping from Connaught Place or Chandni Chowk. Have a great stay, eat with care and don't forget to carry some digestives.
You May Like: