Shopping in Delhi: Where to Buy & What to Buy
Always known as a shopper's paradise Delhi is one place where you can shop and shop and never have enough. Shopping in Delhi means great prices, great buys and everything that a shopaholic could only dream for. From top fashion, to ethnic, to utensils, books, home decors, gardening, anything under the sun. Delhi is set to live up to the shopping dreams for anyone at any time. People from around the globe find Delhi a satisfying destination and they go back with the feeling that the money they spent was worth every bit of what they bought.
1. The Dilli Haat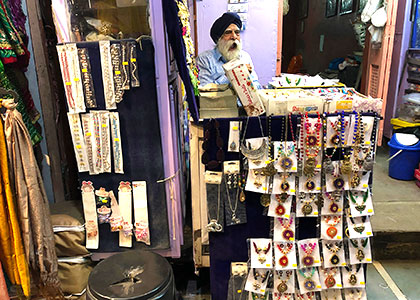 Necklaces on Delhi Night Market
Want a taste of the ethnic India? Then you know your place. This is one destination that brings the best handicrafts for you at one place. All you need to do is be there and choose. Open from 11:00 AM and closes at 10:00 PM everyday including Sundays, this typically represents how village markets look like with thatched roofs and bamboo pillars. From jewelry, to bedsheets and bed covers, cushion covers, home decor, food, clothes and accessories, find them all here. Displayed openly, waiting to be picked by onlookers. A peek into the colors and variety that India offers.

Details:
• Time: 11:00AM to 10:00PM (all days of the week)
• Metro: Get down at INA station and walk till the Dilli Haat. It's a close walk.
• Bus Stop INA Stop from your destination
• Location: Sri Aurobindo Marg, New Delhi, India
2. Janpath Market
If you have great bargaining skills like my mother, then this place is close to heaven for you. Indeed if you can quote obnoxious prices without battering an eyelid or keep a straight face with the shopkeeper scoffing at your quoted price, then shop keepers appreciate your art and rewards you with unbelievable prices on clothes, artifacts, paintings, shoes, handicraft that include Tibetan handicrafts too, leather work and much more. Get very good stuff from here triumphantly because you will earn every bit of it! Shopping in Delhi couldn't be more fun.

Details:
• Time: (Monday to Saturday) 10:00 AM – 9:00 PM; Sunday (11:00 AM to 8:00 PM)
• Metro: Rajiv Chowk Station. Exit from the gate no 5 then walk for 5minutes towards the LIC building, find the market right behind the LIC building.
• Bus stop: Janpat Market Shop
• Location: Janpath, New Delhi, India
3. Khan Market

Delhi Silk and Fiber Products
A mix of branded shops and classy street shops get the best of both worlds here. A good place for Shopping in Delhi for a variety of stuff like ayurvedic medicines. Apart from this, the market offers clothes, cosmetics, books, also has government shops for those looking for fixed price. This is a good place to shop.

Details
• Time: 10:00 AM to 11:00 PM on all weekdays. Closed on Sunday
• Metro: Dilli Haat will be your Khan Market Station (violet Line). Moderate walk from the station.
• Bus stop: Khan Market Stand is just a minutes' walk from the market
4. Paharganj
This is a curious enclosure of abundance. A wholesale market ready to please you with throwaway prices on books, textiles, clothes, hookah pipes, music, handicrafts and so much more. You can find imported products too and get them at a bargain. Shoppers love to spend hours here as this place never satisfies you enough until it closes for the day. Yes, shopping in Delhi can be that pleasing.

Details:
• Time: 11:00 AM to 9:00 PM (Tuesday -Sunday. Monday closed)
• Metro: New Delhi Metro Station (Yellow Line)
- Ramakrishna Ashram Marg Metro Station (Blue Line)
- Jhandewalan Metro Station (Blue Line)
- Chawri Bazar Metro Station (Yellow Line)
- The market is just a walking distance from the metro stations.
• Bus stop: Paharganj Gate stop is a walking distance and you don't need to take a rickshaw.
• Location: Central Delhi, India

Delhi Handicrafts
One of the oldest shopping places in Delhi and its charm is never ending. Many poets and lyricists have alluded to its charm in their writings. Indeed, the market is veritable with not only the wares it sells but the market alleys, lanes and by lanes and cramped shops that induces romantic buying passion. The market is divided into sectors for fabric, silver, leather, cooking wares whatever you may ask for, Chandni Chowk has it all. It is a tireless expedition for shoppers and a gratifying experience for shop keepers that goes on until late hours of the night, till the shopper actually drops dead tired!

Details:
• Time: Opens early and closes at late night
• Metro: Chandni Chowk station. Just walk into the market
• Train: Old Delhi railway station. Take an autorickshaw
• Bus Stop: Chandni Chowk Bus stop
• Location Chandni Chowk, Old Delhi, India
6. Sarojini Market
Articles that have not passed the export standards but good enough to pass muster is what this market principally sells. Now don't get dejected with its reputation, for if you do, you don't know what you are missing out on. The rejects are so trivial and minor that they might escape your eye completely. What you take back with you are standard export items at prices you could never imagine. From Indian cotton, to designer clothes, textiles, accessories, kitchenware, electronic goods, household items, crockery, you will find everything. Try to visit this market on any day but a Sunday, as that's one day the market overflows with enthusiastic shoppers.

Details:
• Time: 10:00 AM to 9:00 PM (Every day. Monday Closed)
• Metro: INA Metro (Yellow Line) Walk till the market
• Bus stop: INA Bus Stop
• Location: Sarojini Nagar, Near Dilli Haat
7. Central Market
Interested in henna stained hands with intricated patterns delicately drawn till your elbows or feet? This is one place that is lined by henna artists who create magical patterns on your hand, arms and feet, and are a significant part of your shopping experience in Delhi. There is also plenty of shopping to do in the Lajpat Nagar Markets as most Delhi locals call it. Known for clothes, home decors, leather items and just about anything. Please your soul as shopping here is indeed gratifying.

Details:
• Time: 10:00 AM to 9:00 PM (Every day. Monday Closed)
• Metro: Lajpat Nagar Metro Station. You can take a rickshaw that will bring you to the market in 5 minutes
• Bus stop: Lajpat Nagar Stop
• Location Lajpat Nagar, New Delhi
The top shopping place to be in Delhi. All the top Indian and international brands and designer wares have a presence inside the classy white facade of this complex. Its circular design spells a certain class of exclusivity that ranks 9th in the world for its high rent. Divided in three zones, the inner, middle and outer circle, the inner is where you can search for international and national top designers. This shopping enclave is select and chic. Those who are looking for things that are a class apart need to look nowhere else. CP is your destination!

Details
• Time: Opened till late hours of the night
• Metro: Rajiv Chowk on Yellow and Blue Line
• Bus stop Janpath Market stop
• Location: Connaught Place, New Delhi
9. Palika Bazaar
This underground market is in the center of Connaught Place. Fully airconditioned, locals and tourists alike, shopping in Delhi buy accessories, clothes, perfumes, jewelry, footwear, music etc. from here. Your ability to bargain will be tested in this subterranean flea market. So, brace yourself for a kill if you are planning to visit this market.

Details:
• Time: 10:00 AM - 7:00 PM (Closed on Sunday)
• Metro: Rajiv Chowk Metro Station
• Bus stop: Palika Bazar bus stop
• Location: Connaught Place, New Delhi
10. Karol Bagh Market
Another shopper's heartland that holds years of reputation for pleasing shoppers, the Karol Bagh market is ideal for traditional Indian and bridal wears. But apart from these attractions there are a lot more for those looking for books, cosmetics, electronic items, accessories, shoes and other things. Just around the market on Ajmal Khan Road you can find a good place for readymade clothes. Another place that you might like to visit is Gaffar, famous for imported goods. On the Arya Samaj Road find a treasure of secondhand bookstores. Close by on the Bank Street find gold jewelry shops lined with a glittering array.

Details
• Time: 10:00 AM to 8:00 PM (Monday Closed)
• Metro Stop: Karol Bagh Metro Station
• Bus Karol Bagh
• Location: Karol Bagh, New Delhi
Travel Fares
You can reach these shopping places by
Metro
, bus, Taxi or Auto rickshaw from your destination. Metro fare varies from INR25-48. Bus fares are INR 10 per 4 km (2.4 mi) and increases by INR5 after every 4 km (2.4mi). Black and yellow roof taxis charge INR 25 for the first kilometer and then the fare increases by INR 14 per km. In AC taxis the fare increases by INR 16 per km (9.9mi). Auto Rickshaws charge INR 25 per 2 km and increases by INR 8 per km (4.9mi).
Carry back the best of Delhi with you. But shopping in Delhi would be incomplete without silk scarfs, gold jewelry, silver jewelry and articles, Kundan & Minakari jewelry, pickles, spices tea, fashion wear, accessories, brass, wood and sandalwood articles, traditional items and Indian handicraft. Make sure your takeaways include some of these.
You May Like:
6 Secrets about Markets in Delhi
Shopping and Bargaining in India: Tips & Helpful Hindi Phrase