Sansad Bhavan, Delhi (Parliament House)
Facts of Parliament House
Location
: It is on Rajpath Street, Sansad Marg, New Delhi
Who designed the Parliament House of India
: It was designed by British people Sir Edwin Lutyens and Sir Herbert Baker, who were designers of New Delhi.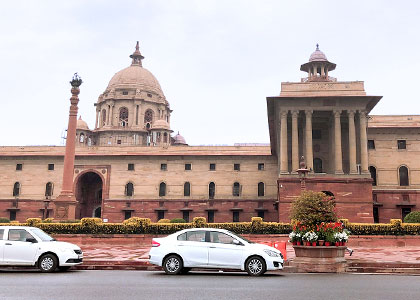 5 photos
Structure of Parliament House
Located on the northeast direction of Rashtrapati Bhavan, Parliament House is also called Sansad Bhavan. Parliament house of India architecture is very magnificent. The extior of India Parliament House features a disc shape and four white marble cylinders with an architectural style that blends traditional Indian style with Victorian characteristics. On the interior wall, there are many mural paintings about Indian history, filled with a solemn and sacred atmosphere. Parliament House contains two houses: Lok Sabha (House of the People) and Rajya Sabha (Council of States). And it is a modern building surrounded by a pool and lined with round columns on the wide lawns.
Why was parliament house of India built?
Because India's modern parliamentary system originated during the British colonial period and in the wake of the awakening of the Indian people's nationalism and patriotism. With the development of democracy, it is reasonable to build a parliament house.
Process of Indian Parliamentary Democracy
From the end of the 18th century to the beginning of the 19th century, Indians began to demand the establishment of constitutional institutions to the British colonial rulers. In 1833, British colonists established a central legislature in India. In 1919, the British Parliament passed "the Government of India Act", which provided a bicameral system of the legislature body at the central level — the Council of State (upper house) and the Legislative Council (lower house). In 1945, the British Labor government announced its policy of India, allowing India to convene a constitutional assembly to enact the constitution. In 1947, India became independent. On January 26, 1950, the Constitution of India entered into force and the Constituent Assembly became India's interim parliament. The first general election after the Constitution were held between 1951 and 1952, after which Indians formed the People's House and the Federal House.
The Federal Parliament of India is the highest legislative body in India and consists of the President and the House of Peoples (lower house) and the Federal House (upper house). The Federal House is a permanent body, and the House of Peoples is appointed for a term of five years.

The Extior of India Parliament House
Tips for Visiting Parliament House
1. Visitors only can take photos around the Parliament House. If you want to visit the interior of the building, you need to go through the necessary procedures at the embassy of your country.
2. Every year on January 26, the Indian Republican day, there will be a parade and folk performances near the Parliament House.
How to Get to Parliament House


1. Take yellow or purple metro line and get off at Central Sectt Station.

2. Take bus at Interstate Bus Terminus or you can take the IBT bus at Sarai Kale Khan and Connaught Square

Entry Fee

The fare is Rs 10 for adults and children is free of charge

Timing

11:00-17:00, except Sundays and Mondays

Time for a Visit

1-3 hours

Nearby Attractions: