Lotus Temple, Delhi
Lotus Temple is an iconic landmark in south Delhi, and is a famous Baha'í faith temple in Asia. Its appearance is like a blooming lotus flower,symbolizing the mutual tolerance and coexistence of different religions, so called "Lotus Temple." It was built in 1986 by Iranian architectFariborz Sahba, resembling "Sydney Opera House" so much. Lotus Temple is a holy place for Baha'í faith in Asia.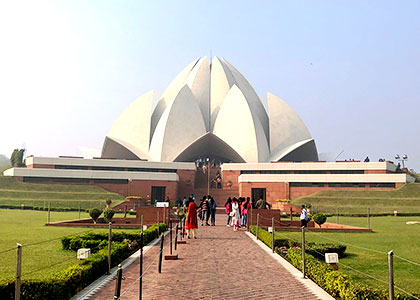 6 photos
Lotus Temple Religion - Baha'í
Lotus Temple belongs to Baha'í faith, which is relatively young with only 150 years history compared with other large religions in the world. The three core principles of the Baha'í faith doctrine are simply expressed as: God's only, religious homologous, human family. Because of the simplicity and universality of the Baha'í faith doctrine, even if it does not preach, it is developing more rapidly around the world. Although the Baha'í faith originated from Iran's Islamic Shia, its doctrinal development has been divorced from the Islamic point of view and is self-contained and has nothing to do with Islam.
Lotus Temple Architecture
Lotus Temple is 34.27 meters high, with bottom diameter of 74 meters. The temple is built of white marble and is seen as a three-storey white petal, surrounded by nine clear water pools holding the "lotus flower" together. Lotus Temple has no statures, no carvings, no frescoes and other decorations in the spacious hall. Rows of white marble benches and a host podium are placed on the smooth floor. Lotus is the national flower of India and is also regarded as a holy flower by Hinduism and Buddhism, so Lotus Temple is very popular in India. People who enter the temple do not have to perform any special rituals, and no matter what religion you believe, anyone can just take off their shoes and enter Lotus Temple and sit down and meditate. The temple environment is clean and tidy, and it is not as musical as other Indian religious shrines. When you enter Lotus Temple at dusk, you will be mentally relaxed and enjoy the fountain show. The gardens and pools around Lotus temple are open free of charge and visitors can rest around here. At night, Lotus Temple looks especially beautiful in the light, but visitors are not allowed to enter.

Night View of Delhi Lotus Temple
| | |
| --- | --- |
| Location | Lotus Temple Rd, Shambhu Dayal Bagh, Bahapur, Shambhu Dayal Bagh, near Kalkaji Temple, East of Nehru Place, New Delhi, Delhi. |
| Transportation | Take subway and get off at the nearest metro station, Kalkaji Mandir Station, then walk north of 850m to it. |
| Entry Fee | Free |
| Timing | October to March: 9:00-18:00; April to September: 9:00-19:00 |
Other Popular Temples in Delhi:
Swaminarayan Akshardham Temple