Delhi Transportation
A city laden with history that stands as witness to the years of grandeur yet marked with modernity is New Delhi the capital of India.
A day's tour is not enough to capture the true flavor of this city. There is much to see and even much more to experience as you arrive in Delhi. There are various modes of travelling in and around the city. Here is a broad overview on how you can cover the city with different modes of Delhi transport.
Arriving in New Delhi
You can arrive in New Delhi by air, train or bus. New Delhi, being the capital city of India, is well connected with all the cities within the country and the world and travelling is hassle-free and pleasant. Check out all the possible options.
1. Air Transport
The
Indira Gandhi International Airport
of New Delhi (IATA: DEL, ICAO: VIDP) is well connected with all the international airports of the world and domestic airports of India. There are regular flights connecting all international and domestic destinations. This airport is visited by an approximate of 80 airlines.
The airport is divided in two terminals. Terminal 1D for domestic flights only. All international and a few select domestic flights arrive and depart from Terminal 3 or T3. A free shuttle service operates between both terminals after every 20 minutes. The airport handles more than 70 million passengers a day.
The other airport in Delhi is the Palam airport and handles only domestic flights, mostly arrivals and low-cost airlines use it for their departing flights. Delhi transport connects the airport with other transport options.
2. By Train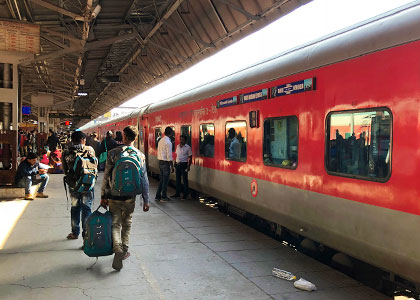 8 photos
The headquarter of the Northern railways, Delhi has five major railways, the
New Delhi Railway Station
,
Old Delhi Railway Station
,
Nizamuddin Railway Station
, Anand Vihar Railway Terminal and Sarai Rohilla. Most trains pass through the Delhi Railway Station (NDLS), situated in Ajmeri Gate and Paharganj is the busiest railway station in India.
The station is the terminal point of around 400 trains. It handles a flow of over 50,000 passengers a day. There are 16 platforms in all.
Trains from all over the country either end or touch this railway station. So, you can travel to Delhi from anywhere in India.
The New Delhi Railway station is connected to the Yellow line Delhi Metro also the Delhi Metro express (Orange Line) is connected to the Indira Gandhi International Airport and further to the Blue Line metro.
Delhi transport also connects the railway station with buses, auto-rickshaw and taxi.
3. Bus Travel to Delhi
Delhi is well connected to all cities. You can reach Delhi or make short bus rides in luxury coaches to Alwar, Amritsar, Jaipur, Chandigarh, Manali, Dharamshala, Shimla, Dehradun, Agra and travel internationally to Kathmandu from Delhi. The intrastate bus terminal is at Kashmiri Gate, Anand Vihar and Sarai Kale Khan. You can take luxury AC buses from Mandi House to travel to nearby hill stations.
Also, The Bikaner House bus station serves as a bus terminal for AC buses coming from other regions of India.

Delhi Metro
The Delhi Metro is the most convenient and cheapest mode of transports that binds the city through its seamless connectivity. The fare is reasonable and can be availed from 04:45 am to 23:30 pm. In India it is the largest and busiest metro service. There are eleven color coded lines that reach out to 285
Delhi metro stations
and spans to total of 389km (241mi). A combination of underground, at-grade and elevated stations running on both standard and narrow-gauge lines the metro makes daily 2700 trips. The Delhi Metro also connects the satellite towns surrounding the city, Ghaziabad, Faridabad, Gurgaon, Noida, Bahadurgarh and Ballabhgarh.
Read more about Noida Metro Map
City Transport
The city is well connected with a network of transport systems from the airport, railway stations, bus terminals and the metro stations.
From the airport (Indira Gandhi International Airport), Railway Station and bus terminal the most convenient way to reach the city center is by a taxi, metro or bus. You can book for luxury taxis; the fare is dependent on distance and reaching time on the traffic.
1. Metro
The city center can also be reached by the Airport Express Metro (the Orange line). This travels to the New Delhi Metro station just besides the New Delhi railway station. You can be at your destination in just 20 minutes, the cost per ride is (60INR).
For tourists there are two card plans on the Delhi Metro. A 1day card will cost you INR100, while a 3day card will cost INR250. There is a refundable deposit of INR 50 which needs to be paid on purchase. So, if you plan to look around Delhi this will come handy.
Read more about Delhi Metro Card Delhi Metro Map Delhi Metro Fare
The cheapest means for transport are buses. They wouldn't add much to your comfort but if you are on a tight budget, then this is just as good. Fares are INR 10 per 4 km (2.4 mi) and increases by INR5 after every 4 km (2.4 mi).
For travelling on your own within the city Delhi transport offers a Green Card from DTC. The fare is INR 50 for AC Buses.
The Delhi Darshan tourist bus will take you sightseeing to important locations in Delhi. Fare INR 100 and will cover 102 km (63 mi) for a complete city tour.
You can also travel by the stage carriage buses; a bit more comfortable. Minimum fare till 8 km is INR7 and increases by INR 10 after every 8 Km (4.9 mi).
3. Taxis & Rental Car
The black and yellow roof taxis charge INR 25 for the first kilometer and then the fare increases by INR 14 per km. In AC taxis the fare increases by INR 16 per km (9.9 mi). Waiting time is INR 30 per hour and INR 10 for extra luggage.
Radio Taxis are fitted with GPRS technology and they issue bills. The charges are based on per kilometer/miles and available 24h every.
You can also rent a car from Delhi transport's DTTDC. The fare is on gauge to gauge basis and there are counters at the airport/ railway station/ bus terminal that will give you all the details you require for hiring a car from them.
| | |
| --- | --- |
| Rental Car, Delhi | E-rickshaw in Delhi |
Auto Rickshaw, the three-wheel drives are quite popular for short travel and charge INR 25 per 2 km and increases by INR 8 per km (4.9 mi). For extra luggage they charge INR 7.50. Waiting charges are INR30 per hour.
You can cover the last mile from your metro station in an E-Rickshaw within an area of 3-4 km (1.8-2.4 mi). Enabled with GPS and CCTV the E-Rickshaw serves the NRC (National Capital Region). Fare varies from INR 10-INR16.
It is easy to travel within Delhi. Follow your GPS and check your destinations regularly. It is a large city but don't be afraid to get lost. If you ask people, make sure you verify with two others. Hope you have a great trip!