Dashashwamedh Ghat, Varanasi
Located in Dasashwamedh Godowlia, Varanasi, Dasashwamedh Ghat is the most popular ghat of all, and also enjoys a sacred religious status in Varanasi and even in India. Every night, a group of priests perform a worship ritual here, offering sacrifice to Lord Shiva, the
Ganges River
, the Sun, fire and the whole universe.
Attracting numerous tourists every night, the Ganga Aarti ceremony at Dashashwamedh Ghat is splendid and marvelous. Every day, priests who are in charge of PUJA come early. About half an hour after sunset, priests dressed in yellow silk vestments would sweep, arrange the sacred vessels, and start the ceremony. Every Hindu sings a hymn in response to the god of river. At that time, the steps of altars would be crowded by vendors who sell flowers, tikka, rosaries, lanterns for wishing, and other religious objects. Together with dance and fire, the whole bank would be shined, and immersed in the aroma of sandalwood oil.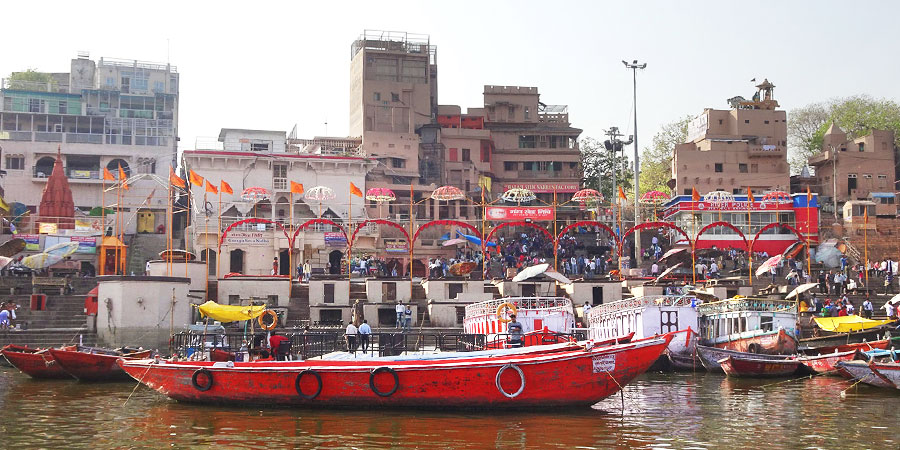 Dasashwamedh Ghat
Why Dashashwamedh Ghat is a scared site in religion?
Dashashwamedh Ghat is a major ghat along Ganges River, it might be the most spectacular one. There are two Indian legends related to Dashashwamedh Ghat. One is that Brahma, one of Lord Gods, created Dashashwamedh Ghat to welcome Lord Shiva, another Lord God. The other one is that at Dashashwamedh Ghat, Brahma sacrificed ten horses in fire. In addition, legend has it that Raj, the ancient ruler of Varanasi, once had driven out all Hindu gods living here. Therefore, Brahma was sent here to punish Raj by god Shiva. Brahma asked Raj to offer 27 kinds of sacrifices from different sources. At last, Raj accomplished the task, and even added 10 extra sacrifices. Coincidentally, Dashashwamedh Ghat is where Brahma receive these sacrifices. As a result, Dashashwamedh Ghat is considered to be a sacred site to hold sacrifice ceremony in religion.
What to Do at Dashashwamedh Ghat?
Being an ancient and important religious altar along Ganges River in India, Dashashwamedh Ghat is a fascinating place for both Hindus and tourists. Wonderful religious ceremonies and rituals can be appreciated here, and it is also a perfect place to experience the piety of Hindus. Following are some featured activities.
Appreciate Ganga Aarti Ceremony
Every night, numerous people flood here to appreciate Ganga Aarti ceremony. Young priests dressed in yellow silk vestments would perform the ritual ceremony using different sacred vessels. Hindus will sing together with priests, creating a breathtaking scene of worship. At that moment, you may feel like you enter into an Indian film and accompany Hindus to worship. It is a perfect chance to feel and experience Hindus' faith.
Make wishes on the Lanterns
When the ceremonies and rituals are finished, petals are distributed by priests. People would bring the petals and step close to Ganges River, then scatter them into waters, praying with two hands together. Later, they would scoop up a handful of water to drink or spill it from the head. Small lanterns are available nearby. Tourists can buy one, then light it up, and place in into water. Taking the wish, the lantern would float to the heaven in the heart with the flow of Ganges River.
| | |
| --- | --- |
| Appreciate Ganga Aarti Ceremony | Enjoy the Marvelous Sunset of Ganges River |
Enjoy the Marvelous Sunset of Ganges River
Usually, people would gather earlier than the beginning of the ceremonies. During the time waiting for rituals, tourists can witness the marvelous sunset of Ganges River. You can choose to see from the banks or take cruises floating on Ganges River. Gradually, the sun will be swallowed by the broad river. At that moment, you will certainly fell love with the beauty and wonder of sunset.
How to get to Dashashwamedh Ghat
1. From Varanasi, passengers can walk there, and waking through the old city is a good way to visit every altars along the river.
2. Passengers can also take rickshaws, or electro mobiles to get there. Fees for short distances generally start at around 20 rupees and can be negotiated.
| | |
| --- | --- |
| Entry fee | Free |
| Timing | All day |
| Suggest Duration of a Visit | 1-3 hours |
| Best Time to Visit | after 18:30, on Tuesdays or religious holidays |
Read More: