Sarnath, Varanasi
Situated 10 kilometers north of Varanasi, Sarnath (Deer Park) is said to be the site where Sakyamuni lectured Buddha Dharma for the first time after he became a real Buddha. Since that on, Buddhism spread over the world, therefore, Sarnath became one of the four sacred places of Buddhism in ancient India. Every year, holding a devout heart, people from all over the world would come and worship here, wishing to be enlightened in the sacred Sarnath.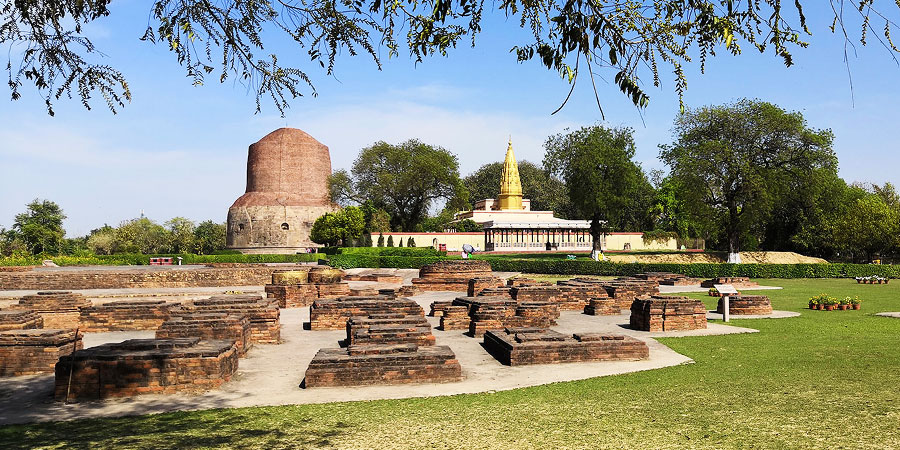 One of the Four Sacred Places of Buddhism - Sarnath
Sarnath Was Prosperous and Splendid in the Past
Since Sakyamuni first lectured Buddha Dharma at Sarnath, Sarnath was famous as the starting site of Buddha Dharma. In 3rd century A.D, Sarnath became an important artistic center. Later, in 7th century, Xuanzang, an eminent monk of Tang Dynasty in ancient China, visited Sarnath, witnessed the prosperity of Sarnath at that time, and also recorded with characters. Later, after Buddhism declined in India, Sarnath was invaded by Islamic believers, and many Buddhism architectures were damaged. The famous sites nowadays are all ruins of the splendid buildings in the past. With more support from Indian governments, Sarnath is gradually renovated, and the prosperity in the history would be presented again as well.
Main Sites in Sarnath
At present, main sites in Sarnath include Dhamekh Stupa, Ashoka Pillar, Chaukhandi Stupa, Sarnath Archaeological Museum and other monasteries of different countries which are built later.
Dhamekh Stupa
As the symbol of Sarnath, Dhamekh Stupa was first built in Maurya Dynasty, and was renovated in Gupta Dynasty. With a height of over 40 meters and a diameter of more than 28 meters, Dhamekh Stupa is a bare existing building of Ashoka Period. Part of Dhamekh Stupa was destroyed, but the base of the stupa remains intact; what's more, the intricate geometric patterns are still visible. Dhamekh Stupa is a giant cylinder-shaped red brick stupa with two floors. The upper part is a red architecture with cylinder-shape and the bottom part was built with large stones. On eights sides of Dhamekh Stupa, various delicate patterns, images of figures, birds, and animals were carved.
Chaukhandi Stupa
Situated in the southwest, about 1 kilometers far from Sarnath Park, Chaukhandi Stupa is the important Buddhist religious site where five ascetics welcomed Buddha. Chaukhandi Stupa was built in 5th Century in Gupta period. The images and statues of Buddha are considered to be the rare artwork of Gupta period.
| | |
| --- | --- |
| Dhamekh Stupa | Sarnath Archaeological Museum |
Sarnath Archaeological Museum
Built in 1910, Sarnath Archaeological Museum collects many Buddhism treasures of India, relics unearthed in Sarnath, stone statues and sculptures of different ages and over 300 paintings. The most famous collection of Sarnath Archaeological Museum is Ashoka Pillar with four male lions at the top of the pillar, it has become the national emblem of India and has also become the most precious treasure of the museum.
Ashoka Pillar
First built in 3rd century B.C, Ashoka Pillar is one of the most valuable archaeological discoveries in Sarnath. As the representative architecture of Mauryan Dynasty Period, Ashoka Pillar was built by Ashoka, King of the Mauryan Dynasty, to in memory of the first lecture of Buddha Dharma. The pillar is 15 meters high, and four mighty lions are carved at the top. The middle part is a circular chassis, carved with images of elephant, horse, ox and lion on each side, and the bottom is carved in lotus shape. The whole pillar is carved by gray marble, and the carvings are vivid and lifelike.
Why Sarnath is also called Deer Park?
Sarnath was once called Mrigadava, which means Deer Park in Hindu. There is an allusion in Buddhism about Sarnath. Once, there was a primeval forest where the King often came to hunt deer. In order to protect the deer, a Bodhisattva became the deer king, and offered himself to the king. Finally, the king who loving hunting was moved and set up a park to protect the deer. Therefore, Mrigadava came into being and is known as Sarnath, also Deer Park today.
How to get to Sarnath?
1. From Varanasi Railway Station, passengers can take local buses and get off at Sarnath bus station. It takes about 40 minutes, and costs 10 rupees.
2. Passengers can also take tuk-tuk from Varanasi Railway Station to Sarnath, and a round trip takes about 150 rupees.
3. Taxis are also available. With an expensive price, it takes about 250 rupees from the old city to Sarnath.
Admission Fee


Dhamekh Stupa

Chaukhandi Stupa

Ashoka Pillar

Sarnath Archaeological Museum

Entry fee

INR 100/foreigner; INR 5/Indians

INR 100/foreigner; INR 5/Indians

Free

INR 10

Open Time

6:00-18:00

6:00-17:00

7:00-18:00

9:00-17:00

Best Time to Visit Sarnath

November - Next March

Attention
Sarnath (Deer Park) is free to visit.
In Sarnath Archaeological Museum, cameras are not permitted to take inside.
More Famous Attractions in Varanasi: