Manikarnika Ghat, Varanasi
There are 87 ghats in Varanasi city, while Manikarnika Ghat is one of the oldest one alongside Ganges River. As the most sacred ghat of all, it is also the final destination of pilgrims. Besides, it is regarded as the ideal place of cremation for Hindus who believe that if bone ashes is scattered in Ganges River, the soul will be sublimated, the life will be reincarnated and get rebirth. Numerous pilgrims come here for worshiping and bathing with holy water and more and more people send dead person here to accept cremation. Both rich and poor people gather here and wait for the last moment of life. The buildings above Manikarnika Ghat live the person who are about to die and there are bodies passing through alleys from time to time. Timbers are piled on the bank of river, and also a large weighing scale standing nearby.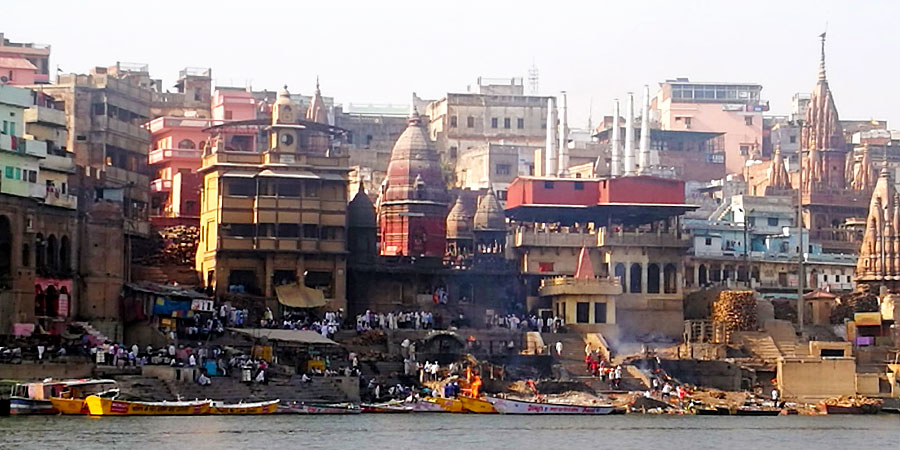 Manikarnika Ghat alongside the Ganges River
Why Called Manikarnika Ghat?
Manikanika means earrings in Hindi. According to Hindu mythology, Lord Vishnu kept pleading Shiva, one of the three Lord Gods in Hinduism, to give up destroying Kashi, the holy city. Then Lord Shiva came to Kashi with his consort and he dug the Manikarnika well to bathe, then his precious earrings fell into the well. That's why Indians named the ghat Manikarnika.
How Cremation is Held at Manikarnika Ghat?

In the ghat, visitors you observe all the rituals and procedures of a cremation. From dawn to dusk, about 200 - 240 bodies are cremated every day. Wrapped in white cloth, bodies would be first removed to dip in Ganges River, meaning their sins be cleaned by the holy water in the river and flow away, and then placed on the newly built wood. Ghee, sprinkling sandalwood chips and spices would be poured on the bodies.
| | |
| --- | --- |
| Placing Body on the Newly Built Wood | Cremation Scene |
Following, family members and relatives walk around the bodies for three rounds to say final goodbyes to them. The oldest son or the closest male relative takes the thousand-year fire from the altar and sets the bodies on fire. During cremation, in order to allow the bodies fully burn up, long bamboo poles are needed to break the heads of bodies that have not been burned completely, so as to free the soul.
At last, about two hours later, bone ashes would be collected and scattered into Ganges River, implying the souls returning to their original form.
Attentions of Visiting Manikarnika Ghat
Tourists can watch the whole procedures of cremation on banks with local guides' guidance, or appreciate from cruises on Ganges River in a distance. Taking photos is not allowed at any time since it is regarded as disrespect to family members of dead and also an offensive behavior in Hinduism. The best time to visit is from October to next March.
How to get to Manikarnika Ghat
1. Passengers can take tuk-tuk to Manikarnika Ghat.
2. Passengers can walk from Vishvanath Temple to Manikarnika Ghat, along the way, beautiful scenery of Ganges River can be seen.
| | |
| --- | --- |
| Entry Fee | Free |
| Open Time | All day |
| Suggest Duration of a Visit | 1-3 hours |
See More Ghats: