Shopping and Bargaining in India: Tips & Helpful Hindi Phrase
Shopping is one of the most exciting and learning experiences in India. When it comes to offering a plethora of souvenirs to collect from, no other country can beat the enigma of India. It is indeed a shopper's paradise. With an astonishing variety of dazzling clothes, shoes, jewellery, spices, food items, essential oils, handicrafts, textiles, and other knickknacks to pick, the entire country is displayed as an Indian shop as a whole.
Shopping in India is not easy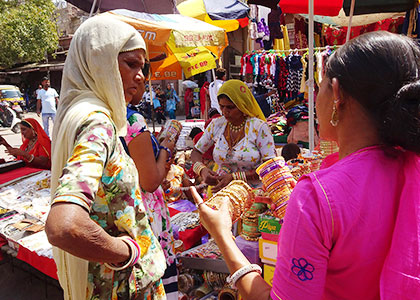 Bargaining with the Vendors
Shopping in India isn't an easy task. In fact, it is a daunting experience. With so many to explore and choose from, you literally would have to kill your demons that would provoke you to grab them all. Additionally, with a wide option of ancient bazaars, busy markets, state emporiums, street stalls, and glitzy or bitsy malls, you would be puzzled where to get the best stuffs from.
You have to have the idea and knowledge to bargain in India if you want your shopping spree an experience worth spending your hours and money on! That's why, getting educated with bargaining tricks that work in India is important. On that note, do remember, bargaining happens normally on the open markets, ancient bazaars, and local stalls, to sum it up. Trying these in supermarkets and malls can be a bit too risky!!
Some tips on how to haggle and bargain in India
• The first step is to get an idea of a particular product and how much it should cost. To check that, visit some fixed price stores. State handicraft emporiums are great choice, and are available in all major Indian cities.
• Liked something somewhere? Don't jump into buying it at one go. There will be several other shops lined up selling the same or similar things, and maybe at better variety and for cheaper price tag. Walk around the market and check out what the entire spread has to offer.
• As a general rule of bargaining in India, don't pay anything more than half the price quoted by the shopkeeper for any item. Remember, to make this happen, you have to start quoting your price at almost one-fourth!
• Indian shopkeepers consider the first sale to be lucky. So be their lucky shopper; if your luck favours too, you might end up making a bargain at the best price.
• Don't ever show your interest for an item. Pretend to be indifferent instead!
Tips for starting the bargain process and getting through it

keep Negotiating for a Better Price

Ask the shopkeeper if the quoted price is the last price. That's how you start the bargaining in India.

The price gets a drop immediately. But you would complain for being still quite expensive.

Get ready to be asked for your price now.

Make sure to start with a tag that's well below what you are willing to pay. A basic rule is to quote about one-third of the price tag.

If the shopkeeper isn't dropping the price enough, start walking away. This will either result in another steep drop in the price tag, or would definitely indicate that your quoted price is indeed low to be accepted.

You can either go back and keep negotiating with a better price, or start looking for the item in another place.
Winding up the bargain process

If the seller accepts your price, the deal is sealed. Don't keep haggling, or don't change your mind, or don't walk away without buying it. That's really very rude to say the least.

Don't quibble over petty amount. A few rupees won't cost you much, but the roadside vendor would be benefited.

Bargaining in India should be fun and casual. Using Hindi phrases and sentences might break the ice and get yourself into the act of it!
Few basic Hindi phrases to help you with street shopping:

Any discount? – daam kum hoga?

How much or what is the cost? – kitnay ka hai?

This is expensive – yeh bohot mehenga hai/ daam bohot zyada hai

Bill please – bill de dijiye

What happened? – kya hua?

I want a ticket – mujhe ek ticket chahiye

How much is this? - ye kitne ka hai?

What's the final price? – aakhri daam batao

Let it be – nahi, rehne dijiye/ nahi lena hai
Best markets to bargain in India
1. Arpora Saturday Night Market

Handicrafts Hanging on Jaisalmer Fort
Where: Goa
Famous for: Jewellery, fashionable clothes, beer, handicrafts and home decor


2. Sarojini Market
Where: New Delhi
Famous for: Fashion street with a wide variety of clothes, bags, and shoes
3. FC Road
Where: Pune
Famous for: Flea market of watches, accessories, clothes, kurtis, bags and shoes
4. Commercial Street
Where: Bangalore
Famous for: Flea market famous for shoes, garments, expert tailors (they stitch in one hour), street food
5. Colaba Causeway
Where: Mumbai
Famous for: Garment stores, stylish handbags and shoes, the local food and the roadside jewellery stalls.
6. Janpath
Where: Delhi

Indian Leather Products
Famous for: Indian handicrafts, handlooms, bags, souvenirs, street style clothes and accessories
7. Hazratganj Market
Where: Lucknow
Famous for: Chicken Kari handloom, street food


Where: Jaipur
Famous for: Ayurvedic digestives, natural henna, bedsheets, Jaipuri jutti (ethnic shoes), salwar suits, cushions, home decor artifacts, ethnic jewellery, lac bangles and readymade suits.


9. Serenity Beach Bazaar
Where: Pondicherry
Famous for: Products from Auroville, handicrafts, souvenirs, clothes, jewellery, accessories, and clothes
10. Police Market
Where: Shillong
Famous for: Handmade artefacts, bamboo and cane artworks, north-east cuisine, variety of silk and cotton clothes, fashionable clothes, shoes, and bags
11. Tibet Walk
Where: Ooty
Famous for: Home-made chocolates, woollen clothes and blankets


12. New Market
Where: Kolkata
Famous for: Wide range of clothes, jewellery, make-up, meat and poultry
These are the few top places in India to try your newly learnt bargaining skills, as mentioned above. Get going with the same, drop some local language, and pack your bags with the best of street items available in India.
Happy shopping.
Read More:

Top 10 Best Souvenirs in India
7 Best Recommendations on What to Buy in India
6 Secrets about Markets in Delhi
Shopping in Delhi Jaipur Shopping Guide Shopping in Mumbai Shopping in Kerala Shopping in Goa Shopping in Rajasthan