How to Plan an India Trip: 6 Steps
There are 6 steps as follows to help you plan an India trip, especially for the first-time travelers. Following these advice, you can enjoy a pleasant trip and understand more about this wonderful land.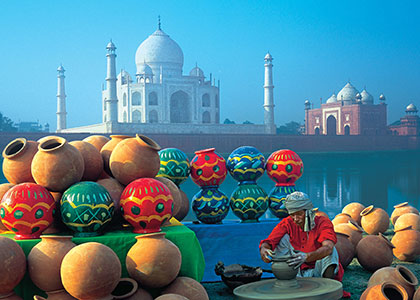 Taj Mahal, India
Step 1: Decide Your Travel Date
Every season of India has its own unique beauty, but the best time to travel to this country is from October to March with the dry and cool climate, suitable for many outdoor activities and cultural highlights. So we suggest you plan a trip to India during this period.
Read More: Best Time to Visit India
How long to stay in India:
7 days are necessary to have a worthwhile India trip for most people. India is a big country so you better arrange your time and plan early and decide what places you want to go.
Times to avoid: June to September
Because this period is rainy season with lots of rainstorms and might cause inconvenience for your India trip.
Step 2: Buy Flight Ticket as Early as Possible
Look for the available flight tickets according to your destinations and book them in advance so you might enjoy a lower price. Normally, people will choose Delhi as their first stop because it has more flight routes than other places in India. The direct line from London to Delhi takes around 12 hours, while 14 hours from New York to Delhi. Booking plane tickets early might save a lot of money for your India trip.
Step 3: Book Hotels
After buying the air tickets, you can book hotels as early as possible. The price of hotels varies greatly according to your budget. Indian hotel rooms are generally divided into single room, double room and multi-room. Most cheap hotels use public restrooms and bathing rooms, so you should ask clearly before checking in.
If you tend to go to Delhi, it is recommended to book hotels in Gurgaon District. If you go to Mumbai, most people choose Coloba District. For people who visit Agra, many tourists live around Taj Mahal.
Read More: 5 Most Popular Accommodation Styles in India
Step 4: Apply for a Tourist Visa to India Two Months in Advance
Indian government offers two kinds of tourist visas now. One is traditional visa, the other is e-visa you can apply for it online. The requirements might be different concerning different countries, so you should study the India visa policy carefully. This issue is very important for your India trip.
For the steps 2, 3 and 4 above, if you book a guided tour, some steps can be arranged by your travel agency.
Read More: India Visa Application – 6 Steps
Step 5: Make a Day-by-Day India Tour Plan
This step is very essential when planning a trip to India, especially if you are an independent traveler. You need to know what places you want to go and make a detailed plan for your India trip.
| | |
| --- | --- |
| Amber Fort, Jaipur | Ganga River, Vanarasi |
Taj Mahal
is a must-see spot in India trip. It is a breathtaking white marble commemorating the king's favorite wife. You can appreciate the beautiful Mughal architecture complex.
If you are interested in Indian historical sites, then you should not miss Red Fort where tourists can appreciate the beautiful sunrise and sunset and learn the distinguished history about it; you can visit Gandhi Smtiri to mourn and pray for Indian father, Mahatma Gandhi; and go to Rashtrapati Bhavan and Sansad Bhavan to admire the famous official buildings from the outside. Humayun's Tomb is also worth visiting, which is a magnificent garden tomb.
You can visit some historical sites such as Gateway of India, a symbol of Indians freedom, and Chhatrapati Shivaji Terminus. They are both fascinating buildings blending the exotic style with traditional Indian style.
It is famous as the Pink City because of the color of most buildings. Tourists can visit City Palace to feel the glory history of India. Many military enthusiasts would like to visit Jaigarh Fort to admire some military facilities.
Ganges River should not be missed when planning a trip to India. You can find many Hindus gather around here.
| | |
| --- | --- |
| India Girl | Akshardham Temple, Delhi |
Generally, India is a big country with many kinds of tourist sites. If you are an independent traveler, it is recommended to arrange your day-by-day India trip plans carefully or you could choose guided tour to save the trouble.
Read More:
10 Best Tourist Places to Visit in India
Best Holiday Destination in India: Top 10
Where to Go in India – North vs. South
Short Trips in India – 1 to 3 Days Budget Tours
3 Days Kolkata Tour and Volunteering at the Mother House
5 Days Trip to Pure Land - Srinagar
Step 6: Pack Up

Travel documents: passport, visa, ID card, tickets, maps…

Money: cash of Rupee, credit card

Electronics: smart phone, portable Wi-Fi device, camera, charger, adaptor plug…

Clothes and accessories: check the weather forecast a week before to prepare proper clothes. Women avoid taking some exposed clothes.

Health care: common medicine, band-aid…
Read More: 9 Facts about Making India Packing List
Read More:
How to Travel to India from USA How to Travel to India from UK
10 India Travel Tips that You Have to Read before You Go