Namgyal Institute of Tibetology, Gangtok
The Namgyal Institute of Tibetology reflects the century-old tradition and history of Sikkim. The NIT is famous to preserve the history and culture of the Buddhist Community from years now and the participants in this institute are drastically increasing. The main attraction of this place is the museum and library. These places are two of the main attractions that every tourist must visit, the environment around this place are quite peaceful. Every tourist taking a trip to Sikkim pays a visit to the famous Namgyal Institute of Tibetology. It is said to have a very calm and serene environment, and some visitors have also termed this place to be a paradise for tourists.
Some people have a misconception about Namgyal Institute of Tibetology in Gangtok that it's solely a place to study and research; however, the NIT has emerged to be one of the leading tourist spots in Gangtok. If you still have second thoughts about including this place in your itinerary, then understand that you will be able to explore the history and culture from ancient times, literature, architecture, philosophy, religion and anything relation to tradition and art. One of the prestigious things about this institute is that the foundation stone of the institute was laid down by the Dalai Lama himself, and since then the NIT is said to be the first one to begin the preservation of Tibetan literature and art.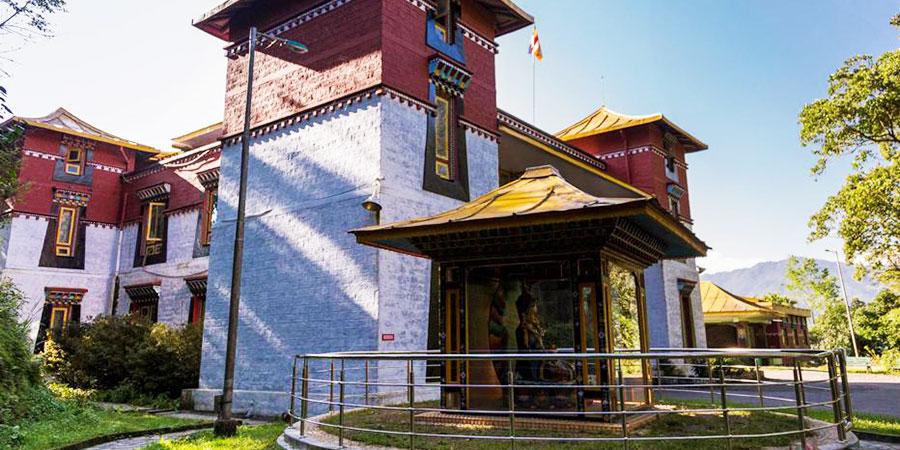 Namgyal Institute of Tibetology
Quick Glance

Location: Gangtok, Sikkim, India

Timing: Monday - Saturday: 10:00 AM - 4:00 PM (Closed on Sundays, Second Saturdays and Government Holidays)

Time Required: 1-2 hours

Entry Fee: INR 10

Visiting Time: 1-2 Hours

Photography: Not allowed
History
The history of this institute is quite interesting because the foundation stone was laid by the 14th Dalai Lama on February 10th, 1957. The first name given to this institute was the Sikkim Research Institute of Tibetology, which was inaugurated by the then Prime Minister of India. However, later on, the name was changed to the "Namgyal Research Institute of Tibetology". This was just a part of how this institute came into existence. Here are some of the things that you can explore inside the NIT premises.
Things to See in Namgyal Research Institute of Tibetology
The two locations that are the famous attraction of Gangtok Namgyal Institute of Tibetology are the library and museum. It is open between 10:00 am – 4:00 pm for public visits. The place is open every day except Sundays and also closed on public and national holidays. You will be able to enter this portion of the institute with a minimum entry fee of INR 10. Also, you will have to take your shoes off before entering the place.
1. Museum
The collection of these artifacts in the museum is assembled over the years. The museum inside NIT is exactly located on the ground floor in the core building between the ornate towers. This museum is said to have timeless artifacts that are preserved for tourists. Some of the famous art forms in the museum are:
• Tibetan and Buddhist artifacts
• Traditional art pieces
• Statues and figurines
• Ritualistic objects
• Thangkas (Buddhist painting on pieces of clothes)
• Ancient manuscripts written in Chinese Sanskrit, Tibetan, and Lepcha, all these things are put on display for the visitors.
It took a good number of years to collect these pieces from around the world. You will love to explore and witness some of the brilliant artifacts that are famous globally.
2. Library
For book lovers, the library in the Namgyal Institute is the best place to be. The place has a calming environment and is stocked with countless books of various genres. You will be able to find books from theology, philosophy, Buddhist history, culture and some of the journals and periodicals. You can choose from the collection of around 60,000 volumes which include translations and original copies. You will also be able to find the Xylographs especially for Tibetan and Chinese culture.
Souvenirs Shopping
Taking back a souvenir from Gangtok Namgyal Institute of Tibetology is a ritual for every tourist. When you are visiting such a place rich with history and tradition, don't limit yourself from buying some of the interesting things back home. To the very opposite of the Namgyal institute, you will find many shops famous for selling traditional Sikkimese art pieces, trinkets, gift items, clothing items, and other interesting things. Along with this, you will also find a lot of ornate jewelry and silver items.
Travel Tips
Visiting a new location can't be done without some travel tips. No matter the place is a hill station, in the mountain, or beach, you will always need some productive information about the location to get things in order. Some of the travel tips are as follows:
1. You are requested to take off your shoes before you enter the NIT museum.
2. Photography is not allowed inside the museum
3. You will love the place opposite to the Namgyal Institute of Tibetology, this café serves brilliant food and an amazing environment to give cozy memories.
4. It serves delicious tea and aromatic coffee along with some tasty snacks; you can easily sit and spend some quality time with friends and family.
How to Reach?
The Namgyal Institute of Tibetology in Gangtok is a must in every tourist's itinerary. It's not just because it serves a great deal for tradition and Tibetan culture, but also because it is the closest destination from all the transportation routes in Gangtok. You can easily reach by hiring a cab, or any other local transport.
Follow the travel rules and remember the basic information before entering this town. The people are quite friendly and locations are stunning to give a lifetime of memories. You will love the library and museum inside the institute. Wear comfortable shoes; stay calm and peaceful throughout the trip if you don't want to look like the odd one out.
P.S - People believe in peace and harmony; just don't misunderstand their calmness with boredom. This place can be equally hopping and lively for people who truly understand the importance of knowledge and culture.
More Attractions in Gangtok:
Directorate of Handicrafts and Handloom
Do Drul Chorten and Rumtek Monastery