Ganges River, Varanasi
Located in the north part of India, Ganges River, or Ganga River is the longest river in southern Asia with a length of 2,510 kilometers. Most part of the river is wide, and it also flows through one of the most fertile and densely populated areas in the world. Flowing through the gangetic plain, Ganges River is the cradle of civilization for the kingdom of Ashoka in the 3rd century BC to the Ghumore Empire in the 16th century. As a sacred river for Hindus, Ganges River is one of the birthplaces of Indian civilization; it is not only the sacred river of Hinduism, but also the place where Buddhism rose in the past, remaining a large number of Buddhist shrines.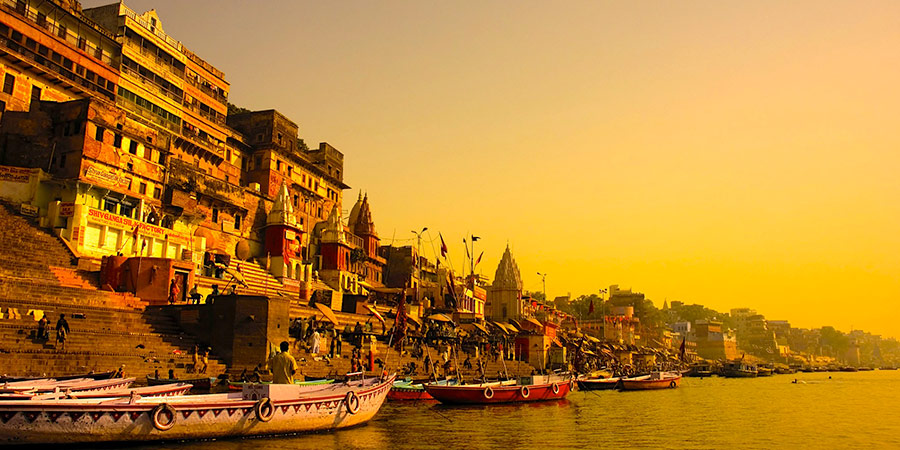 The Longest River in Southern Asia
Flowing Route of Ganges River
The source of Ganges River are the Bhagirathi River and Alaknanda River, which originate from Gangotri and other glaciers in the southern foothill areas of Himalayas. Then it crosses the gangetic plain, flows pass the Utter Pradesh, joins the Yamuna River, its largest tributary, and then flows through Bihar and west Bengal. Finally, it is divided into tributaries flowing into Bay of Bengal. Generally speaking, Ganges River flows from north to south, which nurtures the land on both sides, providing people chances of irrigation and convenience. With the fertile soil left by Ganges River, diligent people have labored for generations.
A Sacred River of Hindus
Ganges River, one of worlds' most famous rivers, is praised as the "sacred river" and "mother of India". Numerous myths and religious legends form the unique customs of Ganges. Influenced by the strong folk customs and strong believe in religions, people living along it still maintain the ancient customs. In India, most Hindus enjoy four great pleasures throughout their lives: worshiping god Shiva, bathing and drinking the holy water of Ganges River, making friends with saints and living in the holy city of Varanasi.
What to See along Ganges River
Watch Hindus Bathing in Ganges River
Among all baths in holy water in India, the most spectacular is the morning bath in Ganges River at Varanasi, which attracting numerous pilgrims and sightseers annually. Regarding Ganges River as the holiest place, Hindus would take morning bathes everyday from spring to winter. Therefore, on both sides of the crescent river bend in Varanasi, 64 wharves with steps were built for people to worship in ice baths. In the early morning, people dot their faces with red, dust with incense ashes, and pray with their hands together. Believing that the cold water of Ganges River would wash away Sins and speed up reincarnation, male believers would soak themselves naked in the water, females believers also step into water with intimate clothing. For those children who are unwilling to get into waters, their mothers would pour river water stored in copper pot on child's head or press children into water neglecting their cry and shouting. Because this may be the first time for those little kids to take the holy bath; only when face it bravely can they become truly Hindus.
| | |
| --- | --- |
| Hindus Bathing in Ganges River | Ganga Aarti Ceremony |
Ganga Aarti Ceremonies are held every night, having more than 1,300 years' history. Pilgrims set up camps on the banks of Ganges River. When the night falls down, 14 Brahmin priests dressed in gold and red would step on altars highly holding the holy flame. Guided by the chief priest, all priests stand in line, singing and applauding. Finally, the devotees sing along, and all are immersed in the boundless sacred and solemn.
Cremation
Hinduisms believe that god Shiva, who governing the dead time, patrols the banks of Ganges River. Those people who are cremated here after death are spared the suffering of reincarnation and don to heaven directly. Therefore, believers of Hinduism regard the river as the entrance of heaven. For the rich, white sandalwood would be used and stacked together, then the body would be placed on that. Poured with performed oil and burned for nearly three hours, with the lection chanted by family members, the body would turn into bone ashes. Later, accompanied by Ganga Aarti Ceremony, singing of devotees, bone ashes would be scattered in Ganges River. However, not everyone can adopt cremation, for those poor dead, child dead less than five years, and dead for suicide, their bodies would be released into the river directly, or tied with stones and sink into the bottom of the river.
Visit Tips
1. It is not recommended for tourists to watch cremation near the altars, which may be threatened by local residents; the best way is to take a cruise, and watch from distance.
2. Photo takings are prohibited, which may irritate family members of the dead or Hindus.
3. Keep quiet when appreciate Ganga Aarti Ceremony, and no comments on it.
How to get to Ganges River
1. From the old city of Varanasi, passengers can walk there directly.
2. Passengers can also take rickshaw or electric cars, the cost of a short distance is generally about 20 rupees, which can be negotiated; if one wants to visit Ganges River, cruises are available, and it would take about 100 rupees for 3-5 tourists to take the cruise for 1 hour sightseeing on the river.