Traveling by India Taxi – Worth or Not?
India is more incredible than what you have heard about it, and you will understand that right from the time you step into the taxi. However, there is one question that scratches the surface of every tourist mind. Why not just hire a self-drive car? How is Indian taxi worth the investment? If that's what you are thinking too, then don't single yourself out. Tourists think about their time flexibility and independence to drive wherever they like, but self-drive cars are yet to gain popularity in India. Probably because of the poor quality of roads, and traffic rules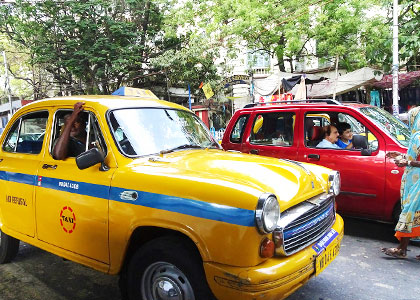 India Taxi
that are not followed correctly.
Apart from all the odds, the answer to the statement of 'Indian taxi worth your investment or not' can be summarized easily after this section. You will be able to make the judgment based on what you think about these services.
Types of Car Available
Now, the cost of your taxi service will completely depend on the type of car you are selecting and whether or not your driver knows English. The cost of taxis that have driver with some spoke English knowledge will automatically cost you a little more than usual. The charge will vary from destination to destination, and expect the cost to be calculated per kilometer.
You will always have to pay something for the taxi service daily, regardless of what distance is covered. Here are the kind of cars you can get for making the selection are as follows:

Small Cars- If you have a plus one along, and want the journey to be comfortable and safe, then go for the small cars. These are usually air-conditioned Tata Indica with comfortable seats and affordable price per kilometer. It accommodates two passengers, but four can also fit if you compromise on the comfort a little bit.

Medium Car- The medium size cars are mostly bigger, typically a Toyota Innova SUV, Mahindra Xylo, or others. These cars are perfectly fit for four to six people and have very comfortable seats for you to travel without struggling for leg space. Prices vary from state to state and service to service, but the cost per hour is most affordable.
| | |
| --- | --- |
| Hire Small Cars in India | Traveling India by SUV & Jeep |

Large Car- The large cars are perfectly fit if you have a big friend circle traveling together, or if you are traveling with family. It perfectly accommodates around 10 passengers and charges are quite affordable per hour too.
The charges for India taxi include everything, from the fuel and insurance to state taxes. The final charges you pay are inclusive of all the required things. However, food and allowance for the driver may cost extra based on the service selection you make.
The rates of India taxis are comparatively cheaper than in other places. To get more ideas about how to go about transportation in India via taxi, follow a few of these tips to escape complications.
Five Tips to Travel in India by Taxi
1. Book your taxi from the airport/railway station
This step is quite simple when it comes to Indian taxis. Some hotels and lodges provide pickup services for tourist from airports and railway stations. You are most welcome to go for these services. However, once you land at the airport or get down from the train at the railway station, you will find enough options for a prepaid taxi service. Almost every city has this facility available.

Taxi in India Street
2. Don't tip the taxi driver
You may wonder what? It's because in western countries leaving a tip is mandatory but in India, it isn't. There is no such thing as tipping the driver, so until and unless you are overjoyed with the service of your taxi driver, don't give them a tip.
3. Keep a check on the taxi meter
You are suggested to keep a close check on the taxi meter. The matters get serious if you overlook this factor. Sometimes the meter is in a bad state and the driver isn't aware about it himself. If you notice that the meters aren't working, talk about it and settle the problem.
4. Pretend to be knowledgeable
Now that you are reading some of the bulk information about getting around in India, make sure you use that information and apply it practically while you are traveling. Don't ever reflect or nag about you being new in the city or that you know nothing about any place. Get a fair idea about the destinations and map of the city so that you know where you are going.
5. Keep the denominations for money
Don't ever leave the house for traveling without some change. Keep smaller denominations of the currency like Rs 20, 30, 40, 100, etc. So that you don't face problems while paying cash anywhere. Don't think of buying anything from your credit card from roadside places, be alert.
Six Safety Tips
Keep the below points in mind for safer travel:
• Don't wear jewelry much or keep a lot of cash handy
• Make sure your driver is sober and not drunk in any way
• Avoid talking about any bank matters, money, or credit card in front of the driver
• Handle your passport well
• Women should avoid traveling alone at night
• Keep the police contact handy
• Keep a note of the taxi registration number
Taxi Booking Apps
Indian taxi booking apps are convenient no doubt, but you won't find the authenticity and hospitality like that of the prepaid taxis. Plus the rates are comparatively higher, the weather highly reflects on the fare of these taxis. So if you want to keep it minimal and experience the maximum, then trying your hands on the India taxi.
These details about the Indian taxi will help you clear the confusion. You might get a second thought about the rates, but in choosing the right taxi service you will get an outstanding result till the end. Follow the tips to get by the entire tour without any hassle, based on these convenient factors of hiring Indian taxi, it's completely worth deciding to go for a taxi instead of any other public transports or self-drive cars.
You May Like:
Everything to Know about Air Travel in India
6 Steps on How to Take an Indian Train
See More Taxi Services in India's Cities: