Durga Mandir, Varanasi
Situated in the old city of Varanasi, Durga Mandir, also known as Monkey Temple, is a small red temple which was built in the 18th century to consecrate Goddess Durga, one of the incarnations of Parvati, the wife of God Shiva. Once entering Durga Mandir, it is easy to notice quite a few monkeys playing around along corridors on the two sides, thus Durga Mandir also gained the name "Monkey Temple". With the similar architectural style with Golden Temple, Durga Temple is very popular. Many Hindus come and worship here every day, and among them local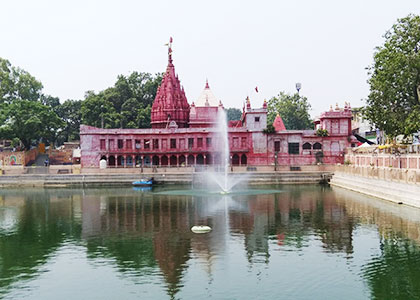 Durga Mandir
worshipers are in the majority.
Goddess Durga - One Incarnations of Parvati, wife of God Shiva
Durga is a warrior goddess and also one of the main goddesses in Hindu Gods. Durga was worshiped as goddess conquering demons. Her chief achievement was the annihilation of the vicious demons, especially the war defeated the evil buffalo demon. In most paintings and sculptures, with yellow skin, Durga has a lion as her mount. Having ten arms, Durga holds various weapons given by the gods in her hands, usually the weapon is a spear or a poisonous snake.
According to Purana, a book records the history, mythology and stories of India, there was once a terrible god named Asura, who turned into a buffalo and tormented other gods. Therefore, all gods turned to Shiva and Vishnu for help. Knowing that Asura was so violent, Shiva and Vishnu was full of anger, and blenched out a special flame, which firstly illuminated the earth and the whole universe, and then became a beautiful goddess, Durga. At that moment, all gods presented their gifts like weapons, corselets and fierce lion as a mount to Durga. Then Durga stretched out her ten arms and start to fight against Asura and killed him. After fighting, Durga promised to save people whenever there is trouble. All gods and people were overjoyed and congratulated Durga. In order to thank Durga for the merits of exorcism, Hindus send her to home and make her reunited with her families. Therefore, Durga Puja Festival came into being. Settled in September and October of each year, Durga Puja Festival is regarded as the grandest festivals in southeast India. Statues of Durga would be sank into water and also massive parade and celebrations would be held by worshipers.

Durga Puja Festival
How to get to Durga Mandir?
1. Passengers can take bus to Durga Kund bus stop, and then walk north for about 100 meters to get there.
2. Passengers can also take tuk-tuk or rickshaws to get to Durga Mandir.
Admission Fee
| | |
| --- | --- |
| Entry fee | Free |
| Timing | 5:00-20:00 (slight changes depending on seasons) |
| Suggest Duration of a Visit | 1-3 hours |
Attentions:
1. As a typical Hindu temple, Durga Mandir allows Hindus to enter only, therefore, tourists are not able to get in and take a close look. However, tourists can overlook from winding corridors around the temple and appreciate patrol of devout Hindus.
2. It is advised to keep distance with the monkeys. They are not as friendly as they seem to be, therefore, tourists are supposed to be careful and cautious in case of being scratched by monkeys.
You May Like: