Chronicle of Indian Food Culture
Indian food stands out from the rest of the world for all the right reasons. This statement is true not just in terms of taste but also because of the cooking style, spices, ingredients, and other factors. Indian food culture is inspired by earlier generations, and some regular modifications have completely turned around the Indian culinary. India has the largest spice market in Delhi and it explains why the cuisines are so flavorful.
Let's take you for a ride in the depths of Indian spice mix, rich regional flavors, seasonal tropical fruits and vegetables, and some irresistible beverages.
Spices & Herbs in Indian Cuisines
Indian culinary has some of the interesting mix of flavors, and it is known for the heavy use of spices and seasoning in maximum of its dishes. Some of the unique spices are specially supplied from India to the different parts of the world. If you are wondering about the magical spices, then here is a list for you.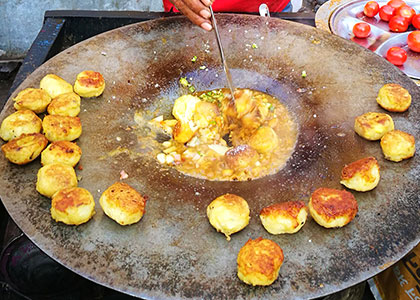 Indian Street Food
• Cardamom
• Cloves
• Cinnamon
• Caraway
• Cumin seed
• Coriander seed
• Black pepper
• Curry leaves
• Fennel seed
• Nutmeg
• Bay leaf
• Garlic
• Ginger
• Fenugreek seed
• Saffron
• Turmeric
These are some of the regularly used spices. However, the list of spices could go on.
Unique Fruits and Vegetables
India has a very diverse climate that ranges from the south tropical to the Himalaya, and it gave Indian food culture a lot of gradual change and excellent culinary additions. The common tropical fruits like mango banana and other citrus varieties can be found in almost every part of India. But apart from that, India is also a proud owner of some incredibly unique fruits that are hard rather impossible to find in any part of the world. These fruits are found in local markets easily and many hawkers also roam around selling these on streets. Some of the unique fruits and vegetable are as follows:

Indian Fruits
• Star fruit- Carambola
• Langsat- Langsah / Lotka
• Persimmon- Japani Phal
• Indian Hog Plum- Ambarella
• Carandas Cherry- Karonda
• Spine Guard- Kakrol
• Camachile- Jungli jalebi
Some of these vegetables and fruits are found seasonally and some are available throughout the year. In any case, the taste, and cooking style varies for every item.
Popular Indian Beverages
Indian food culture is incomplete without mentioning some of the loved beverages. It's the first thing Indian treats their guests, and some of the beverages have very intense and refreshing flavors. These drinks mostly have a traditional decent and it's served differently in different parts of the country. Some of the refreshing drinks are:
• Masala chai (Spiced Tea)
• Chach (Buttermilk)
• Aam Panha ( Drink prepared with raw mango)
• Lassi (Yogurt drink)
• Shikanje ( Indian lemonade)
• Kokum sherbet ( Famous Maharashtran drink)
• Solkadi (coconut-based drink)
Regional Flavors
Now that you have a brief idea about the spices, beverages, unique fruits and vegetables of India, here are some regional favorites that define the diversity of flavors in Indian food culture.
The North Indian cuisines have a very strong Central Asian influence. The northern side offers intense flavors of Kashmiri cuisines, Punjabi cuisines, and Mughlai cuisines. They create very rich and intense flavors with the use of aromatic spices and heavy ingredients like meat, nuts, fresh herbs, yogurt, and others. In the state of Kashmir, the food is characterized by the high aroma and complex flavors. Mughlai cuisine is also the lifeline of North India with different styles of Kofta, Kebab, Pulao, and other dishes. Punjabi dishes are no less, with all its baked Indian bread (Nan), marinated meat, paneer, chicken and other baked and grilled items. The use of dried fruits, climatic fruits, saffron and other rich ingredients in these dishes give it a unique taste.
West Indian food has a fan following of its own. While the Rajasthan and Gujarat side has over 69% population as vegetarians, there is the state of Goa in the other hand with all its meat and pork dishes waiting to tickle your taste buds. These places offer a very unique blend of flavors and have something for everyone. The use of seafood and coconut is quite common in Goa and is extensively used in curries and flavoring other dishes. Gujarati dishes exclude the use of garlic, onions, and eggs and yet they can pull off dishes that will keep asking you for more. In vegetarian dishes, the use of dairy products, seasonal vegetables, and butter are essential.
East Indian food highly promotes Bengali cuisine. You will taste the freshwater fish, mixed sweet & spicy curries, and mouth-watering sweet dishes like Rasgulla, Gulab jamun, and ras malai. Bengali cuisines offer variety of fishes, served with rice and some side dishes. One thing can be said about the Bengali cuisines in Indian food culture, their love for freshwater fish has only increased with time. A very famous Bengali delicacy is prepared with Hilsa, cooked inside a pumpkin leaf wrapping, and served with rice. Sweet dishes outshine in the Eastern region of India. There is Sandesh, Cham-cham, Nolen Gur Roshogollas, and many more.
This part of India has an extensive use of coconut, fresh herbs, aromatic spices, and tamarind as their basic and staple ingredients. The state of Tamil Nadu, Kerala, and Andhra Pradesh follows a very different style and varieties of cooking but are similar in satisfying not just your stomach but also your soul. In Tamil food, the use of tamarind, coconut, and lentils are commonly used, which changes as you move further towards Andhra Pradesh. Hyderabadi cuisine is influenced by the Mughlai food from the North with some extra hints of hands-on spices. Dum Biryani is the famous Hyderabadi dish.
The flavors utilized in Indian food culture are never-ending. A generous mix of spices and fresh ingredients give these dishes some of the very unique taste that can only be assembled in India. Indian culinary is surprisingly brilliant because the use of spices is not just done to enhance the flavors, but it also has medicinal properties. Next time you are taking a tour of India, make sure you include Bengali food, Gujarati food, Rajasthani food, Kashmiri food, Mughlai cuisine, Punjabi food, South Indian food, and some irresistible beverages. Sound a lot? It will still keep you asking for more.
See More:
5 Myths Busted about Indian Menu
5 Myths about Food Safety in India