6 Best Beaches in Goa You Cannot Drop in the Travel List
Goa, the land of sun and fun, is a popular destination for Indian as well as international vacationers. The biggest attraction of Goa is its beautiful and elaborate beaches. An unending stretch of golden beaches, stretching from head to the tip of this tiny Indian state, is always swarming with tourists. Goa's beaches have a unique personality – while Arambol is a backpacker's paradise, Baga is the party junction, and Anjuna is a shopaholic's paradise – offering something new to the tourists. Here are some of the best beaches in Goa well known for their dynamic character and beauty.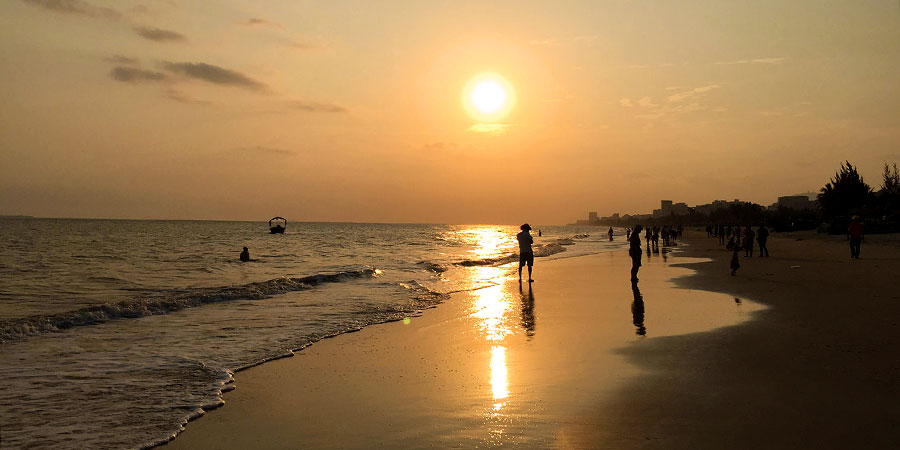 Charming Sunset View of Goa Beach
Location: Bardez Taluk, Calangute, Goa
Famous for: Exotic shacks selling authentic Goan seafood delicacies and drinks. You will find live music and a party on the beach, which creates an electrifying atmosphere.
Things to do: Sightseeing and relaxing at the beach – shopping is also recommended
Undoubtedly, one of the most popular beaches of Goa – Baga Beach – is the party capital of the state. In the morning, you can find people indulging in water sports or just relaxing at the unending array of sun lounges. In the evening, you can head to the numerous nightclubs and pubs close to the Baga beach for an experience of a lifetime.
P.S: Baga Beach is usually crowded, so travelers expecting some peace must come to Baga during the early hours of the day.
Location: Canacona, South Goa
Famous for: Silent Night Disco is a popular attraction of Palolem. The entire thing is an exhilarating experience developed in adherence to the noise ban after 10:00 pm.
Things to do: Apart from partying or sunbathing, vacationers can head for dolphin spotting or adventure sports like paragliding or windsurfing. Also, early morning yoga classes and meditation sessions are organized.
The next beach on the list of best beaches in Goa is a favorite among the international tourists. Since the waves are milder in comparison to another Indian coastline, you will find people swimming and indulging in water sports.
Location: Calangute Village, North Bardez Taluka, Goa
Famous for: Vibrant pubs and restaurants serving authentic regional cuisines. Do shop at the small shacks for colorful apparel and tiny trinkets to take back home.
Things to do: A great place for the seafood lovers, at Calangute you have to try the authentic Goan cuisines. Do indulge in adventurous water sports and swim in the Arabian Sea. At the end of the day relax at the beach while sipping chilled beer.
Also known as the 'Queen of Goa Beaches' this beach has to be included in the inventory of best beaches in Goa. The beautiful golden sand and unending shoreline of Calangute runs parallel to beautiful shacks and small stores selling Goan delicacies and drinks. Also considered as the friendliest beach in the region, this place is ideal for relaxing or trying your hand in water sports.
Location: Anjuna Village, North Goa
Famous for: Shopping and partying
Things to do: Shopping at the Wednesday Flea Bazaar is a must for you. Here you can buy funky jewelry, colorful apparel, souvenirs, etc.
A palm tree flanked shoreline, Anjuna Beach is a vast and unending expanse of seashore. The place is well-known for the Wednesday Flea Market and exotic Trans music parties.
The exotic landscape, the stunning weather, and happy go lucky people are one of the best features of this place.
Location: Candolim Village, Bardez, North Goa
Famous for: Relaxed atmosphere and unending shoreline covered in dunes.
Things to do: Besides sightseeing, tourists can go for long walks on the beach during the evening.
Well-known for the Aguada Fort, the place is ideal for a relaxing weekend. Away from the noises of North Goa, this small fishing village and beach are included in the list of best beaches in Goa due to its surreal beauty.
Location: Arambol Village, North Goa, India
Famous for: Ideal for tourists coming with family
Things to do: Water sports, especially paragliding is very popular
An ideal destination for travelers on a shoestring budget, Arambol is a beach paradise on the northern shores of Goa. Surrounded by stunning huts and shacks, this place reflects an ancient colonial aura. Apart from this beach, the village has Khalchawada and Madhalawada beaches which are popular among vacationers.
Further Reading:
5 Resplendent South Goa Beaches for Visitors
6 Gorgeous North Goa Beaches for Couples
Top 10 Things to Do in Goa, Best Places & Activities
9 Goa Travel Tips First Time Travelers Should Know
Best Restaurants in North Goa No One Can Miss
What Are the 5 Main Flea Markets in Goa?
Best Places for Trekking in Goa
Five Goa Islands for Every Traveler