Goa Beach Party: Best Beach in Goa for Nightlife
What comes to your mind when you hear the word GOA? Is it a party? Beer? Beaches? Nightlife? Water sports? Or all of them together? Well, this state has a history of housing some of the brilliant places that offer the best Goa beach parties ever. You might have a blueprint of visiting a handful of places and a rough idea as to which beach has a great Goa beach party as compared to others. There are over 7,000 bars in Goa, and you will be confused and challenged if you are asked about a good place to visit. So to simplify your task and help you select the right location, here are the selective seven beaches famous for Goa beach parties for all age groups. Let's get you started.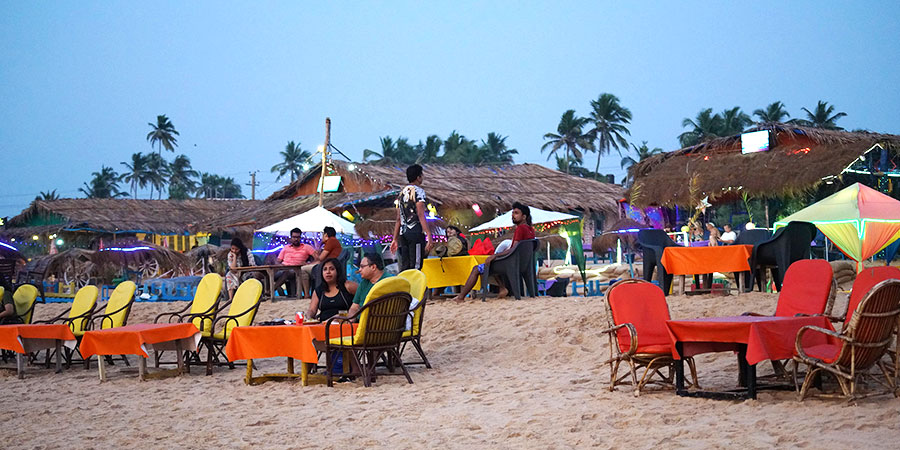 Goa Beach Party for Nightlife
1. Baga Beach

Baga Beach is another place famous for its underrated Goa beach parties. This beach will give you ample reasons to label it as a serene place to spend some time away from the rat race. The beach has some of the famous clubs at a very close distance from the main location. You will find a completely different scene after entering the night clubs. They have this groove much different from other places in Goa, the entry charges are often affordable. So make plans or don't make plans, this beach will push you through dun and excitement anyway.
Location: Baga Beach, North Goa
Nightlife: Cavala, Britto's, Club Tito's, Zanzibar, etc

2. Calangute Beach


Calangute Beach Sunset
This Goa beach is silently called the 'Queen of Beaches' for all the right reasons. You will find out at some time, this beach has some spectacular beauty and racy nightlife for the travelers. If you are visiting for the first time, the glorious sea will have a magical effect on you. It's spectacular how the tourists are always swelling towards the sea to experience the waves. Also, if you are a fan of witnessing the sunset and sunrise, then this beach will top the list of your favorite places.
Location: Calangute Beach, North Goa
Nightlife: Club Antoos, Cantare, Revolution Pub

3. Anjuna Beach

Ask anyone about some of the best nightlife in Goa, they will not miss out Anjuna Beach. As being compared to other beaches, it's known to be the hub spot for international tourists. Some of the tourists stated that Anjuna beach can grow on you if you stay for a little longer. Another reason why this beach is well-known is the hip nightlife in famous clubs. A special attraction called the flea market also contributes to driving the tourists to this place. Once you get to know about the numerous night clubs, you will probably trip to visit this beach during your Goa visit.
Location: Anjuna Beach, North Goa
Nightlife: Café Lilliput, Curlies, Shiva Valley, Purple Martini, and UV Bar are popular spots.

4. Candolim Beach

Often visited by youngsters and couples looking to have a good time, the beauty of Goa is that all its beaches have a specialty. You can picture this beach as a fun-loving, young college brat who loves parties, exotic drinks, and dancing on the floor. Along with the brilliant nightlife, Candolim beach also has exciting water activities for the tourists. When you plan on owning the night in Goa, do plan this beach for an unforgettable experience.
Location: Candolim Beach, Bardez Taluka, North Goa
Nightlife: SinQ, Drift Bar, Club LPK-Love Passion and Karma, Pharaos, etc.

5. Morjim Beach

Another best place to experience the Goa beach party can be Morjim beach. You might hear limited reviews about this beach, but you have to trust the vibe. The beach is said to be extremely serene and calm, the place is filled with exotic birds. So if you love night parties and bird watching, come to visit there. Also, this beach is quite famous for dolphin sighting as well.
Location: Morjim Beach, Pernem, North Goa
Nightlife: Marbella Beach Resort, Club Fresh, Bora Bora

6. Palolem Beach


Palolem Beach Party
People name it under the serene beaches in Goa, however, this place has some of the famous nightclubs. It's well known among the international tourists for its unapologetic party places. You will find this beach to be jammed with hawkers, restaurants, shacks, and eating outlets that occupy most of the place at the shore. If you are planning to calm your restless mind, then put Palolem beach in your itinerary.
Location: Palolem Beach is situated in Canacona in South Goa
Nightlife: Neptune's Point, Silent Noise, Found Things, etc.

7. Vagator Beach

To make you understand in simple words, Vagator beach is the place with all-in-one attributes. This beach has everything that a traveler desires, from good nightlife to brilliant water activities. Most of the crowd of this beach is made of westerners and the residents. The Charming place is suitable for all age groups, due to its beautiful scenery, and groovy nightlife, this beach is famous for Goa beach party.
Location: Vagator Beach, Bardez Taluka, North Goa
Nightlife: Tin Tin Bar, Mezcal, Mango Tree, Disco Valley, and the Alcove

These seven beaches have some of the most happening nightlife to start with. However, few others get shaded behind these famous beaches. The few other beaches are quite functional and offer a great place to spend the night grooving over hit numbers.
Other Places to Visit for Goa Beach Parties

You must have heard about Goa's nightlife and shack parties, but when it comes to visiting the state and enjoying the best places, you might feel confused and lost. These seven places are picked after long research and votes from frequent party-goers. Some of the other beaches to keep in mind are as follows:
1. Arambol Beach
2. Cavelossim Beach
3. Sinquerim Beach
These famous beaches have some of the chic clubs and places to help you make memories and tap into the beats of famous DJs in town. Along with brilliant Goa beach parties, you will also get the chance to experience some of the exciting water sports. Goa is undoubtedly a dangerous blend of beaches and night clubs, an ultimate place to spend some luxurious time amid lively people, and a place that will drag you to make a second visit.
Further Reading:
Find out the Best Clubs in Goa
7 Loved Pubs in Goa for Young Hearts
Try Your Luck in These Five Best Casinos in Goa
6 Best Beaches in Goa You Cannot Drop in the Travel List
Explore 5 Best Beach Shacks in Goa for an Authentic Experience
6 Gorgeous North Goa Beaches for Couples
5 Resplendent South Goa Beaches for Visitors
Go Bonkers with the Goa Carnival