5 Resplendent South Goa Beaches for Visitors
Undoubtedly, Goa is an exotic holiday destination in India. Favorite among the international as well as domestic traveler, the state is one of the most happening party destinations of India. But that is not all. Here you will find some tranquil spots and beaches, which are far away from the crazy parties and the addictive trans-music.
Divided into two zones – North Goa and South Goa – the state has something to offer each of its guests. While North Goa beaches vibrate addictive energy, the beautiful and tranquil south Goa beaches reflect the aura of comfort and lazy strolls.

Popular South Goa Beaches

Are you looking for some peace holiday on the beach? Then, these destinations are perfect for you.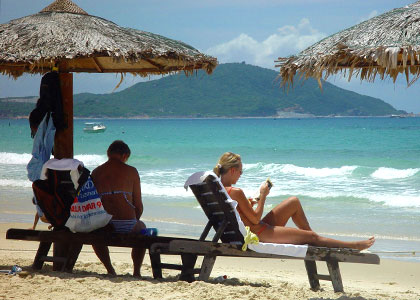 Colva Beach
1. Colva Beach
Just 6 kilometers (4 mi) off Margao, Colva Beach one of the oldest and most popular south Goa beaches. With a 25 kilometer (16 mi) long gorgeous coastline covered in white sand, the beauty of the coastline is enhanced by the coconut groves running parallel to it.
Colva is home to some of the most elegant and stunning colonial buildings of Goa, built during the Portuguese reign. Apart from pristine monuments, this quaint beach town is famous for its quintessential shacks and resorts. Although, winter months are ideal for Colva trips, during monsoons this small hamlet has its special charm.
Famed for: Adventure water sports and serene beach
Just a few minutes' drive from Margao, Palolem Beach is a favorite destination among vacationers looking for something special. Surrounded by natural beauty and less crowded coastline, Palolem is next in the list of trendy South Goa beaches. Also referred to as Green Island, here you can find several beach shacks and pubs selling authentic Goan cuisines and drinks.
Apart from popular activities like swimming or adventure sports, you can indulge in dolphin spotting, island exploration, or fishing. The shallow part of the seashore at Palolem is ideal for swimming.
Famed for: Swimming and do participate in the silent disco – it a memorable experience
Another one of the enchanting south Goa beaches, Benaulim is a popular destination among vacationers who want to escape the crowd. Just a kilometer away from Panaji, this coastline is surrounded by greenery.
The place was once the home to a thriving Hindu community that referred to Benaulim as Banavli. However, after colonization, everything changed. Benaulim Beach became an important settlement of the Portuguese colonizer. During their reign, they built stunning churches and mansions whose architecture was inspired by European architecture.
The beauty of Benaulim is at its best during the monsoon months, however, winter trip is also recommended.
Famed for: Water sporting activities – also trips to local landmarks and spice plantations are recommended

4. Agonda Beach

The perfect place for swimming and relaxation, Agonda Beach is the next destination on the list. One of the most stunning South Goa beaches, Agonda is just an hour drives away from the Goa International Airport. The simplicity of this beautiful sea town attracts tourists, especially honeymooners.
Plenty of shacks and restaurants in the area, the place is a great hideout for paragliding and other adventure activities.
Famed for: Dolphin rides and windsurfing

5. Betul Beach

Another popular sea beach in the South Goa, Betul Beach offers a warm welcoming stay to its visitors. The adjoining village is comprised of beautiful coconut groves and greenery, making it a stunning romantic destination.
Gorgeous weather and stunning landscape make this beautiful fishing village one of the most attractive South Goa beaches.
Further Reading:
6 Best Beaches in Goa You Cannot Drop in the Travel List
Explore 5 Best Beach Shacks in Goa for an Authentic Experience
6 Gorgeous North Goa Beaches for Couples
Five Famous Goa Foods You Should Have a Try
Goa Beach Party: Best Beach in Goa for Nightlife