Why Visit Goa – Ten Reasons to Go at Once
Goa is a magical destination, suitable for a short or an elaborate retreat. This small pint-sized state offers kaleidoscopic cultural experiences to the vacationers. Land of parties, booze, and beautiful beaches you need to visit Goa to recharge yourself. If you are looking for a break from the hectic and mundane city life, then this small Indian state is meant for you.
One of the biggest pulls of Goa is its dazzling sand beaches and the exotic beach shacks that reflect a relaxing vibe. If you are still counting reasons to visit Goa, then here are not one or two but ten reasons to visit Goa.

1. Romantic Beaches Walks in the Evening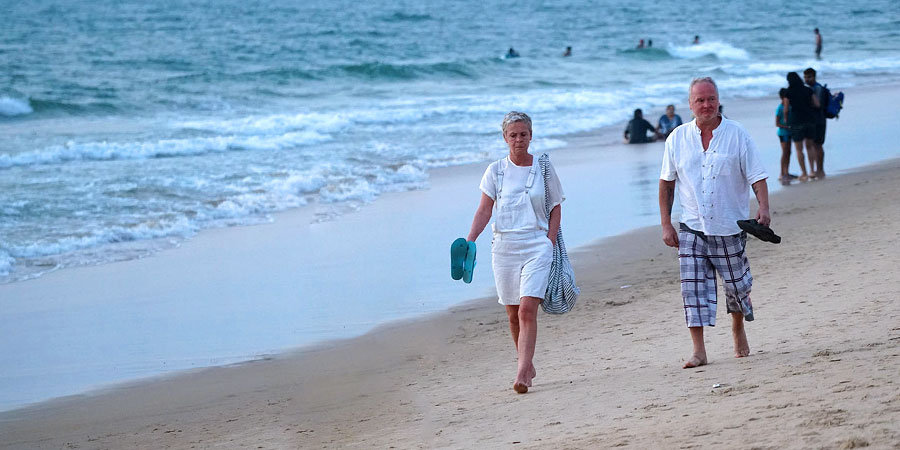 Romantic Beaches Walks in the Evening
The first reason to visit Goa is its perfect and pristine beaches – and this Indian state has a quiet few of them. An ideal destination for a romantic evening stroll, the Goa coastline attracts visitors from far and wide. You can do a lot of things at Goa beaches throughout the day, even if you are alone. You can try water sports, go for snorkeling and island search, or watch the sunset on the beach while sipping mimosas.
See more about Best Beaches in Goa

2. Goa is a great place for snorkeling expeditions.

Although Goa is the 'Mecca' of exciting trance and rave parties, this magical place has a lot more to offer for seekers. The two remote islands – Divar and Chorao – are often visited by the vacationers looking for some peaceful time away from the usual tourist crowd. Just 7 km off Panaji, these tiny islands are the place for snorkeling. Just heads to these small islets for a snorkeling expedition – the experience cannot be described in words.
P.S: Grand Island, Bogmalo Beach and Banana Beach are also famous snorkeling venues of Goa.

3. Sampling Seafood

Your Goa trip is incomplete without sampling the exciting range of seafood and refreshing drinks. You have to make it a point to visit these quaint beach shacks, especially at Anjuna Beach, serving aromatic and delicious – and extremely fresh – seafood. Do try the prawn cocktails and fried squid – a must-try dishes at Goa.
See more about Famous Goa Foods

4. Surfing in the wind at Goa is surely a thrilling experience.

This pointer regarding reasons to visit Goa is meant for the adventure lovers. This tiny sea-facing state is home to some of the most popular adventure sports venues. You can not only try water sports, but Kite surfing as well. Different from the usual sea surfing, the surfer maneuvers over the sea waves after they are tied to a huge kite.

5. Goa has the swinging nightlife.

Goa's nightlife, all thanks to the cafes and pubs on the beaches, is simply electrifying and addictive. These pubs and clubs offer some of the most exciting dance floors that stay open almost the entire night, playing happening music.
P.S: Some pubs provide free stag entry to ladies, so remember to check that out before heading to these pubs.
See Best Clubs in Goa 7 Loved Pubs in Goa Goa Beach Party
| | |
| --- | --- |
| Goa Beach Party | Water Scooter Riding |
6. Goa is full of more exciting water sports.

Goa is blessed with several beaches, making it a perfect destination to experience the thrill of water sports. You can do parasailing, jet skiing, water skiing, banana boat rides, surfing, and water scooter riding and everything else in between. The place has several water clubs and venues who offer the given rides.
See Top 5 Water Parks in Goa You Must Visit

7. Rare Tranquil Boat Riding at the Butterfly Beach

The boat ride at the stunning and serene Butterfly beach is another reason to visit Goa. A beautiful piece of paradise, the Butterfly Beach is still a secluded beach and free from the regular usual touristy crowd. Also referred as Honeymoon Beach, the place is popular among locals for its sunset views and narrow seashore on a boat.

8. You can admire the exotic sunset at Chapora Fort in Goa.

The trip to Goa is incomplete without witnessing the beautiful sunset at the Chapora Fort. The fort, once a stronghold of the Portuguese, is located at Bardez overlooking the Chapora River offering some of the most stunning views during the sunset. Home to several legends and stories, it was believed that the fort could not be breached so that it always holds the fantastic sunset.

9. Two-Wheeler Taxi Riding that's Hardly Found in Other Places

If the motorbike taxis are only a thing in Vietnam, then you are in for a surprise when you visit Goa next time. Here you can find numerous two-wheeler taxis providing rides to passengers at a nominal fee. Usually, travelers prefer hiring bikes for traveling within the city, but they who do not have a driving license can always book the two-wheeler taxis for a ride.

10. Goa is noted for eating at exotic Thalassa.

Imagine sipping aromatic Greek wines while taking a bite of creamy Moussaka while soaking in the beautiful sunset over the ocean. Thalassa, a Greek specialty restaurant at the Vagator Beach, offers great tasting food and drinks to its guests – and the gorgeous view is an added bonus. Additionally, the Greek Taverna has small clothing and jewelry shop selling Indian designer wear. It is a unique place to witness Mediterranean style in South Asia.
For these reasons, you should make your plans to visit Goa immediately. Surrounded by numerous beaches, exotic food, and electrifying parties – Goa is the place to go on a holiday.
So, what are you waiting for? Pack your bags, book your tickets, and get set go.
Further Reading:
9 Goa Travel Tips First Time Travelers Should Know
A Detailed Guide for Solo Trip to Goa
Average Goa Trip Cost on Transportation and Accommodation
Things to Do in Goa in Monsoon
Goa Culture – Six Points You Can't Miss
9 Interesting Facts about Goa Every Travel-holic Should Know