6 Gorgeous North Goa Beaches for Couples
Goa is a party destination of India and frequently visited by tourists from different corners of the globe. One of the main attractions of Goa is its scenic beaches, especially during the northern part of the state, which is ideal for swimming, beach activities, and PARTY. At the beaches of north Goa, the party scene is very addictive while in the south tranquil beaches suitable for solitary strolls come highly recommended. If you are one of those people who like to groove till late in the night, then here are some fabulous North Goa beaches for you.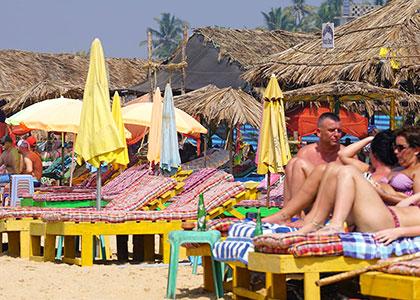 A Couple Enjoying at Calangute Beach
Also, referred to as the Queen of Beaches,
Calangute
owns a unique and addictive personality. Therefore, it is first on the list of our gorgeous North Goa beaches. Approximately 6-kilometer (4 miles) long seashore is home to the most happening parties of Goa and is easily accessible from almost every corner of the state. Here you can indulge in water sports, sightseeing, or even shopping.
Although Calangute does not have many options in beach shacks, the sea beach is surrounded by several budgets and luxury hotels.
Best way to explore Calangute: On foot or two-wheelers
Must-try experiences: Trying your hand in watersports like parasailing or water skiing
Things to remember: The beach is fairly safe, but it is recommended to travel in groups
Another of Goa's gems is the Baga Beach. This seafront is the branch of a close flaking formation of coastline which consisting of Calangute Beach. In reality, the point where Calangute beach ends marks the beginning of Baga beach. One of the most popular North Goa beaches, Baga is quieter and less-crowded in comparison to tourist's favorite Calangute. But fret not – celebrations are always active at Baga, all thanks to its famous pubs and nightclubs.
You can try several watersports like speed boating or banana boat ride at Baga beach. It comes highly recommended.
Best way to explore: On foot or two-wheelers
Must-try experiences: Watersports, relaxing on a sun lounge, swimming
Things to remember: During the off-season most popular tourist handouts remain closed
Next on our list of gorgeous North Goa beaches is Candolim Beach, well-known for its lively atmosphere and cleanliness (despite being frequently visited by the tourists). The white sand and dunes make this place delightfully charming attracting not only family vacationers but the younger crowd as well.
As with other beaches of north Goa, watersports and swimming are a must-try here. Apart from that, you can head towards the Aguada Fort for a spectacular view of the ocean and the nearby areas. Since Candolim is a popular tourist hangout destination, there are several resorts and hotels by the beach offering great view and experience.
Best way to explore: On foot or two-wheelers
Must-try experiences: Relaxing at the beach and trying out water sports, and partying of course

4. Morjim Beach

Have Fun on Morjim Beach
Another destination on the list of North Goa beaches is Morjim. Close to the village with the same name, the region came under limelight after being discovered as the nesting ground for the Olive Ridley sea turtles. An unusual exception to crowded beaches of North Goa, the Morjim Beach is a perfectly peaceful and calm place located close to the Ashwem beach. Home to a large group of Russian immigrants, the place is also known as 'Little Russia'.
The greenery and peaceful surroundings make this place a perfect retreat for a day trip after an all-night partying.
Best way to explore: Preferably two-wheelers
Must-try experiences: Exploring the beach and taking a pleasant stroll
Things to remember: You can go for dolphin sighting tours, preferably in the morning
The list of gorgeous North Goa beaches is incomplete without mentioning Anjuna Beach. Once the favorite hangout place for the travelers during the Flower Era, one can still feel that 'easy-go' vibe reflecting from the region. Dedicate your mornings to swimming at the ocean, paragliding, or relaxing at the beach. After sunset, Anjuna becomes the hub of trans-music and groves attracting the party-goers.
The Wednesday Flea market is one of the most popular attractions of the region and is a huge crowd puller. Head to the market to buy colorful Indian apparel, small trinkets, and stunning souvenirs to take back home.
Best way to explore: By two-wheelers
Must-try experiences: Shopping at a flea market, water sports, and enjoying local cuisines
Things to remember: While shopping haggling is recommended
6. Mandrem Beach

Last on the list of gorgeous North Goa beaches is Mandrem and it is included in the list due to being beautiful seascape. The white sand shoreline of Mandrem with clear water is a popular destination for tourists looking for some quiet time. Although the place is close to the shoreline of Arambol, this place is usually not included in the itinerary of your average tourist.
Best way to explore: Two-wheelers
Must-try experiences: Relaxing while enjoying the view
Exploring the stunning and vibrant North Goa beaches is always an exciting experience. Head over these destinations to feel the addictive and electrifying energy, Goa is waiting for you.
P.S: Apart from happening beach parties, North Goa has several stunning Portuguese forts and churches that are worth a visit.
Further Reading:
5 Resplendent South Goa Beaches for Visitors
Explore 5 Best Beach Shacks in Goa for an Authentic Experience
6 Best Beaches in Goa You Cannot Drop in the Travel List
Top 5 Water Parks in Goa You Must Visit
Best Restaurants in North Goa No One Can Miss