How to Travel to India from UK – Flight, Visa & Tour Plan
Do UK citizens need a visa to travel to India?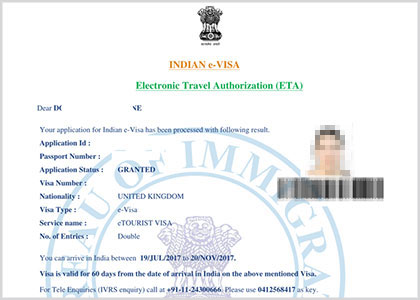 India E-Visa Sample
Yes. From November 27, 2015 on, E-Tourist visa replaced the traditional visa and UK passport holders can apply for it for India tours from UK. All you need to do is complete your application form online, and India will issue you the e-Visa once your documents are approved.
Note: You should get your e-Visa at least four days before you board your flight to India; You only can apply for 2 times at maximum in a calendar year.
Visa fees: £54
Read More: Essential Guide to E-Visa India Indian Visa - Visa Policy of India
How to Travel to India from UK – Flights
There are few direct flights traveling to India from UK because of long distance. While if you departure from London to Delhi, it has direct lines taking around 8 hours. You need to book plane tickets in advance according to your travel plan.
Read More: India Transportation
Best Time to Visit India
India is tropical monsoon climate with cool, hot and rainy season. The best time to travel to India from UK is between October and March. During this time, tourists can expect a relatively cool and dry weather.
Read More: Best Time to Visit India
Best Places to Visit in India
As a big ancient civilization, India is rich in cultural sites and relics. But it also has many natural beauty to blow your mind. So there are many destinations for your travel to India from UK.
| | |
| --- | --- |
| Taj Mahal | Khajuraho |
| | |
| --- | --- |
| Ganges River, Varanasi | Nahargarh Fort, India |
For example:
1. Delhi: You can visit the famous Qutab Minar, the tallest minaret in India.
2. Agra: The great Taj Mahal, representing eternal love between king and his wife, attracts numerous people to appreciate this magnificent white marble building.
3. Jaipur: It is hailed as pink city where you can visit beautiful City Palace and Hawa Mahal.
4. Mumbai: It is one of the most prosperous city in India, but you can also find the Asia's largest slum - Dharavi Slum.
5. Kashmir: It is called "Oriental Switzerland". Most people will go to Srinagar to boat on Dal Lake and engage in various outdoor activities.
6. Varanasi: It is a holy city for Hindus because of Ganges River. People can admire great puja in the evening or float on the river in the morning to watch sunrise.
Time Difference between UK and India
India time is 4 hours 30 minutes ahead London.
Money Exchange for GBP and India Rupee
Rough Exchange Rate: 1 GBP = 91.52 INR
INR, short for Indian Rupee, is the official currency in India. Currently, the majority payment way are cash and credit card. So you need to exchange some money in advance for emergency. And it is convenient to exchange pounds at airports and banks.
Read More: Indian Currency, How much does it cost to travel in India?
Voltage & Power Sockets
| | | |
| --- | --- | --- |
| | UK | India |
| Voltage | 230V/50HZ | 230V/50HZ |
| Plug Type | Type G | Type A/B |
If you travel to India from UK, please take a voltage adapter and a plug adapter.
Read More: The Ultimate Guide to India Voltage: Plug, Socket, Electricity
Tap Water is Not Drinkable in India
Tap water cannot be drink directly in India because of horrible sanitation condition. You need to drink bottled water in shops and mention that bottle cap intact.
Read More: Health-wise Tips for Drinking Water in India
How to Make Phone Calls
From UK to India:
Dial 00 + 91 + area code + local subscriber number
Dial 00 + 91 + 10-digit mobile number

From India to UK:
Dial 00 + 44 + area code + phone number
You May Like:
How to Plan an India Trip: 6 Steps
10 India Travel Tips that You Have to Read before You Go
10 Best Tourist Places to Visit in India
Travel to Golden Triangle India - Delhi, Agra & Jaipur