Egypt Travel Guide
Basic Facts of Egypt

Full Name: Arab Republic of Egypt

Location: in Northeast Africa and southwest Asia; shares its boundary with Mediterranean Sea in the North, Sudan in the South, Israel and Red Sea in the East and Libya in the West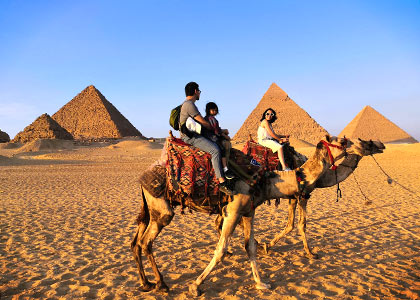 Great Pyramids, Egypt

Area: 1,010,408 square kilometers (390,121 sq. mi)

Population: 95 million

Language
: Arabic, English, French

Currency
: Egyptian Pound (EGP)

Time Zone: UTC+2

Capital:
Cairo

Administrative Division: 27 provinces

Religions and Beliefs: Islam (>84%)
Read More:
Top Destinations in Egypt
Read More:
7 Famous Places to Visit in Egypt
Exploring the Deserts in Egypt: White Desert, Western Desert
As one of the four great oldest civilizations, Egypt attracts thousands of tourists who have strong curiosity to this ancient country. Apart from sightseeing of historical relics in major cities, like Cairo and Luxor, it's also advisable to experience beautiful seascape in the coastal cities such as Hurghada and Alexandria.
Highlights:
1. Cairo: The Pyramids of Giza, Great Sphinx of Giza, Egyptian Museum, Al Azhar Mosque, City of the Dead, Coptic Museum, Memphis City, Museum of Islamic Art
2. Luxor: Temple of Karnak, Valley of the Kings, Luxor Temple, Colossi of Memmon
3. Alexandria: Bibliotheca Alexandria, Fort Qaitbery, Pompey's Pillar
4. Aswan: Temple of Philae, Abu Simbel Temples, Aswan High Dam, Unfinished Obelisk, Botanical Gardens

Top activities: Nile River Cruise; dive in the Red Sea; fly in a romantic hot-balloon; shop in Khan El-khalili market; camp in the Black and White Desert...
| | |
| --- | --- |
| Egyptian musuem in Cairo | Temple of Philae |
The best time to pay a visit to Egypt is from November to next March when Egypt is in its autumn and winter during this period. At this time, the weather is not too hot nor too cold with the average temperature of 20℃ (68℉). In order to avoid scorching sunshine, most travelers choose to head to Egypt at this time, leading to the peak travel season. What's more, big difference in temperature exists between day and night. As a result, it's highly recommended to wear light breathable clothes when the temperature rises in day, and plus a thick coat in the evening.
Read More: Egypt Weather Cairo Weather Alexandria Weather
The easiest and quickest way to get to Egypt is by plane. Direct flights are available from New York, London, Dubai, and many other major cities in the world. In terms of touring inside Egypt, flight, train and intercity buses will bring visitors to their destinations. If you want to appreciate the fascinating scenes on either side of the Nile, it's advisable to take a cruise ship or felucca between Aswan and Luxor. For travelling within cities, the prior choice is city bus and minibus with a low price. Metro is only operated in Cairo within three lines. The other alternative way is taxi, whose price is not too high.
Read More: Train Travel in Egypt Egypt Taxi Feluccas in Egypt
First of all, a visa is an important entry into Egypt, so please ensure you will obtain a valid Egypt visa. Citizens of many countries can apply for visas on arrival in Egypt. Remember to confirm before departure. If not, apply in advance.
Then, it's better to prepare personal wash supplies for most hotels do not offer them. In addition, Internet and telephone could be easily accessed as visitors buy a SIM card packages.
Last but not least, visitors are expected to respect religious rules as Egypt is a typical Islamic country. For example, do put off your shoes when entering a Islamic house, do not wear shorts or short skirts while stepping into a mosque, greet people with your right hand, do not take photos of locals without permission...
Read More:
Is It Safe to Travel to Egypt?
A Guide on What to Pack for Egypt Travel
Egypt Trip Cost on Food, Transportation and Accommodation...
Things to Know before Visiting Egypt
History
As the oldest Egyptian civilization dates back to 5,000 years ago and originated along the banks of Nile River, Egypt's history could be roughly divided into four parts, covering Prehistory (pre-3100 BC), Ancient Egypt (3100-332 BC), Non-native rule over Egypt (332 BC-1953) and Republic of Egypt (since 1953). According to historical records, Neolithic culture was rooted in the Nile valley around 6000 BC, and that is so-called Prehistory of Egypt. The Ancient Egypt period started with the establishment of the first unified kingdom by Kingdom Menes around 3150 BC, and for the following three thousand years, there are nine dynasties ruled Egypt. Later, Egypt came to its non-native rule time, which lasted over 2,300 years. The foreign rulers included Greeks, Persians, Romans, Arabs, Ottoman Turks and the British Empire... It was not until 1953 that the Republic of Egypt was founded.

Nile River
Read More: 7 History Facts about Egypt Aswan History
Geographical Features
Egypt is blessed with not only coastal lines of the Mediterranean Sea and the Red Sea, but also dry desert scenery in the southern part. The world's longest Nile River, 6,670 kilometers (4,145 miles) long, runs across Egypt from south to north and finally flows into the Mediterranean Sea. Almost ninety-six percent of Egypt is covered by desert. Many historical relics, like the Pyramids of Giza and Valley of the Kings were built in the desert. The highest mountain is Catherine Mountain with the elevation of 2,642 meters (8,668 ft).
Read More: Regions in Egypt and Tourism Highlights