Khan El Khalili Market
Khan El Khalili district is one of the most vibrant places in Cairo. It is always full of tourists who come from various countries. There are several shops that sell a plethora of products to the extent that you would spend a whole day in case you want to explore all of them.
Read more about Shopping in Cairo
Khan El Khalili history:
During the 10th century, Cairo was not a place for common people; it was specified for the ruling family. When al-Mustansir became the caliph, the common people got access to Cairo, and many merchants headed to that place. After that, some Fatimid rulers restricted access to Cairo again, but when Salah ad-Din became the ruler of Egypt, he ended that state and made the city open for every citizen.
15 photos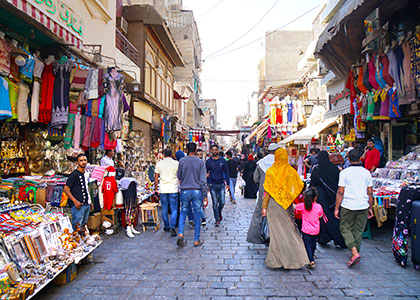 The area where Khan El Khalili exists has become the destination of traders, especially after
Al Azhar Mosque
was built. When the Mamluks rose to power, Cairo was much crowded, and builders tended to build structures that consist of multiple stories. People called this kind of buildings "Khan" or an inn for merchants. That is, the merchants can have their shops and apartments in the same building.
In the 14th century, Jaharkas al-Khalili established a massive Khan, and the whole area has been called Khan El Khalili since that time. During the reign of the Ottoman, the area was dominated by Turkish merchants, but now the district is dominated by local traders and merchants who primarily sell products and goods for the tourists.
Shopping Bazaars:
It is worth saying that many tourists visit Egypt every year to wander around the renowned landmarks, but none of them, approximately, leave Egypt without visiting the bazaars at Khan El Khalili because these bazaars offer the tourists a variety of stunning souvenirs.
There are countless types of statues that vary in size and material. You will find statues of the Pharaohs, Egyptian peasants, and other figures that reflect what people used to wear at certain periods through Egyptian history. On top of that, you can buy little figurines of the Pyramids and Sphinx.
Many people in Egypt do not make tea using the kettle, especially the Bedouins; instead, they use a special teapot and small glasses. You will find spectacular teapots of different shapes and colors available at some bazaars.
There are wonderful plates that you can fix on the wall as a kind of decoration. Above all, there are impressive necklaces made of silver, gold, or some other materials, and some of them are decorated with precious stones. Besides, you can find names written on the jewelry in hieroglyphics. You will also find other impressive shapes of gorgeous antiques.
In case you prefer the stylish designs of gold, there is a street specified entirely for gold shops, where you can buy earrings, bracelets, rings, and necklaces as well. Besides that, if you admire camps, you must see the fascinating tents at Al Khayamiya Street, where you may watch the tentmakers working and sewing the tents inside their shops.
Read more about Top 6 Markets in Egypt for Authentic Artifacts
Products:
The district is full of shops that present handmade products, which are designed by skilled craftsmen. There is a variety of shops that sell leather products of high quality, such as shoes and bags. Moreover, you will be astonished when you see the amazing copper lanterns, most of which have colorful stained glass.
Furthermore, there are numerous shops where you can buy exotic and fragrant perfumes. Oud is common at these shops as well. It is like a stick, and it releases an aromatic smell when it is lit. There are also handmade carpets and rugs with oriental and magnificent designs.
Read more about What to Buy in Cairo What to Buy in Egypt
| | |
| --- | --- |
| Featured Products on Khan El Khalili | Street Snacks on Khan El Khalili |
Food and Beverages:
Once you feel hungry, you can try to eat one of the traditional plates of the Egyptian cuisine at any of the scrumptious restaurants there. After you finish eating, you can get a drink at one of the ancient cafes. In fact, you needn't worry about beverages and snacks; you will find street vendors, who wander around all the time, selling various kinds of juice that you have never tried before. Besides, you will see other vendors selling baked sweet potatoes, which is going to be a filling snack, and you can either scatter salt over the sweet potatoes or eat it sweet.
Read more about Cairo Street Food
How to go:
It is so easy to reach Khan El Khalili district as it is so famous. All you have to do is to enter any metro station and ask the officials how to go to Attaba station. Once you are in Attaba station, exit the metro and take a taxi to that district or walk for 10 minutes until you get there.
When does it open?
Most of the shops open at 10 am, and they do not shut their shops before 2 am. You are recommended to visit that place after the sunset as the lighting makes the place magical in the evening.
The map:
Khan El Khalili consists of many streets, and to make sure that you will visit each spot there, you need to open Google maps and get a screenshot of that district. Moreover, if you have a friend in Cairo, you can ask him/her to accompany you to that area.
The Prices:
The prices of the products are always negotiable, but that is not applied to the prices of food and beverages. So when you enter any shop to buy a souvenir, bear in mind that the shop assistant will double or triple the price; however, try not to be harsh to the shop assistants when bargaining. As long as you speak nicely and negotiate skillfully, you will get the best price ever.
To collect nuts in the shell, your visit to Khan El Khalili is going to be an unparalleled experience, and you will advise people to visit that district before they leave Egypt.