Average Egypt Trip Cost on Food, Transportation and Accommodation
Let us introduce you to the beauty of travelling to Egypt at an average cost. Just to give you a brief idea, travelling through Egypt is similar to travelling in Southeast Asia. If you are a budget traveler, then you are in luck because there are a lot of things to explore under budget. However, if you are willing to add some upscale hotels and Nile River cruise into your list, you might want to go north in the budget to get the most out of a luxury tour. Egypt trip cost is usually affordable if you plan well and get all reservations in place beforehand.
This post contains the details of every information required for a comfortable trip to Egypt. The average trip cost includes airport transfer, visa arrival, accommodations, transportations, food, and others. Knowing these important details beforehand will make your journey smooth.
Egypt trip cost
Visa on Arrival Cost
Egypt has a convenient visa on the arrival of a handful of countries, including Canada, USA, European Union, New Zealand, Australia, Russia, and others. You can easily obtain Visa on Arrival at the airport. Once you reach the Cairo International Airport, you will find a bank window where you can purchase your Visa. An average cost of the Visa is $25 USD.
Read More: Egypt Visa on Arrival - 5 Things You Need to Know

Cost of Food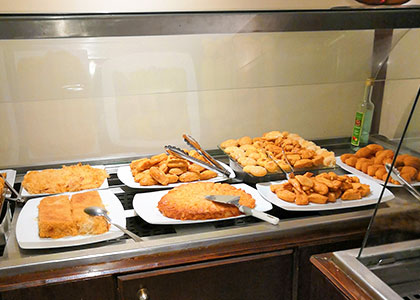 Egyptian Snacks
Most of the budget travelers try to stick to basic street food because they are comparatively cheaper and tastier than upscale restaurants. Here is an average range to give you a head start with what you can consume in Egypt.
• Vegetarian meals, local food, street food will cost you around$1-$2
• Other snacks like falafel, Egyptian sandwiches for a quick fix will cost around $1-$3
• If you are looking for sit-down meals, they will cost a very reasonable amount like $5-$12 per person in most of the average restaurants. However, if you want to try traditional cuisines in fine dining restaurants, then you can expect higher prices.
Tipping in Egypt
after a sit-down meal is customary and it will cost you 5-10% of the bill.

Read More: Top 10 Egypt Street Foods 10 Egyptian Desserts Special Drink in Egypt
Transportation cost in Egypt
Average trip cost in Egypt will be incomplete without including the transportation expenditure. Transport is the biggest concern for every tourist because it determines to make or breaking a trip. The details are mentioned to get between cities, you can take the various mode of transportation, you can hire a driver, fly, take the Nile Cruise and others.
Read More: Transportation in Egypt
Average Flight Cost
If you have a comfortable budget, then taking the flight will be the fastest way to get in between cities. Remember all the prices are calculated as an average and the exact price may vary according to the situation and seasons.
Cairo to Aswan
: $155
Cairo to Luxor
: $145
Aswan to Luxor
: $300
Round Trip Aswan to Abu Simbel
: $325
Average Train Cost
This option is more suitable for people travelling on the budget. If you are one of them, then taking the train as a mode of transportation will be more than perfect. Egypt has express trains and special express trains.
Read More: Train Travel in Egypt
Cairo to Alexandria
: $3 – 4, $2 – $3 respectively for 1st and 2nd class
Luxor to Aswan
: $8, $5 respectively for 1st and 2nd class
Cairo to Luxor
: $17 1st class; $80 to $110 for a sleeper cabin.
| | |
| --- | --- |
| Train from Cairo to Aswan | Hire a Car with a Driver |
Hiring a Driver
Taking a car ride will also be good for budget travelers, and you can hire a driver to take you to the destination. If you are planning to travel Abydos from Luxor, it will cost you around 1,400 EGP ($89 USD), or if it is Luxor to Aswan, then the cost will be around 1,400 EGP ($89 USD), which is the same.
Read More: Egypt Taxi

Sofitel Hotel in Egypt
No matter how average cost is calculated, the pricing Egypt trip cost including accommodation will always vary based on the time of the year and location.
Budget
: $10 – $50
Mid-Range
: $50 – $150
Luxury
: $150 and up
If you have checked out the accommodation section for Egypt, you would know that Luxury is the deluxe hotels with most of the facilities including swimming pool, gym, restaurants, and more. The budget hotels are the pension, home stay, bed & breakfast, and 2-star hotels include the mid-range hotels.
The accommodations prices can be higher during Christmas and peak seasons (December through February).
Read More: Accommodations in Cairo & 6 Cairo Airport Hotels
Egypt on Budget
Egypt is filled with history and heritage, there are so much to explore in this beautiful country that people might definitely fall short in their budget. Egypt trip cost a satisfactory amount if you know how to stick to the itinerary. During your visit to Egypt, you will be able to live the culture and take a small insight into the historic civilization that formed the pillars of modem society.
Travelling on a budget does not have to be painful or you do not have to skip things you love. You can still find brilliant things to try and places to explore under budget. Creating memories should not be limited to the budget.
Read More: 7 Famous Places to Visit in Egypt
Conclusion
You just have to sideline some money to invest in your safety and you will not miss a single thing. Another thing that we would like to suggest is that find a tour guide, a reliable guide will take you to every nooks and corner of this country that a tourist should never miss.
If you are worried about overpaying, then try the ancient trick, haggle. You can negotiate with anyone about anything. Hope this post brings clarity in planning the Egypt trip cost.
You May Like: