Regions in Egypt and Tourism Highlights
A place where the golden sky merges with the golden sand and pours its subdued illumination in its waters, that is how the beautiful land of
Egypt
is best described. A land exotic and musing in its rich culture, its outstanding landscape and treasures of heritage makes Egypt such a fascinating destination. Long meandering stretches of
Nile River
and the long expanses of desert, its cosmopolitan cities make travelers from all over the globe immerse in this beautiful destination. Egypt is indeed a traveler's dream destination. Travelling from Upper Egypt to the Sinai Peninsula and the Red Sea regions of Egypt, will leave you feeling enriched, watching the vast diversity of the country will mesmerize you.
1. Upper Regions of Egypt
The Nile Valley region that spans from Luxor,
Aswan
and touches Lower Nubia. The fertile rich historical legacy of ancient cultures that date back to thousands of years but still create curiosity for wanderers from near and far.
How to Reach?
By Flight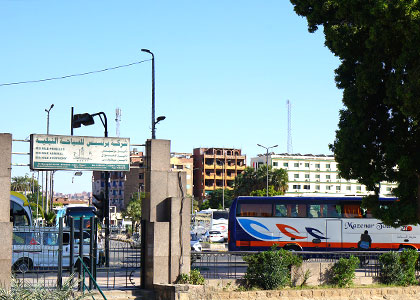 Aswan
Both Aswan and Luxor have direct flight from Cairo (See
Cairo International Airport
). Luxor has a direct flight from Europe.
Fare: Aswan $92; Luxor $67 (Ticket price is based on day and time of your booking)
Book flights on Tuesday, Wednesday, and Saturday
See also Aswan Transportation
By Train
There are 16 trains running daily from Cairo to Luxor
Travel Time 10 -13 hrs.
Fare starts from $2.5
See also Cairo Transportation Train Travel in Egypt

By Bus
Long distance buses can be availed from the Cairo to Aswin
Travel Time: 15 hours (Aswin); 11hours (Luxor)
Fare: Starts from $19(Aswin); $18(Luxor)
By Road

Luxor
Take a taxi, negotiate a price and stop at one or more temple
Travel Time 11 hours (Aswin); 8hours (Luxor)
Fare starts from $100 (Aswin); $74 (Luxor)
See also Taxi in Egypt
By Boat
Felucca cruise /
Nile cruise
between Luxor and Aswan.
Fare: $368 for 3 adults and 4 kids for 2 nights and 3 days
See also Feluccas in Egypt
You can stop between the temple towns. Large river cruises are suspended when the water recedes in the Nile river. There is a ferry not in the best condition that sails from Lake Nasser and reaches Wadi Halfa in Sudan.
You can do a day trip by air from Aswan to Abu Simbel.
Fare: A round trip by air will cost $325 per head. Minibus will cost 110LE and a private car will cost 600-900LE.
Road and rail link all major towns that fall along the Nile. Flying is not a good option on this route.
What to See?
The area in the west of the Nile is where the
Pyramids of Giza
can be found. This is the region of Egypt where the Sun God died every day and thus signifies death. The tombs of the Pharos with its best collections of the Valley of the Kings and the Valley of the queens can be found here at a little distance from Luxor. The most popular temple is Karnak Temple but if you wish to watch in complete seclusion then try the temples of Esna,
Kom Ombo Temple
and Edfu. The sound and light show in these temples is spectacular.

Pyramids of Giza
2. Sinai Peninsula
This is the easternmost part of Egypt and popularly called Sinai. Dotted by Bedouin Villages and tourist attractions amid the rocky desert and beautiful underwater coast of Sania is this destination best offering. This is also a significant seat of Abrahamic religions.
How to Reach?
You do not require a visa to enter this region as Taba Airport provides a 14-day permit to travelers for visiting the eastern Sinai coast, Mount Sinai and Catherine's Monastery. It is a bit difficult to reach by land, as the border crossing can be tedious.
Ferry
You will find regular Ferries from Jordan, Aqaba to Nuweiba. Visa is exempted as this a free trade zone. You can take a high-speed catamaran from Taba to Aqaba.
Bus & Coach
A minibus service departs at 11:00 AM from St. Catherine to Dahab (Twice a week, Tuesday, and Friday). Price EGP 50 each way and return on Wednesday and Sunday at 08.00 AM.
There are some private and economical minibus services that offer small excursions to the nearby Sharm -Taba, Sharm Dabah and Taba Dahab from €75 approximately. The tours also include English speaking guides.
Regular East Delta full-sized coach depart from Sharm el-Sheikh and Dahab at about 2 Km (1.2miles) away from the town.
What to See?
The Mount Sinai is the place where Prophet Moses received the Abrahamic scriptures and the Ten Commandments. Here you will also see the Monastery of St Catherine.
The blue lagoon is another attraction that is very popular among tourists and known for its kite surfing adventure. It is a windy location and there is hardly any rain. This region of Egypt is nestled between Neuweiba and Dahab is much visited by tourists. There is a natural reserve too here Ras Abu Galum that should not be missed.
Just 40 km (25 mi) north is the Eco Camp Asala Beach in Bir Sweir. If you are interested to hike on the small oasis mountain with palm trees, then make time for Ain Quseib. You must not miss the Colored Canyon a spectacular show of natural layers of rock appearing in various hues shadowed by the mountain.
The most common dialect of this region is Bedouin Arabic dialect. However, tourists do not have too much problem as people do understand English. The Bedouins are generally multilingual and when it comes to fixing prices, they will converse with you in Russian, German, French and Italian.
3. Red Sea Coast
A beautiful diving destination that melts in the blue, Red Sea coast in Eastern Egypt has an expansive shoreline of 800 km (497mi) that reaches out from the Suez in the north touching the Sudan border in the south. Kissed by the warm breeze this sea cost has an exotic collection of fish and coral loved by tourists from all over the world.

Red Sea Coast
See also Things to Do in the Red Sea
How to Reach?
Many long-distance taxis and buses travel to this destination. You need to fix a price with a taxi. Only take that taxi which has been recommended to you by a trusted local. Buses are many in this route and travel at fixed prices. Just go to the station and make a thorough inquiry and find which suits your budget and comfort. Each bus has a different price. You can also avail a car, but they come at a higher price. Always negotiate the price ahead of the journey.
To Go to Hurgadha from Cairo
By Air: It takes 3 hours and the fare starts from $77
By Bus: It takes 5 hours and is the cheapest, starting from $3.5 and Jet buses charge 150LE
By Taxi: Takes 4hrs 50 min and costs $52
What to See?
If you are interested in diving then take a trip by the Tornado Marine Fleet and Hurghada Marina, to the many remote islands from the north to the south of the Red Sea. Or you could hop into a luxury catamaran and visit the beautiful places close to
Hurghada
. Snorkeling in this area is also very popular. There are many resorts along the bay with breath-taking scenic offerings. They occupy gardens and lagoons between the famous Red Sea chain of mountains. They are quite popular with tourists for offering the right holiday ingredients mixed with the best touch of simplicity and luxury.
Egypt is a mine for delightful excursions. A tourist in tired and most often left exhausted chasing all the heritage and natural beauty in this land of never-ending treasures. The other thing that exhausts the tourist is the stifling heat. Be sure to keep your throat hydrated with small gulps of water. Wear hats and sunglasses and enjoy your travel to the different regions of Egypt.
You May Like:
Is It Safe to Travel to Egypt?