Cairo Weather
Cairo is located in the tropical desert climate zone but influenced by Mediterranean climate, too. Cairo weather is hot and dry throughout the year, with annual precipitation under 50mm (2.1 inches) and the mean annual temperature at 21.4℃ (70.5℉). January and February are the coldest months with the lowest temperature of 10℃ (50℉), while the hottest months are July and August when the highest temperature reaches 35℃ (95℉). December to next February is the best months to travel to Cairo with comfortable temperature.

7-Day Cairo Weather Forecast
Averages for Cairo Weather
High/Low Temperatures of Cairo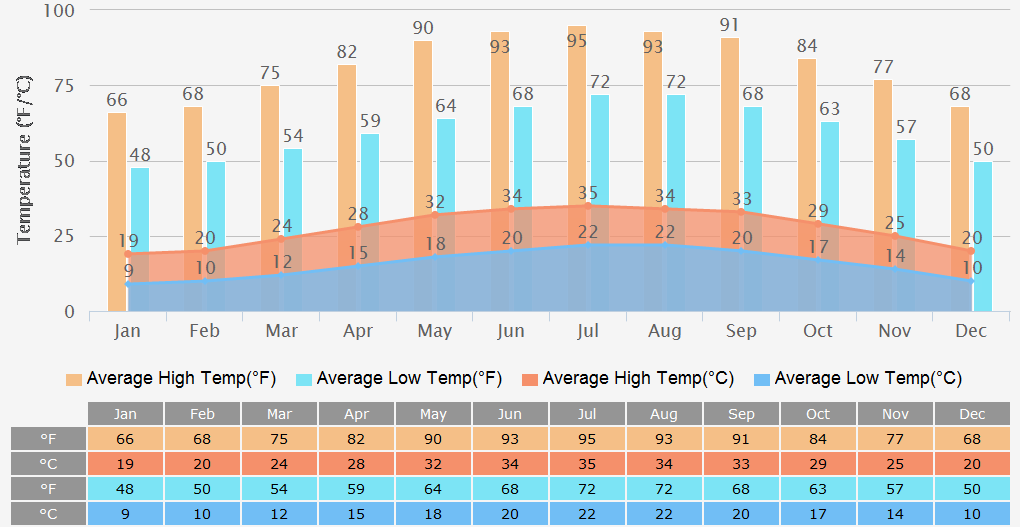 Average Temperatures of Cairo

Humidity Graph of Cairo

Average Rainfall of Cairo

Cairo Climate - Seasons & Travel Advice
Spring (March - May)

Honestly speaking, spring is not the good season for tourists to go to Cairo. Strong sandstorms occur, which brings great inconvenience to tourists. If you still want to travel to Cairo, a mask or a scarf can help you to prevent from sandstorm. Besides, you should better visit some indoor attractions.
Summer (June - September)

Tropical desert climate makes the summer in Cairo pretty hot and dry. People could wear as cool as they can. At the same time, you should wear sun-protective clothes and use sunscreen to protect yourselves from sunburn. A pair of sunglasses and a sunhat can also be used in your trip in summer. And you should better prepare some medicine to prevent heatstroke.
Autumn (October - November)

Cairo's autumn is pretty short and the temperature is much cooler than spring and summer. It is recommended to wear T-shirts and shorts in the daytime and put on an overcoat or a jacket at night. It is the best time to go to the Black and White desert; you cannot help admiring the magic of nature after appreciating the desert. By the way, the night scenery in the desert really cannot be missed.
Winter (December - February)

It is the best time to go to Cairo. The weather in Cairo is pleasant with the temperature being 9-18℃ (48-64℉) during this period. You can enjoy yourselves in the Pyramids and the Sphinx.