Egypt Transportation
How to Get to Egypt
1. International Plane
Taking into account of travel time and convenience, flying to Egypt is the preferred mode of transportation for tourists. There are 10 airports in Egypt: including Cairo International Airport, Hurghada Airport, Luxor Airport, Aswan International Airport, Taba International Airport, Abu Simbel Airport, Sharm EL-Sheikh Airport, Marsa Alam Airport, Alexandria Borg el Arab Airport, and Alexandria Al-Nozha Airport. Among them, Cairo airport have the most international flights from cities like Beijing, Guangzhou, New York, Dubai, Paris, and London.

How to Transfer between Cario International Airport and downtown area:
Taxi: There are many taxis waiting to pick up passengers outside the arrival hall of the airport, and most of the drivers can speak English. It takes about EGP80 from the airport to Tahrir Square in city center.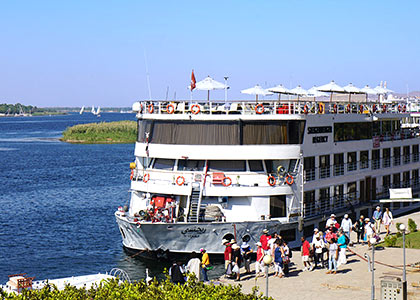 International Ship, Egypt
Public Bus: There is a bus stop outside the terminal that leads to the downtown area, but most drivers do not speak English. The most frequently used is 365 to Ramses Square; it departs every 20 minutes at EGP3.
2. International Bus
It would be cheaper to take a bus to Egypt than a flight from neighboring countries. The most popular and convenient departure country to Egypt by car is Israel.
3. International Ship
Visitors can take steamed ferries bypassing Israel and travel along the Mediterranean Sea to Sinai Peninsula. It is also available to travel from Saudi Arabia to several Red Sea coast ports in Egypt.
How to Get Around in Egypt
1. Airplane

Egypt Train
If you are eager to save time and avoid a bumpy and long-running journey, it's advisable to choose to fly. But the flight price is relatively expensive. After visiting Cairo or Alexandria, most tourists choose to fly south to Aswan or Luxor and east to Sharma El-sheikh in the Sinai Peninsula. EgyptAir is the main airline in Egypt.
2. Intercity Bus
These intercity buses run between many cities, towns and villages in Egypt. The ticket fare is roughly equally to a second class train ticket; also, it can be various based on the facilities inside. Intercity buses, especially those running for short distances and to Cairo, can be quite crowded. Tourists can buy tickets at bus stations or after getting on the buses. When getting off the bus, inspectors often check tickets. If you're traveling on a busy route, it's best to book your ticket in advance from the bus company.
3. Train
The railway network in Egypt centers on Cairo and the north-south railway is most popular among tourists. It takes about three hours from Cairo by train to Alexandria in the north, and around 10 hours to Luxor and Aswan in the south. Due to the serious delays of the trains in Egypt, train travel time may last so long that influence your travel schedule. Egyptian train tickets are not available for reservation online, and visitors can buy them at the railway stations or from the agencies. Train ticket fare is subject to various discounts. Special attention should be paid to the fact that the station names are only reported in Arabic, so please learn the Arabic name of your destination in advance.
Read more about Train Travel in Egypt
4. Cruise Ship and Felucca
If you are tired of the 8 to 10 hours' bus journey between major cities and want to switch to a more comfortable travelling transportation, taking a Nile River cruise between Aswan and Luxor must be the most romantic and exciting thing about Egypt tour. Cruises starting from Luxor travel upstream for about a day and a half; starting from Aswan, the cruise ship sails downstream for about a day. Moreover, the cruise ship is well equipped to meet the needs of tourists.
Read more about Feluccas in Egypt An Ultimate Guide for Nile Cruise
If you do not have enough money to afford a cruise tour, felucca, a primitive mode of transportation on Neil River, let visitors closely contact with the Nile. Felucca can be accommodated, but the facilities are not as rich as a cruise ship.

Felucca in Egypt
5. Pick-up Truck
As many countryside roads belonging to Egypt have no names, visitors need to take a pick-up truck in case you get lost. Most of the time, these pick-up trucks serve as taxi shuttling among small towns. Generally speaking, 12 people sit in the back of a truck, which is often stacked with many different things at the same time.
How to Travel around within Cities
1. City Bus and Minibus
Only two cities, Cairo and Alexandrian, have their own city bus systems, but their service is not very good. Tourists usually do not have enough time to get on and get off the bus. And usually there are so many passengers onboard.

By contrast, Minibuses are more comfortable. Usually there are only 14 seats in the minibus, and all passengers are ensured a seat.
| | |
| --- | --- |
| Egypt City Bus | Taxi in Egypt |
Metro is only available in Cairo with 3 lines in total. Metro line 1 is 43 kilometers (27 miles) long and runs from Helwan in the south to Al-Marg in the north, covering 35 stations. Line 2, which is 21 km (13 miles) long, runs through the Giza Railway Station. Line 3 is only partially operational. The subway runs from 06:00 to 24:00. The fares are cheap and the carriages are not crowded at all except during rush hours. Generally speaking, the first or second carriage of each subway is a women-only carriage.
3. Taxi
The most common way to travel around within city proper is by taxi for the low price. There are two kinds of taxis, white taxi and black taxi. The white taxi is charged by meter while black taxis are negotiable. When taking the black ones, double confirm the fare before getting on. You can choose to share a taxi with other tourists, which is cheaper. When paying, you don't usually get change, so have your change ready in advance.
Read more about Egypt Taxi
Further Reading: