Vietnam Weather in August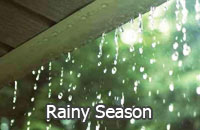 The weather in Vietnam in August is generally hot. Averagely, the high temperature is 33℃( 91.4℉), and the low temperature is 25℃(77℉). Besides, Vietnam climate in August is wet. The rainfall is higher than earlier months which makes the north and south not suitable for travelling. But you can choose the relatively dry central part.

The hottest cities in Vietnam in August:
Lao Cai: 35℃(95℉); Da Nang: 34℃(93.2℉); Hue: 34℃(93.2℉)

The coolest cities in Vietnam in August:
Hoi An: 24℃(75.2℉); Ha Long: 24℃(75.2℉); Da Lat: 13℃(55.4℉)
Averages for Vietnam Weather in August






August Temperatures in Vietnam

What to Wear
If you travel to Vietnam in August, you had better take some thin and breathable clothes, such as T-shirt, light pants and dress. Also you should take a thin coat with you in case of the nights' coming. By the way, it's very necessary to put an umbrella in your bag.


August Travel Guide – Where to Go & Tips
Tourism Rate:



Traveling to Vietnam in August is not at the best golden time, but there are some beautiful places worth being visited.
Quang Binh
Quang Binh is one of the most attractive tourist places in the world. The Phong Nha-Ke Bang National Park, the world heritage site, lies in this area. There are lots of caves here. Among them, Hang Son Doong, the biggest cave in the world are most recommended. There are even forests and rivers in it. All of these caves are dangerous but beautiful stalactite caves which amazes lots of tourists every year.
See More: Explore the Vietnam Cave

Cao Bang
If you are looking for some special and delicious food in Vietnam, you should visit Cao Bang. There are many kinds of local food attracting tourists, such as pancakes, nuts and noodles. They all have interesting name and taste. Besides, the Ban Gioc Waterfall in Cao Bang, the biggest waterfall in Indochina, is at its clearest time in August.
Nha Trang
It's the most ancient coastal city with beautiful islands and beaches. You can enjoy sun bathing, mud bathing and diving. There are a large number of entertainment facilities here including luxurious hotels, beautiful gardens, fresh water swimming pools, exciting amusement parks and 4D cinemas. The delicious sea food in Nha Trang is also famous.
August Weather of Major Vietnam Cities
August


Temperature

Sunrise / Sunset
Humidity
(%)
High
Low
Can Tho

34°C/ 93.2°F

23°C / 73.4°F
07:25/ 17:32
44
Da Lat

33°C / 91.4°F

23°C / 73.4°F
07:20/ 18:07
84
Da Nang

33°C / 91.4°F

22°C / 71.6°F
07:56/ 18:38
79
Ha Long

30°C / 86°F

15°C / 59°F
07:45/ 18:30
83
Haiphong

29°C / 84.2°F

14°C / 57.2°F
07:08/ 18:13
72
Hanoi

33°C / 91.4°F

23°C / 73.4°F
07:23/ 18:22
73
Ho Chi Minh City


23°C / 73.4°F
07:41/ 18:34
79
Hoi An

30°C / 86°F

22°C / 71.6°F
06:51/ 17:35
75
Hue

30°C / 86°F

17°C / 62.6°F
06:58/ 16:36
72
Lao Cai

29°C / 84.2°F

24°C / 75.2°F
07:44/ 17:48
57
Nha Trang

30°C / 86°F

15°C / 59°F

07:03/ 18:11
74
Phan Thiet

30°C / 86°F

19°C / 66.2°F
06:56/ 17:43
65