10 Must-known Facts about Vietnam before You Go
Vietnam is a country of extremes. When it's hot, it's really, really hot, but during the monsoon, it's always raining cats and dogs.

From Hoi An to Can Tho, HCMC to Sapa, you can see a profound change not just in the topography but an evident shift in the customs, climate and even the language. The hurdled tourist zones and the seemingly unbreakable walls of traffic might overwhelm first-time travellers to Vietnam's cities. Yet, a trip by wooden boat along the Mekong delta will transcend you to serenity!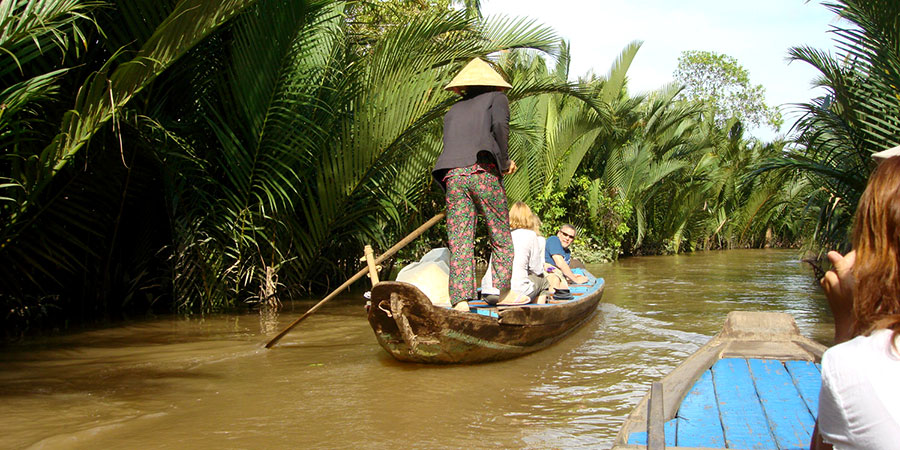 Take a Wooden Boat along the Mekong Delta
What might seem like a bit of a culture shock at first, there is nothing that can stop you falling in love with this amazingly diverse country! Whether or not this is your first trip to this South Asian nation, have a look at the following facts about Vietnam to help you prepare from any unpleasant surprises.
1. Understand the visa procedure.
The first fact about Vietnam you need to know is that getting a Vietnam Visa is very easy and simple. Travellers can get the Vietnamese Visa through pre-approved visa on arrival or by submitting a new e-visa application. However, many agencies offer visa pre-approval services that have made the entire process more complicated.

These agencies have created official-looking websites that aren't official in reality. Spoting these fake websites becomes tricky as many of these websites have the word "gov", "government" or "govt" in their URL.

The Vietnamese government's official e-visa site, https://evisa.xuatnhapcanh.gov.vn/trang-chu-ttdt, is the only place where the visa approval is done. Thus, when you are looking for a 30-day, single-entry e-visa you should proceed to this URL directly.
| | | |
| --- | --- | --- |
| Visa | Pre-approval Letter Fee (Paid in advance to VietnamVisaPros.net) | Visa Stamping Fee (Paid on Arrival in Vietnam) |
| 1-Month Single Entry | $6 | $25 |
| 1-Month Multiple Entry | $6 | $50 |
| 3-Month Singlr Entry | $15 | $25 |
| 3-Month Multiple Entry | $20 | $50 |
See More: Vietnam Visa
2. The country is huge.
Before you plan for a month-long itinerary to Vietnam, understand the map. From the city of Hanoi in the north to Ho Chi Minh City, the distance is more than 1,000 miles! So, if you are planning to see the entire country in a single month, you should definitely plan on flying.

A bus or the train can help you save a few bucks; however, road trips are not the best of the options when covering massive distances within a given set of time.
3. Not everyone can speak English.
SE Asia locals tend to be multilingual, however, do not expect to speak in English (or for that matter in any European language) at all the shops, hotels, restaurants or other places of interest frequented by tourists. With the rise in tourism, many locals are learning English to serve as guides.


Learn Some Common Phrases for Rural Trips
If you are trekking where you have to go to the rural parts of Vietnam, there might be some lingual complications. Practically, you can learn a couple of common phrases such as "Xin chào" (hello - pronounced "sin jow"), cảm ơn" (thank you - pronounced "Kam on") might be helpful. Many tourists pick up a Vietnamese phrasebook to help them go around. Use Google Translate wherever you can find internet.
4. Be careful while crossing the street.
The traffic in Vietnam is chaotic. Thousands of motorbikes pass through the busy streets making it difficult for the passerby's to cross the read. The "pedestrian crossing" zones marked by walk signals and the white lines should be used for crossing the road. Cross the road when you see a break in the incoming of the traffic. This won't stop the approaching bikes, but will slow them.
5. It is a budget destination.
Even for budget travellers, this is one of the best places to enjoy a soulful trip. From boutique hotels to comfy Airbnbs, Vietnam has a lot to offer for every range of travellers. Trains, buses and other public transport are quite affordable and convenient.


Roadside Stalls for Local Snacks
Talking about
Vietnamese cuisines
, food is also quite cheap. The roadside stalls have tiny plastic stools which can be an enjoyable experience. While shopping for gifts to take back home, haggle a bit on rates which adds up to the fun of buying!
See More: Vietnam Travel Tips 6 Wow Vietnam Destinations
6. Get a helmet; it's the law.
A general mandatory helmet law, enforced in December of 2007, lessened the nation's traffic fatalities. The country has second-highest traffic fatalities in SE Asia that records at 24.5 per 100,000. This is because of the fact that motorbikes comprises of 95% of registered vehicles in the nation.

Due to strict enforcement of the law most bikers have to wear helmets around cities. This enforcement has prevented close to 500,000 injuries and 15,000 fatalities, according to AIP Foundation estimates.

As a tourist, you'll be expected to wear a helmet while travelling on the bike.
7. The sidewalks are for motorbike parking.
One more facts about Vietnam is that the side paths in the Vietnamese cities are not used for walking. In Vietnam, you have to saunter in the streets as the sidewalks are filled with parked motorbikes or foldable plastic restaurant tables.


Motorbikes Parking on the Sidewalks
In touristy places of Saigon and Hanoi, it might be a bit difficult to walk or have a stroll. But that being said, motorbike drivers are friendly about pedestrians, so long walks are definitely in the plan.
Hoi An and other touristy towns have pedestrian areas, so walking is not an issue.
8. They are one of the most welcoming people.
It is not a rare premonition where many think Vietnamese are conservative. While most folks prefer to keep their knees and shoulders covered despite the soaring temperatures, many younger locals are picking up the occidental fashion trends.

However, these set of laws are more relaxed when visiting religious places in the country. Here the only instruction is to put on clothes that cover up the body, but they are not enforced upon.
9. Political facts about Vietnam: They are not as communist as you think.
Vietnam is one of only five communist nations in the world. However, you won't encounter many suggestion of communism in the country. Most businesses are privately owned, and there are questions whether a sense of capitalism has engulfed the nation. Ho Chi Minh (affectionately remembered as "Uncle Ho") is still remembered as the rescuer of Vietnam from both the colonial as well as American rule.
10. Weather facts about Vietnam: Don't trust the temperature.
Whether you're visiting the south, northern or central Vietnam, you can expect a lot of heat and moisture. The climate of the entire country is mild tropical or subtropical. Rain is frequent in the summer and autumn months, that is, if you are visiting from July to November. Also, the temperatures can get quite cold during the winter months (December – February) in the northern part of the country, with occasional snow in the mountainous region of Sapa.

Central Vietnam is usually warm perennially and can get unbearably hot in the summer months that it becomes very difficult to roam about. Make sure to pack accordingly.
See More: Vietnam Weather
You May Like:
9 Useful Vietnam Travel Tips for First-time Comers
Things to Know about Vietnam before Your Travel
Traveling Vietnam Alone -Is It Ideal for Solo Travellers?