Vietnam Weather in March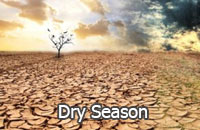 Vietnam weather in March remains cool and dry, although the temperature begins to become higher than earlier months. The average daytime temperature is 29℃(84.2℉); the average night temperature is 21℃(69.8℉). The north has more rainy days than south; but generally, the rainfalls of all the country is low. The climate in March in Vietnam keeps dry and pleasant.

The hottest cities in Vietnam in March:
Phan Thiet: 31℃(87.8℉); Ho Chi Minh City: 34℃(93.2℉); Can Tho: 32℃(89.6℉)

The coolest cities in Vietnam in March:
Hanoi: 18℃(64.4℉); Haiphong: 18℃(64.4℉); Da Lat: 13℃(55.4℉)
Averages for Vietnam Weather in March






March Temperatures in Vietnam

What to Wear
In the north, you can wear T-shirt, shirt, dress, light pants during the daytime, and put on a thin coat when the night is coming. The weather in the south is a little hot. You can just wear skirts, shorts, and T-shirt. But the temperature difference between day and night is large in the south, so you should wear long shirt and long dress during the night. In order to protect your skin from the strong UV-ray, it's a good decision to take a parasol.




March Travel Guide – Where to Go & Tips
Tourism Rate:




Is March a good time to visit Vietnam? Yes. With pleasant weather, it's suitable to travel to Vietnam in March. There are a lot of beautiful cities worth going.
Tay Nguyen
March in Tay Nguyen is the coffee season. There are lots of planting areas of coffee in this part. You can see beautiful sight of coffee blossoms and taste delicious coffee.
Hue
The March weather in Hue is at the best time for tourism. It's cool and dry. You can walk through the streets to have a glimpse of the culture of this ancient imperial city. You can also go to the Hue Royal Palace which is the "Forbidden City" of Hue and the existing most complete ancient building in Vietnam. Thien Mu Pagoda should also not be missed. It has a long history and is famous for its spectacle palatial architecture style. We would like to recommend you to enjoy a meal in the temple. Besides, Dong Ba Market is a good place to go shopping in Hue. There are lots of local specialties you can buy.
Hoi An
Hoi An ancient town is the most popular spot in this city, where there are many Chinese and Japanese architectures, such as the Japanese Covered Bridge. It's built by Japanese at the first, but then repaired by Chinese. The bridge completely reflects the cultural combination of Chinese and Japanese. You can also walk through the town to feel this combination of culture. By the way, you should not miss the night in Hoi An ancient town, when all the streets are glittering with special lanterns.
See More: Hoi An Lantern Festival
Quy Nhon
Quy Nhon is a beautiful coastal city. This city has a long history and a long coastline. You can visit many famous spots like Thap Doi (Twin Towers), Long Khanh Pagoda and Binh Dinh Museum.
Dien Bien Phu
Dien Bien Phu is one of the most attractive places in Vietnam in March because of the beautiful white flowers of Bauhinia purpurea. You can see the flowers flying in the sky with wind. Besides, the buildings of Dien Bien Phu is full of French atmosphere for the historical reason. You can see the squares and some monuments to feel the historical atmosphere.
March Weather of Major Vietnam Cities
March


Temperature

Sunrise / Sunset
Humidity
(%)
High
Low
Can Tho

34°C/ 93.2°F

23°C / 73.4°F
07:25/ 17:32
44
Da Lat

33°C / 91.4°F

23°C / 73.4°F
07:20/ 18:07
84
Da Nang

33°C / 91.4°F

22°C / 71.6°F
07:56/ 18:38
79
Ha Long

30°C / 86°F

15°C / 59°F
07:45/ 18:30
83
Haiphong

29°C / 84.2°F

14°C / 57.2°F
07:08/ 18:13
72
Hanoi

33°C / 91.4°F

23°C / 73.4°F
07:23/ 18:22
73
Ho Chi Minh City


23°C / 73.4°F
07:41/ 18:34
79
Hoi An

30°C / 86°F

22°C / 71.6°F
06:51/ 17:35
75
Hue

30°C / 86°F

17°C / 62.6°F
06:58/ 16:36
72
Lao Cai

29°C / 84.2°F

24°C / 75.2°F
07:44/ 17:48
57
Nha Trang

30°C / 86°F

15°C / 59°F

07:03/ 18:11
74
Phan Thiet

30°C / 86°F

19°C / 66.2°F
06:56/ 17:43
65