Vietnam Weather in June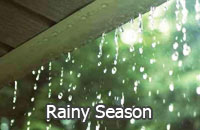 Entering the rainy season, Vietnam weather in June is wet and hot. The average daytime temperature is 33℃( 91.4℉). The average night temperature is 26℃(78.8℉).The rainfall has also risen to a high point, reaching monthly 213mm (8.4 in). But the climate in the central part is not too bad, mostly sunny with less rainfall and its beaches are good travel destinations.

The hottest cities in Vietnam in June:
Lao Cai: 35℃(95℉); Da Nang: 35℃(95℉); Hue: 36℃(96.8℉)

The coolest cities in Vietnam in June:
Hoi An: 25℃(77℉); Phan Thiet: 25℃(77℉); Da Lat: 14℃(57.2℉)
Averages for Vietnam Weather in June






June Temperatures in Vietnam

What to Wear
If you travel to Vietnam in June, you should wear some thin and breathable clothes like T-shirt, thin sneakers and cotton and linen shirt. And you can take a thin coat with you in case of the temperature drops during the nighttime. Besides, it's necessary to protect yourself from the sunlight and the rains. Take a sunhat or parasol with you, and use the sun cream before you go out. Don't forget the raingears in this rainy season in Vietnam in June.


June Travel Guide – Where to Go & Tips
Tourism Rate:



Phu Quoc
Phu Quoc Island is the biggest island of Vietnam. There are famous Golden Beach and primeval forests on the island. You can go diving, swimming and walking along the beach. But the most interesting thing to do is go fishing on the sea. There are lots of fish in this water area. You can also spend a leisurely afternoon lying under the thatch umbrella to feel the cool sea breeze. At night you can enjoy the lights on fishing boat when you take a walk along the seaside. Besides, the fishing villages are also worth being seen. Phu Quoc Island is a large fishing ground. You can eat delicious seafood here; the fish sauce of this area is very popular.
Con Dao
Con Dao is also called Snake Island for the large number of snakes here. Besides, there are many kinds of wild plants and sea creatures. So it has become a nature reserve – Con Dao National Park.
The island also has lots of white-sand beaches and natural mountains. You can enjoy the beautiful coral views and go Deep Ocean diving or fishing here. The nature beauty and delicious food of this island has made it a paradise of tourists.
Sapa
Sapa is a town in the northwest of Vietnam. Because it's located in a mountainous region, the weather is relatively cooler which makes it a famous summer resort in Vietnam. It's a good way to walk through the town and visit the ancient churches and French style buildings. Besides, it's famous for the spectacle and beautiful terraced fields' scene. The gorgeous landscape and people who works on the fields consist an attractive picture. Besides, the people here are minorities, from whom you can learn some unique customs.
June Weather of Major Vietnam Cities
June


Temperature

Sunrise / Sunset
Humidity
(%)
High
Low
Can Tho

34°C/ 93.2°F

23°C / 73.4°F
07:25/ 17:32
44
Da Lat

33°C / 91.4°F

23°C / 73.4°F
07:20/ 18:07
84
Da Nang

33°C / 91.4°F

22°C / 71.6°F
07:56/ 18:38
79
Ha Long

30°C / 86°F

15°C / 59°F
07:45/ 18:30
83
Haiphong

29°C / 84.2°F

14°C / 57.2°F
07:08/ 18:13
72
Hanoi

33°C / 91.4°F

23°C / 73.4°F
07:23/ 18:22
73
Ho Chi Minh City


23°C / 73.4°F
07:41/ 18:34
79
Hoi An

30°C / 86°F

22°C / 71.6°F
06:51/ 17:35
75
Hue

30°C / 86°F

17°C / 62.6°F
06:58/ 16:36
72
Lao Cai

29°C / 84.2°F

24°C / 75.2°F
07:44/ 17:48
57
Nha Trang

30°C / 86°F

15°C / 59°F

07:03/ 18:11
74
Phan Thiet

30°C / 86°F

19°C / 66.2°F
06:56/ 17:43
65