Vietnam Weather in July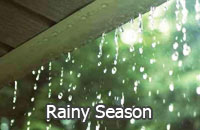 The weather in Vietnam in July is very hot. The average daytime temperature is 33℃( 91.4℉); the average night temperature is 25℃(77℉). And it is in the rainy season. There are more rainy days all over the whole country with some storms often happening, especially in the north area. However, the climate in the central part still keeps dry, and you can expect many sunny days and clean air.

The hottest cities in Vietnam in July:
Lao Cai: 35℃(95℉); Da Nang: 34℃(93.2℉); Hue: 35℃(95℉)

The coolest cities in Vietnam in July:
Hoi An: 24℃(75.2℉); Ho Chi Minah City: 24℃(75.2℉); Da Lat: 13℃(55.4℉)
Averages for Vietnam Weather in July






July Temperatures in Vietnam

What to Wear
You should wear T-shirt, thin dress and breathable shoes if you choose to travel to Vietnam in July. And according to the large rainfalls and solar radiation of some places, you had better take some sunscreen and rain-proof outfits.


July Travel Guide – Where to Go & Tips
Tourism Rate:



Bac Can
Bac Can is well known for its rich natural resources. If you go there, there is an important place you should not miss – Ba Be National Park. There is a lake lying in the park which is the largest natural freshwater lake of Vietnam. You can rent a boat drifting on the lake to enjoy the nature beauty of the lake and the surrounding mountains which are famous for karst features. Benefit from the karst landform, there are a number of caves in this area. Exploring these caves is also an exciting activity to do in Vietnam in July.
See More: Explore the Vietnam Caves
Quan Lan
If you want to find a place which is quiet and peaceful, you can go to the Quan Lan Island. There are many trees on the seaside. The green trees, blue sky and sea water, and white sand consist of a beautiful seascape. When you travel to the villages on this island, you can have a special experience of riding the local taxi, which called tuk tuk car.
Minh Chau
Minh Chau Beach is a private beach located on Quan Lan Island. On Minh Chau Beach, tourists can take part in a lot of exciting beach activities, such as go camping, exploring the caves and forests, finding the strange sea animals. Or you can just go out when the moon comes out, and relax yourself on the beach.
July Weather of Major Vietnam Cities
July


Temperature

Sunrise / Sunset
Humidity
(%)
High
Low
Can Tho

34°C/ 93.2°F

23°C / 73.4°F
07:25/ 17:32
44
Da Lat

33°C / 91.4°F

23°C / 73.4°F
07:20/ 18:07
84
Da Nang

33°C / 91.4°F

22°C / 71.6°F
07:56/ 18:38
79
Ha Long

30°C / 86°F

15°C / 59°F
07:45/ 18:30
83
Haiphong

29°C / 84.2°F

14°C / 57.2°F
07:08/ 18:13
72
Hanoi

33°C / 91.4°F

23°C / 73.4°F
07:23/ 18:22
73
Ho Chi Minh City


23°C / 73.4°F
07:41/ 18:34
79
Hoi An

30°C / 86°F

22°C / 71.6°F
06:51/ 17:35
75
Hue

30°C / 86°F

17°C / 62.6°F
06:58/ 16:36
72
Lao Cai

29°C / 84.2°F

24°C / 75.2°F
07:44/ 17:48
57
Nha Trang

30°C / 86°F

15°C / 59°F

07:03/ 18:11
74
Phan Thiet

30°C / 86°F

19°C / 66.2°F
06:56/ 17:43
65