Vietnam Weather in April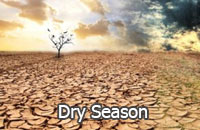 Vietnam weather in April begins to become hotter, but not very hot. The average daytime temperature is 31℃( 87.8℉); the average night temperature is 23℃(73.4℉). There are more rainfalls than the earlier months. However it's still dry in most areas, especially in the central part, where is mostly sunny with blue sky, bright sunshine and clear air on the beaches. Overall, the climate in Vietnam in April is good and April is one of the golden months to travel in Vietnam.

The hottest cities in Vietnam in April:
Hue: 34℃(93.2℉); Ho Chi Minh City: 35℃(95℉); Can Tho: 33℃(91.4℉)

The coolest cities in Vietnam in April:
Hanoi: 22℃(71.6℉); Haiphong: 21℃(69.8℉); Da Lat: 14℃(57.2℉)
Averages for Vietnam Weather in April






April Temperatures in Vietnam

What to Wear
You should wear breathable clothes like thin T-shirt, shorts and skirts when you travel to Vietnam in April. During the cooler nighttime, you can wear a long dress. Besides, breathable and comfortable shoes are also necessary. By the way, it rains sometimes in the south, you should take an umbrella with you if you go there.




April Travel Guide – Where to Go & Tips
Tourism Rate:




Travel to Vietnam in April is a good choice. Besides some attractive places, there are also a number of interesting festivals.
Sa Pa
Sa Pa is surrounded by beautiful mountains and there are many picturesque terraced fields coiling up from mountain foot to top. It's very exciting when you stand on the top of the mountain and look down at the large green field. Besides, you can visit the Sa Pa Town with many French style buildings. It's a popular mountain city for vacation.
April is the best time to taste varies of fruits in Mekong Delta. You can see a special scene of floating market where the local people sell the fruits on a boat. It's a good way to take a boat through the market to buy the fresh fruits. Except this special scene, there are also many places worth going, such as My Tho. It's a historical business street. You can also choose to take a boat to see their fish trading on the water which is very prosperous.
Ninh Binh
Ninh Binh is a peaceful city. There is a traditional Vietnamese style temple which is all made of stones. Besides, there are some picturesque valleys in this city. In April, the valleys are full of beautiful blooming flowers and a special kind of butterflies.
Hung Kings Festival
It is held in Hung King's Temple 90 km (56 mi) from Hanoi from the 8th to 11th of the third lunar month. During the day, people will start the ceremony from the foot of the mountain to the Temple. People prepare sacrificial flowers, fruits, cakes along the way to remember the first emperors of the nations, Hung Kings. Also, they will eat two kinds of special food to worship the ancestor, the Banh giay and the Banh chung.
Whale Festival
It's been held in the middle of the third lunar month by the fishermen in Vam Lang, a village south of Saigon, to show their respect to their God and pray for the prosperity of next year. This festival will last two days and the most attractive part is the midnight of the first day. It's worth seeing when their houses and boats are beautifully decorated. And they usually play tradition music heading out to sea.
Elephant Race Festival
Just as its name implies, it's a festival for elephants to race. It's often held in the Dak Lak province of the west highland area in the third lunar month. Before the festival, elephants who will take part in the race will get better treat. During that day, it's very exciting to see lots of elephants get together. The winner elephant will get a laurel wreath, and visitors of the festival can feed some bananas to reward it.
See More: 5 Best Festivals in Vietnam
April Weather of Major Vietnam Cities
April


Temperature

Sunrise / Sunset
Humidity
(%)
High
Low
Can Tho

34°C/ 93.2°F

23°C / 73.4°F
07:25/ 17:32
44
Da Lat

33°C / 91.4°F

23°C / 73.4°F
07:20/ 18:07
84
Da Nang

33°C / 91.4°F

22°C / 71.6°F
07:56/ 18:38
79
Ha Long

30°C / 86°F

15°C / 59°F
07:45/ 18:30
83
Haiphong

29°C / 84.2°F

14°C / 57.2°F
07:08/ 18:13
72
Hanoi

33°C / 91.4°F

23°C / 73.4°F
07:23/ 18:22
73
Ho Chi Minh City


23°C / 73.4°F
07:41/ 18:34
79
Hoi An

30°C / 86°F

22°C / 71.6°F
06:51/ 17:35
75
Hue

30°C / 86°F

17°C / 62.6°F
06:58/ 16:36
72
Lao Cai

29°C / 84.2°F

24°C / 75.2°F
07:44/ 17:48
57
Nha Trang

30°C / 86°F

15°C / 59°F

07:03/ 18:11
74
Phan Thiet

30°C / 86°F

19°C / 66.2°F
06:56/ 17:43
65