Vietnam Weather in September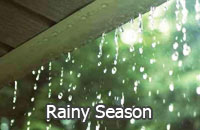 Vietnam weather in September is still hot. But the temperature begins to drop all over the country. The average daytime temperature is 31℃( 87.8℉), the average night temperature is 24℃(75.2℉). The rainfall decreases largely in the north and south; but the central part has more rains in September and sometimes even storms. All in all, the climate in Vietnam in September is hot with decreasing temperature and rainfall.

The hottest cities in Vietnam in September:
Lao Cai: 33℃(91.4℉); Ho Chi Minh City: 32℃(89.6℉); Phan Thiet: 32℃(89.6℉); Hanoi: 32℃(89.6℉)

The coolest cities in Vietnam in September:
Hoi An: 23℃(73.4℉); Haiphong: 24℃(75.2℉); Da Lat: 13℃(55.4℉)
Averages for Vietnam Weather in September






September Temperatures in Vietnam

What to Wear
Travel to Vietnam in September, it's necessary to wear some thin and breathable clothes like short shirt, thin skirts and shorts. And in case of the temperature drops at night, you can take a long dress or a long-sleeve T-shirt with you. Because of the lots of rainy days, you had better take an umbrella, especially if you want to go to the central part.


September Travel Guide – Where to Go & Tips
Tourism Rate:



September is an important month for Vietnamese people as the Mid-fall Festival is usually in this month. Also, there are some beauty spots you should not miss when you go travelling in Vietnam in September.
The festival is celebrated in the middle or late September and it's also regard as the Children's Day. People will worship the Gnome to appreciate the good harvest of this year. During this day, there are full of kinds of mooncakes, special lanterns and colorful toys in the streets. And children will make a line to parade around their houses playing an instrument to celebrate their favorite festival. If traveling to Vietnam in September, you can join the locals to have fun.
See More: 5 Best Festivals in Vietnam
Hue
It's famous for the ancient imperial palace. You can see the old city walls and walk through the ancient streets. Besides, one of the most beautiful nature parks in Vietnam, Bach Ma National Park is also located in Hue. There are rich wild plants and animals. You can take a walk along the mountain side to enjoy the clean air and the spectacular waterfall. Therefore, trekking is a popular activity here. The beautiful red azaleas blooming on the two sides will accompany you. And maybe you will make friends with a bird or a monkey.
Hanoi
Hanoi in September is one of the most beautiful periods. Certainly, it becomes one of the most popular months to go to Hanoi for travelling. You can see the Fragrant Milk Flowers blooming along the two sides of street which give off a romantic smell. So you will meet lots of boys and girls are dating. And lots of Vietnamese people like to take wedding photos in this month; it's a chance to appreciate the traditional wedding dress of Vietnamese. Besides, if you go to Hanoi in September, you can enjoy the gifts of this season-'com', which is a kind of snake made of rice. Go travelling in Hanoi in September, you will enjoy a beautiful autumn.
Mu Cang Chai
In September, rice crops start to turn golden yellow in Mu Cang Chai terraced fields in the west of Ampere Province. It's just the right time to enjoy the sightseeing of spectacle terraced fields with golden rice.
September Weather of Major Vietnam Cities
September


Temperature

Sunrise / Sunset
Humidity
(%)
High
Low
Can Tho

34°C/ 93.2°F

23°C / 73.4°F
07:25/ 17:32
44
Da Lat

33°C / 91.4°F

23°C / 73.4°F
07:20/ 18:07
84
Da Nang

33°C / 91.4°F

22°C / 71.6°F
07:56/ 18:38
79
Ha Long

30°C / 86°F

15°C / 59°F
07:45/ 18:30
83
Haiphong

29°C / 84.2°F

14°C / 57.2°F
07:08/ 18:13
72
Hanoi

33°C / 91.4°F

23°C / 73.4°F
07:23/ 18:22
73
Ho Chi Minh City


23°C / 73.4°F
07:41/ 18:34
79
Hoi An

30°C / 86°F

22°C / 71.6°F
06:51/ 17:35
75
Hue

30°C / 86°F

17°C / 62.6°F
06:58/ 16:36
72
Lao Cai

29°C / 84.2°F

24°C / 75.2°F
07:44/ 17:48
57
Nha Trang

30°C / 86°F

15°C / 59°F

07:03/ 18:11
74
Phan Thiet

30°C / 86°F

19°C / 66.2°F
06:56/ 17:43
65