Ha Noi Weather
Hanoi is located in the subtropics near Beibu Gulf and has a tropical monsoon climate. Hanoi weather is pleasant and spring-like all the year round, with abundant rainfall, luxuriant vegetation and blooming flowers. Hanoi has an average annual rainfall of 1676 mm (66in) and moderate humidity, sometimes less than 80%. June and July are the hottest month, the mean temperature is 30℃ (86℉). January is the coldest month with an average temperature of 16℃ (60.8℉). November to February is the best time to travel to Hanoi.

7-Day Ha-Noi Weather Forecast
Averages for Ha Noi Weather
High/Low Temperatures of Ha Noi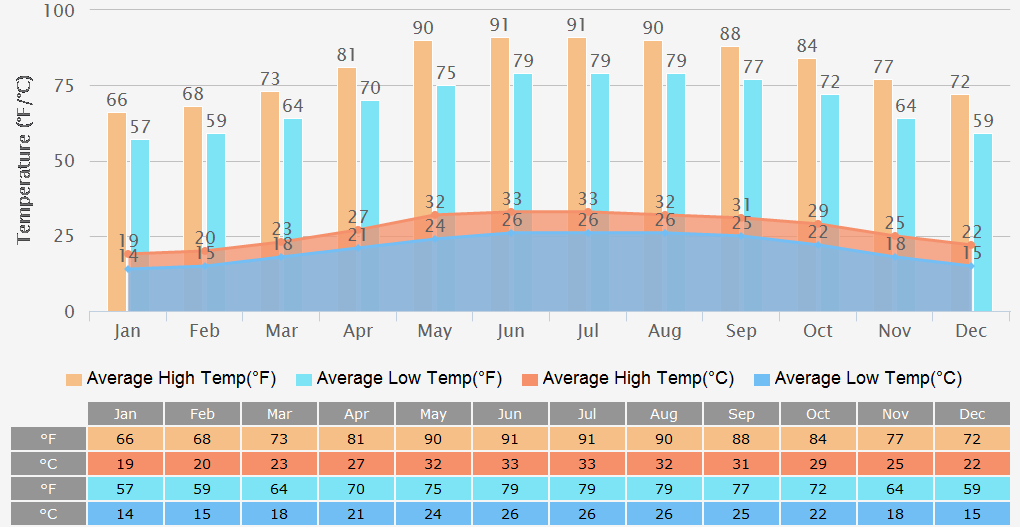 Average Temperatures of Ha Noi

Humidity Graph of Ha Noi

Average Rainfall of Ha Noi

Ha Noi Climate - Seasons & Travel Advice
Hanoi has four distinct seasons. Spring is warm with light rain and beautiful flowers and plants. Summer usually is hot and rainy, with cool wind from afternoon to evening. Autumn is cool and dry, melons and fruits are delicious, but sometimes there are typhoons and floods. Winter is colder, sometimes there is a cold northeasterly wind.
Spring (February - April)

Spring is an adorable season in Hanoi. Temperature fluctuates from 18-23℃ (64.4-73.4℉) with 53mm (2.1in) rainfall. It rains sometimes but it does not bring inconvenience to your trip. The scenery is very beautiful with green trees and beautiful flowers. The Spring festival in Vietnam is usually in spring, tourists can experience traditional Vietnam culture and customs during the festival.
Summer (May - August)

Hanoi has a long hot and humid summer. The average daily minimum temperature is 25℃ (77℉), and the maximum temperature is 32℃ (89.6℉). Summer has the largest precipitation. It rains almost half the month, and the average monthly rainfall reach up to 239mm (9.4in). So Hanoi weather in summer is pretty humid, you may feel sticky all the time. Like other tropical countries, Hanoi in Vietnam has a very strong ultraviolet ray, so if you don't want to be tanned, make sure to bring sunscreen with you.
Autumn (September - November)

Autumn is the season when the trees should bear fruit. The temperature does not drop too much, it changes 24-30℃ (75.2-86℉). September has 265mm (10.4in) rainfall and it decrease sharply in October and November. The overall weather is pretty cool. Honestly, it is not a good time to travel to because typhoon and floods may sometimes.
Winter (December - February)

Winter is the coldest season. The temperature in Hanoi is usually between 14-18℃ (57.2-64.4℉), and sometimes falls below 10℃ (50℉). There is little rainfall of 28mm (1.1in) in winter. So tourists do not need to be interrupted by rainy days. It is the best time to travel to Hanoi because of the pleasant weather. You could wear a T-shirt with a thin outerwear and a pair of trousers when traveling to Hanoi.
You May Like: