Vietnam Weather in October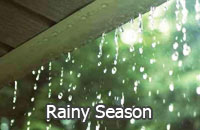 Vietnam weather in October is getting better than earlier months. The temperature drops, not unbearably hot any more. The average highest temperature is 30℃( 86℉), meanwhile the average lowest temperature is 23℃(73.4℉). Considering rainfall, the climate in Vietnam in October is also better. There are less rainy days except the central part where large rainfalls and sometimes storms still happen. So, if you travel to Vietnam in October, the central part is not advised.

The hottest cities in Vietnam in October:
Phan Thiet: 31℃(87.8℉); Ho Chi Minh City: 32℃(89.6℉); Can Tho: 31℃(87.8℉)

The coolest cities in Vietnam in October:
Hoi An: 22℃(71.6℉); Haiphong: 22℃(71.6℉); Da Lat: 13℃(55.4℉)
Averages for Vietnam Weather in October






October Temperatures in Vietnam

What to Wear
Tourists are advised to wear some thin and breathable clothes, such as T-shirt, thin dress and thin shirt. By the way, you should take an umbrella, especially if you are going to the central part.




October Travel Guide – Where to Go & Tips
Tourism Rate:




Travelling to Vietnam in October is not a bad choice. There are lots of beautiful flowers and attractive events waiting for you.
Ha Giang
October is one of the best months to go to the beautiful mountainous province – Ha Giang. It's famous for the blooming buckwheat flowers all over the mountains in October.
Besides, the delicious food of Ha Giang province is worth mentioning. Aconitum porridge can serve as medicinal diet which is very suitable for old people; pork of wild pigs is delicious as these pigs are bred and fed by nature with plants; burritos in Dong Van town is also a famous food.
Hanoi
October is one of the best months to travel in Hanoi. You can have a walk in Ba Dinh Square or by Hoan Kiem Lake which is surrounded by trees. You can visit the most ancient church in Hanoi, Saint Joseph Cathedral, to feel the medieval atmosphere. And don't forget the most famous shopping street of the city, 36 Pho Phuong. Besides, Hanoi Liberation Day is in October. Vietnamese also regard it as the city's birth date. A lot of shows will be held during this day. Various folk performances will be seen in the street. You can enjoy the artistic and cultural atmosphere of this ancient city.
October Weather of Major Vietnam Cities
October


Temperature

Sunrise / Sunset
Humidity
(%)
High
Low
Can Tho

34°C/ 93.2°F

23°C / 73.4°F
07:25/ 17:32
44
Da Lat

33°C / 91.4°F

23°C / 73.4°F
07:20/ 18:07
84
Da Nang

33°C / 91.4°F

22°C / 71.6°F
07:56/ 18:38
79
Ha Long

30°C / 86°F

15°C / 59°F
07:45/ 18:30
83
Haiphong

29°C / 84.2°F

14°C / 57.2°F
07:08/ 18:13
72
Hanoi

33°C / 91.4°F

23°C / 73.4°F
07:23/ 18:22
73
Ho Chi Minh City


23°C / 73.4°F
07:41/ 18:34
79
Hoi An

30°C / 86°F

22°C / 71.6°F
06:51/ 17:35
75
Hue

30°C / 86°F

17°C / 62.6°F
06:58/ 16:36
72
Lao Cai

29°C / 84.2°F

24°C / 75.2°F
07:44/ 17:48
57
Nha Trang

30°C / 86°F

15°C / 59°F

07:03/ 18:11
74
Phan Thiet

30°C / 86°F

19°C / 66.2°F
06:56/ 17:43
65